Joined

May 4, 2013
Messages

160
Reaction score

113
About leather grades and tensile strength;
http://www.adamsleatherworks.com/leather-101-my-interpretation/

A,B,C - This area typically has a lot of wrinkles and scratches. This is a durable cut with a lot of ability to stretch without tearing.

D,H,L and G,K,M - This "belly" area is generally referred to as the "waste" section. Depending on the supplier, you can ask to have the belly removed prior to purchase. They usually charge a fee to remove it, though this results in an overall smaller amount of billed square footage. Depending on your intended uses, this cut may or may not be of any value to you. Personally, I like to mock-up new holster designs with it to test my stitch lines and patterns.

E,F,I,J - This area is typically the premium area of the hide with the least amount of waste. It's the thickest and firmest part, and is best suited to items that require minimum stretch and maximum firmness. The closer you get to the spine, the more firm the leather gets, which can also make it more prone to cracking.
From Direct Selling Shoe Manual (1940).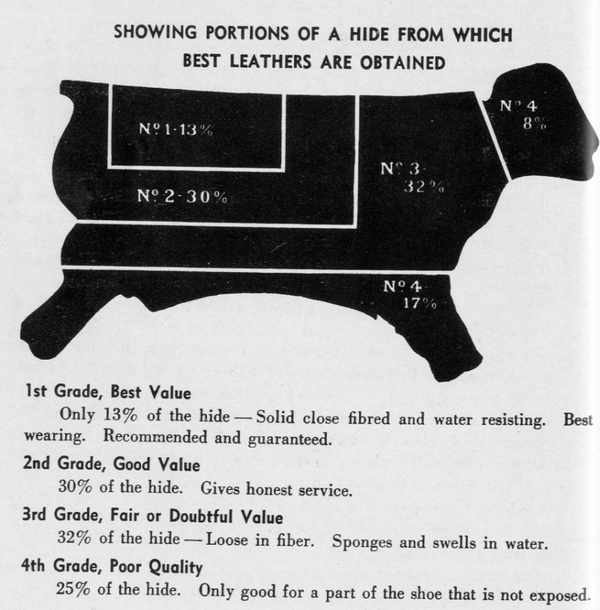 From
Analysis of Leather and Materials Used in Making it (1931)[URL].


​
[/url]