Joined

Dec 18, 2009
Messages

4,042
Reaction score

699
There has been a lot of talk about the inappropriateness of casual shots in the WAYWRN thread. Yet, that is what many of us wear more often than our suit-and-tie ensembles. Most of you'd agree that posting in the SW&D sub-forum is not an option. I've tried to assemble most of the casual fits from the past month and re-post them here. Hopefully, from now on, if you want to discuss casual MC style, this will be the thread for it. Please, feel free to post any and all critiques that you have as well as photos of your recent fits.
Originally Posted by

mrbateman
First time posting in WAYWRN:

This was for brunch and a stroll around the city on Sunday: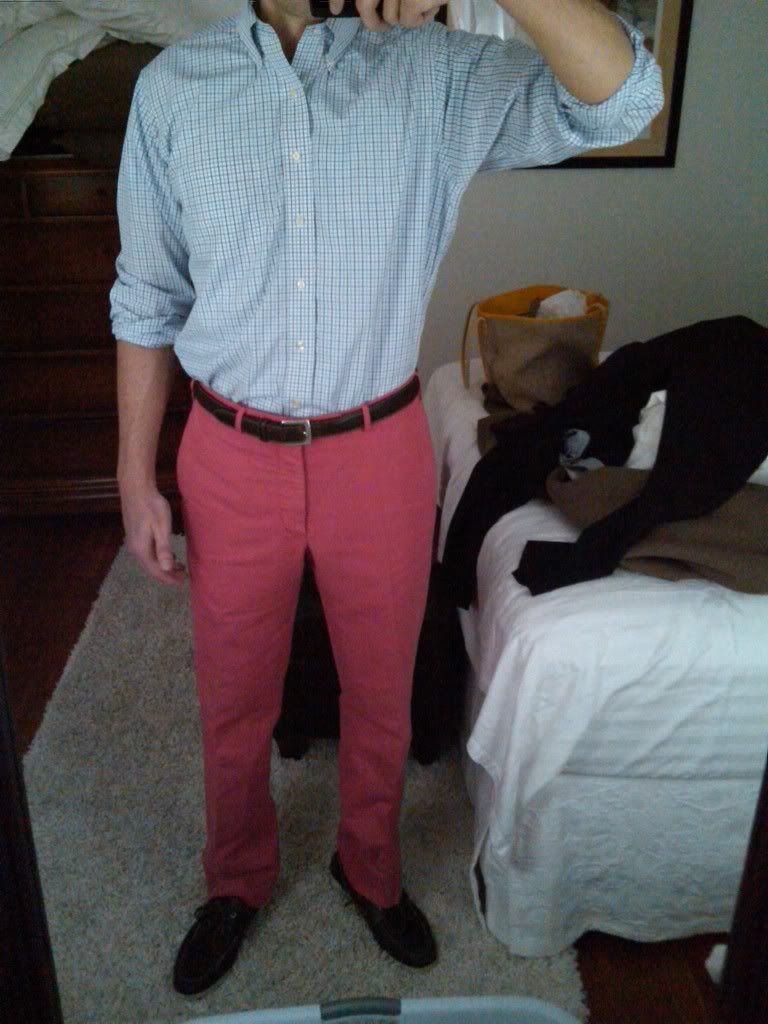 Originally Posted by

Thin White Duke
A couple from last week's holiday:

Hello sailors!




Was today Milano chinos day?


And me: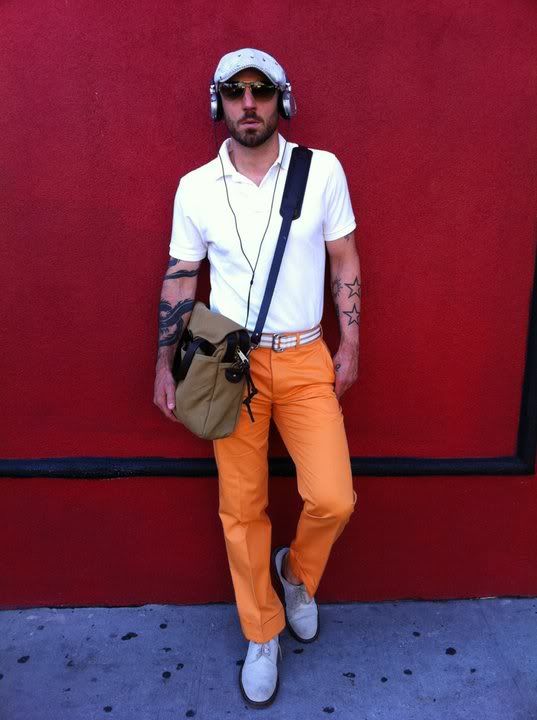 Originally Posted by

mntnhd
Not the best picture, but today's a seersucker shirt, AA hoodie, APC Petit Standards and Vans Authentics.


Inlaws are awesome for letting Mrs. Spoo and I have a night out, and for letting her on the other side of the camera for a change.
here's a more crazy shirt; guess it's more ok when it's up top

Feels like I'm becoming you guys with the near-daily fits.

Originally Posted by

gnatty8
Happy, er, Sunday girls:


BBQ look
Originally Posted by

hymo
Originally Posted by

luftvier
And weekend shots:
Red Pants

Fun Shirt for the TD Philadelphia International Cycling Championship with obligatory SF Bathroom Shotâ"¢ and FaucetDickâ"¢. Cheap giveaway sunglasses.
Originally Posted by

Al_Merick
Long time lurker. Don't think I have ever posted a fit. Will only be wearing a suit a few time between now and October, hence the casual fit today. Critique/comments are always welcome. Have a great afternoon!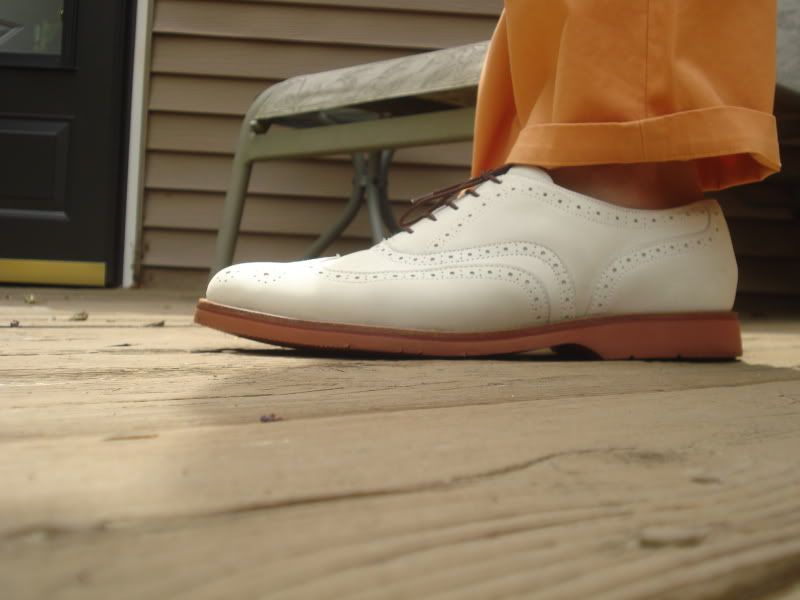 Too hot yesterday and today even for seersucker:


Originally Posted by

NOBD
Playing with new camera




Should I post this in the conservative business dress thread? Or should I have buttoned my jacket for that?
Originally Posted by

lolo
Hi,

Just a little try with some new clothes :

purple corduroy hugo boss pant
french bespoke shirt (Courtot)
john smedley sea island cotton pullover


Originally Posted by

niidawg3
Mi love ma life Friday ... Thank God!!

Uptown



Downtown



more on the dark side
Yesterday and today. You get the idea; it will be like this most days until September:


Originally Posted by

IST66
Similar to last fit and feel better about it since it's more casual.

Originally Posted by

IST66
Good morning!)))

Originally Posted by

reedobandito
Cross post from SW&D, figured it applied here as well.


Originally Posted by

Al_Merick
Off to the club for a meeting regarding the AT&T National. Shirt is a Pink/White stripe OCBD. Pants are linen, hence the wrinkles.

Critiques/Comments please!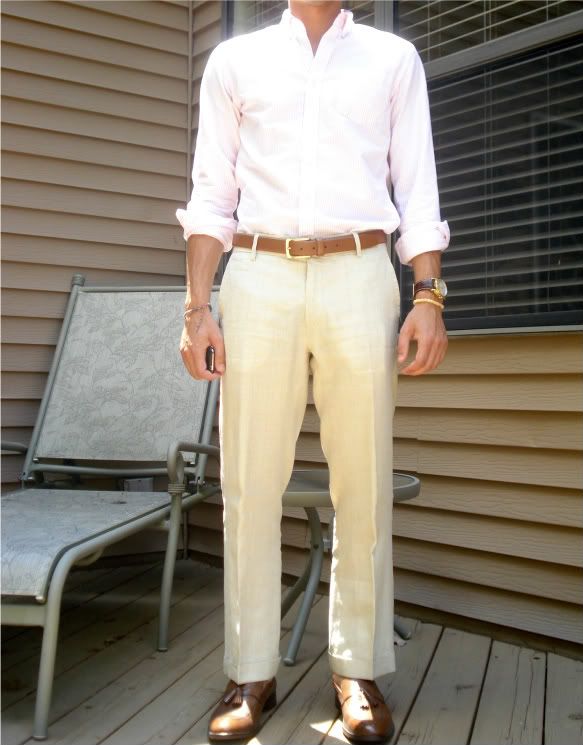 You know what this thread is missing? Good old-fashioned lifestyle photos.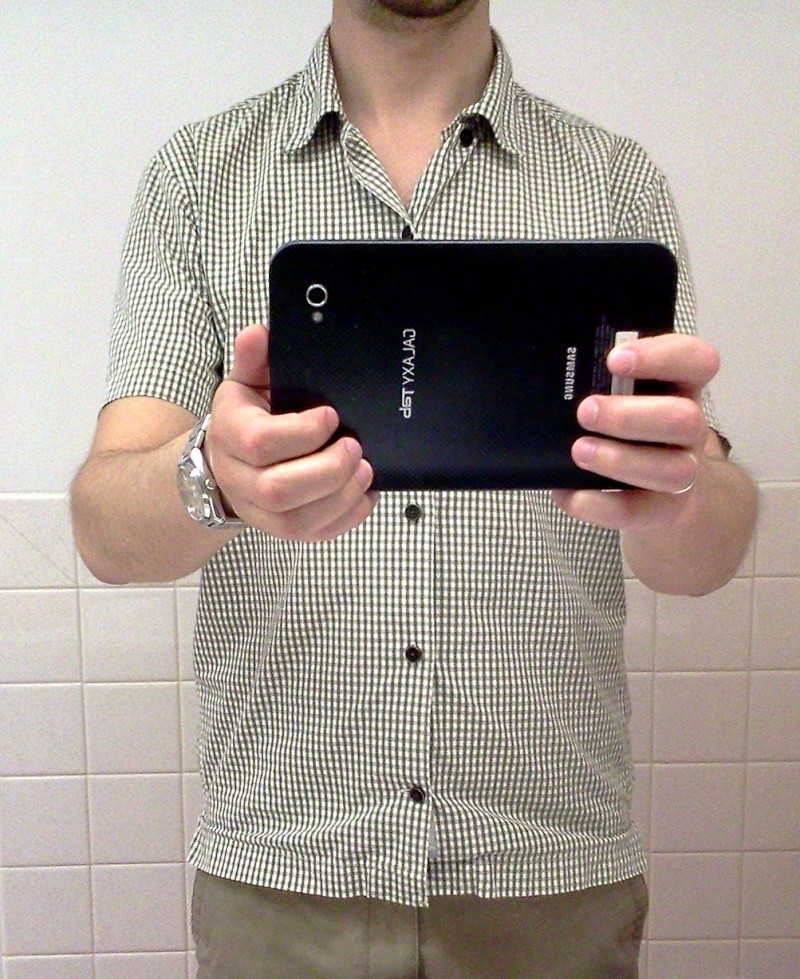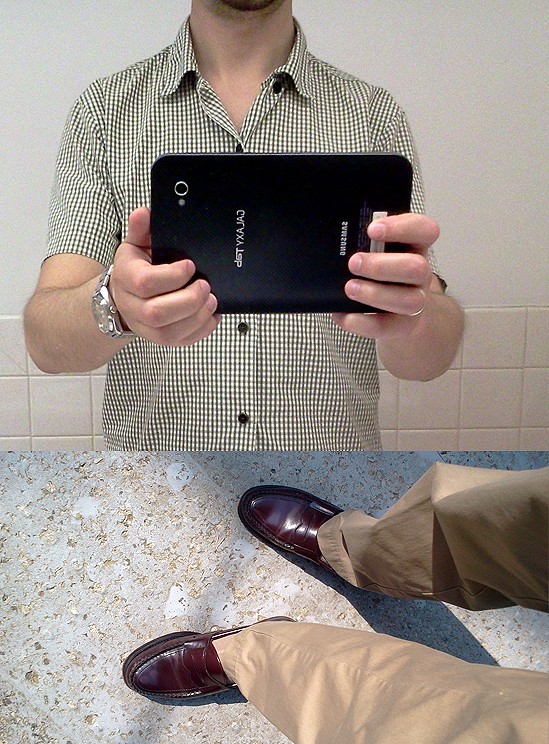 More BizCaz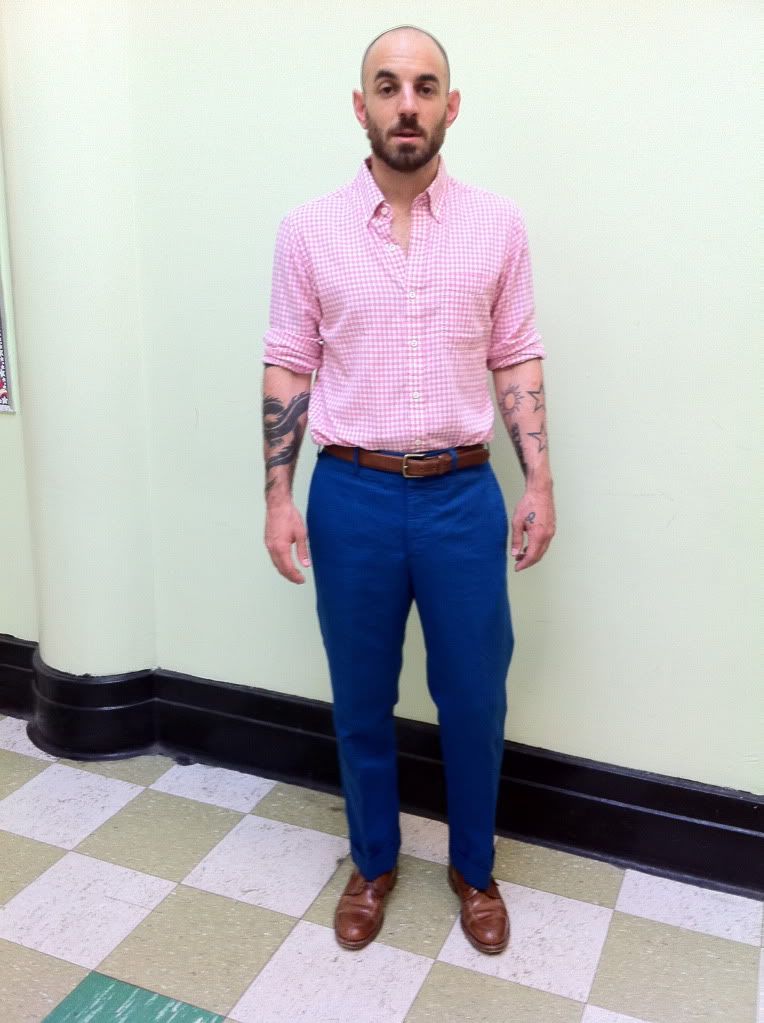 Originally Posted by

Holdfast
Had to pop into work for an hour, but couldn't be bothered to dress up, so...


Felt like wearing black and gold for some reason:

Originally Posted by

tricky
Shoes are green grainy leather driving loafers.


weekend so no suit:
[/SPOILER]
Originally Posted by

chrisb0109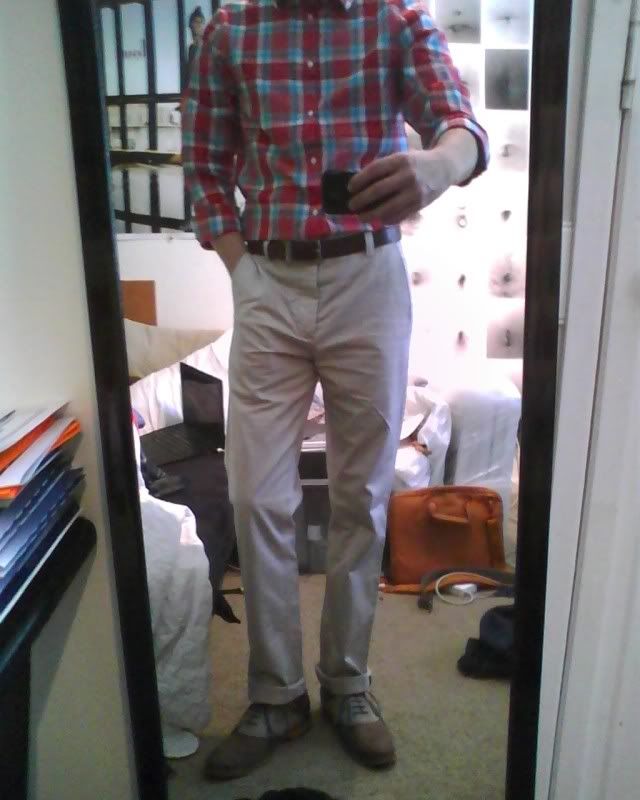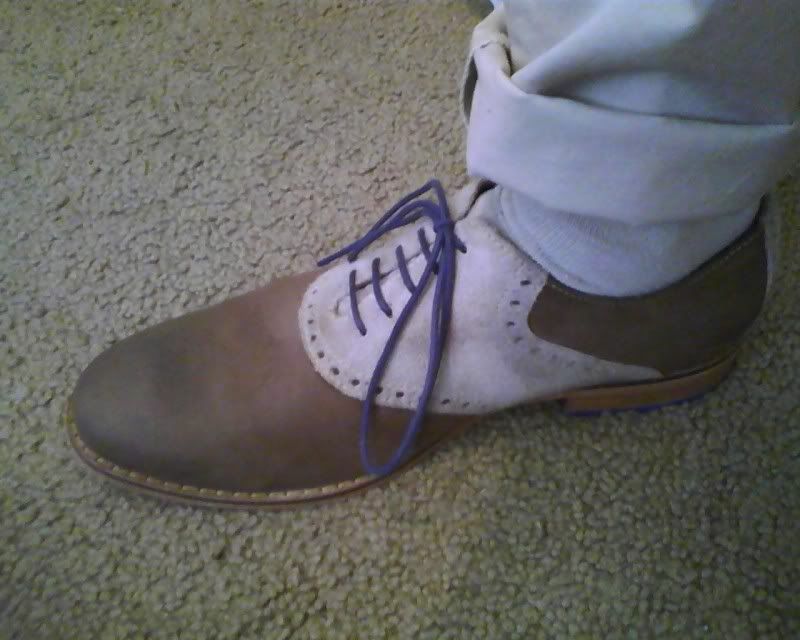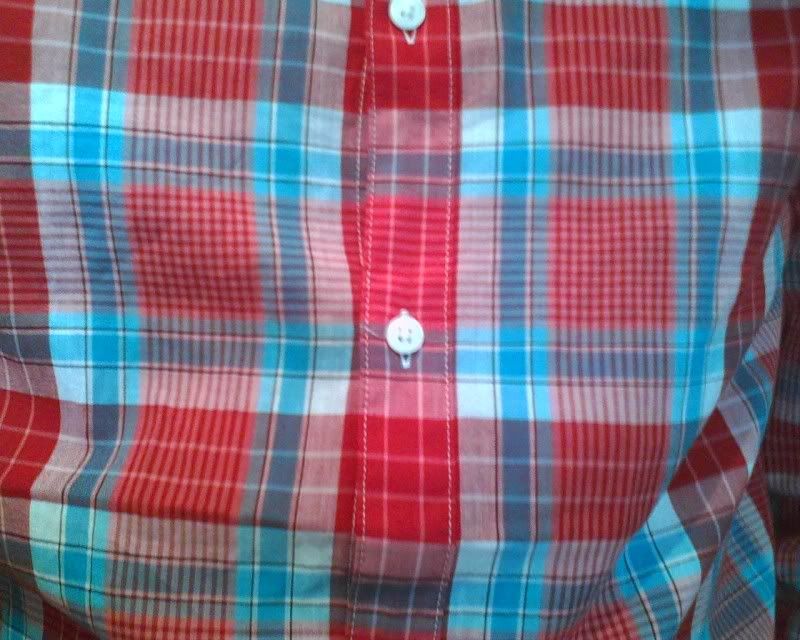 Originally Posted by

kevinsp8
Medium Gay Boat Ride

Originally Posted by

acridsheep


Four generations of the herd on tha Vinyahd.

(Polo by Kent Wang)
Yesterday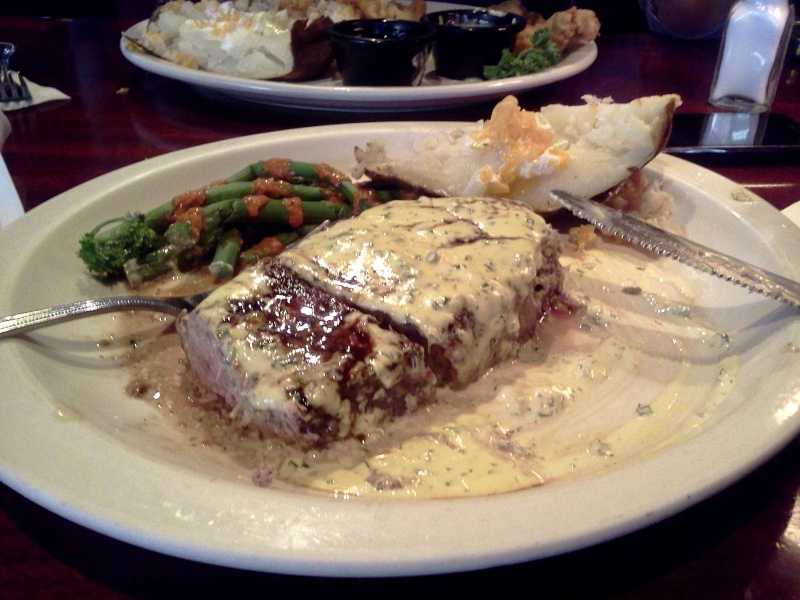 Today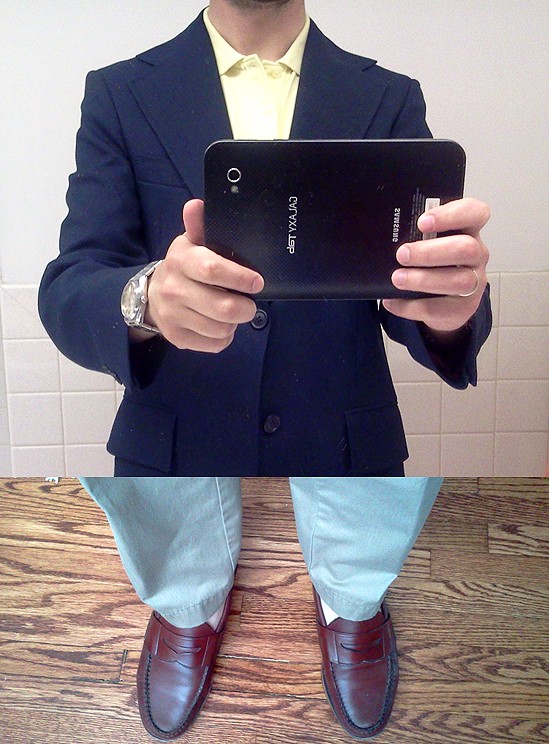 I'm in full non-BD mode, C or otherwise. Not "anti" anything; it's just too hot and muggy for a coat and tie, especially since I commute all of 2 miles by public transit and/or foot.


Originally Posted by

niidawg3
Play:



Work:



more on the dark side
Some crappy iPhone photos today. It was the first truly warm, sunny day we've had so far this year and a great excuse to break out my summer GTH pants.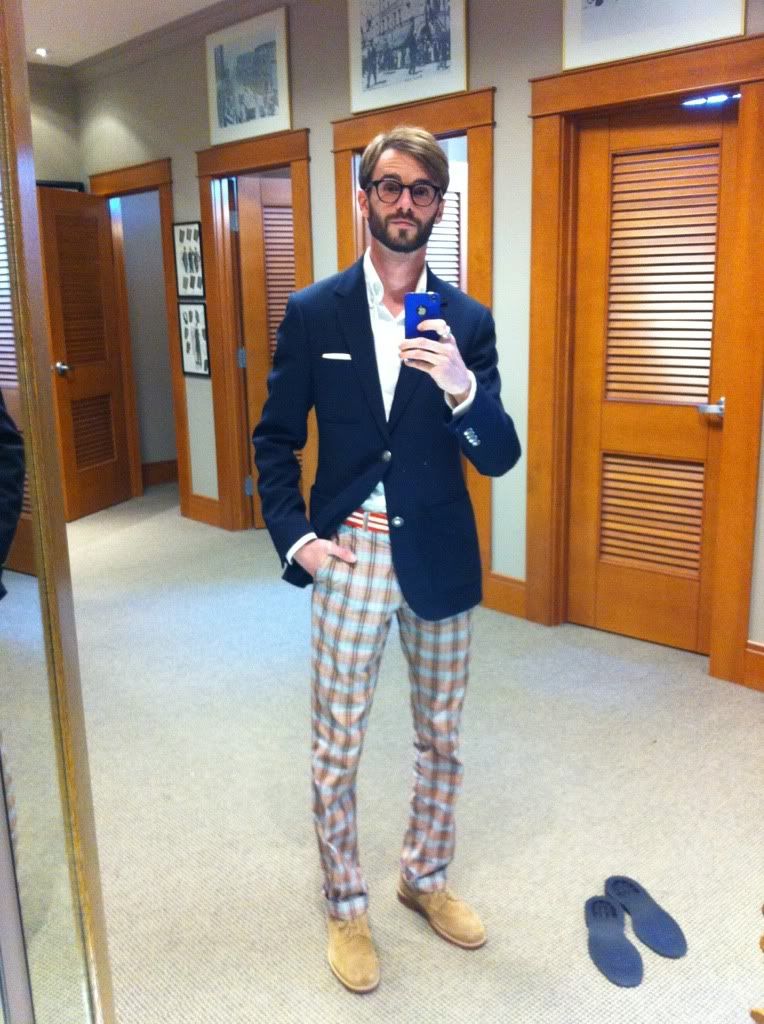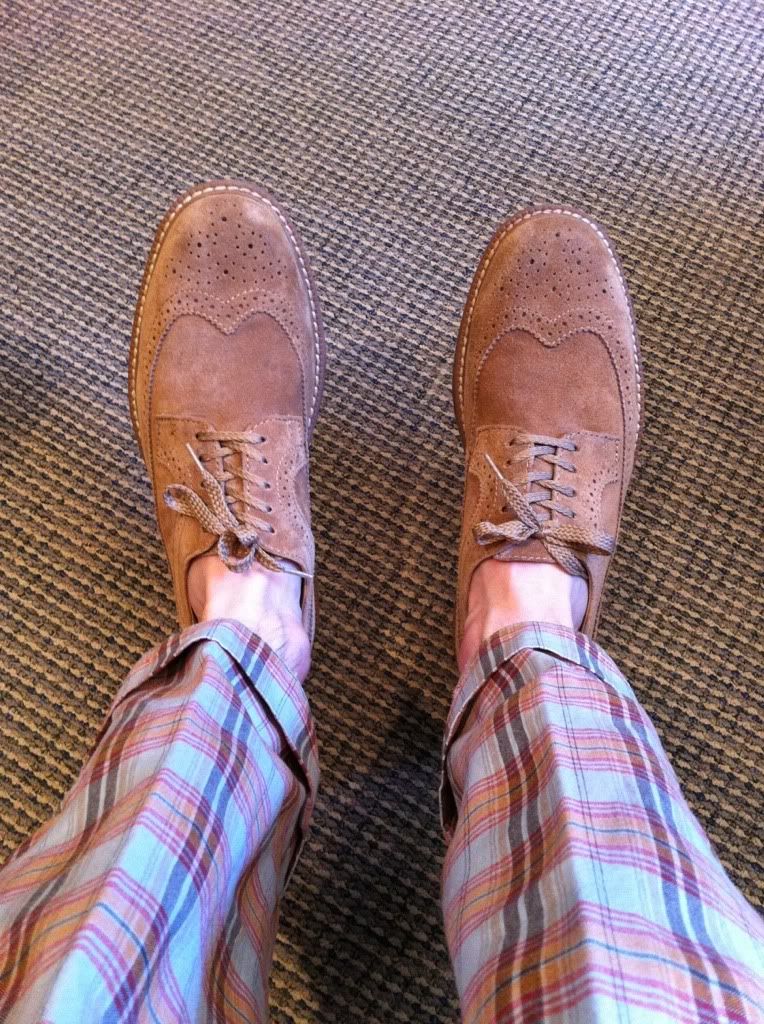 Pretty casual office I work at.




Emo iSight pic

Originally Posted by

Neofinitia
As Gnatty would say, "Hi Ladies". Guess who is back in town?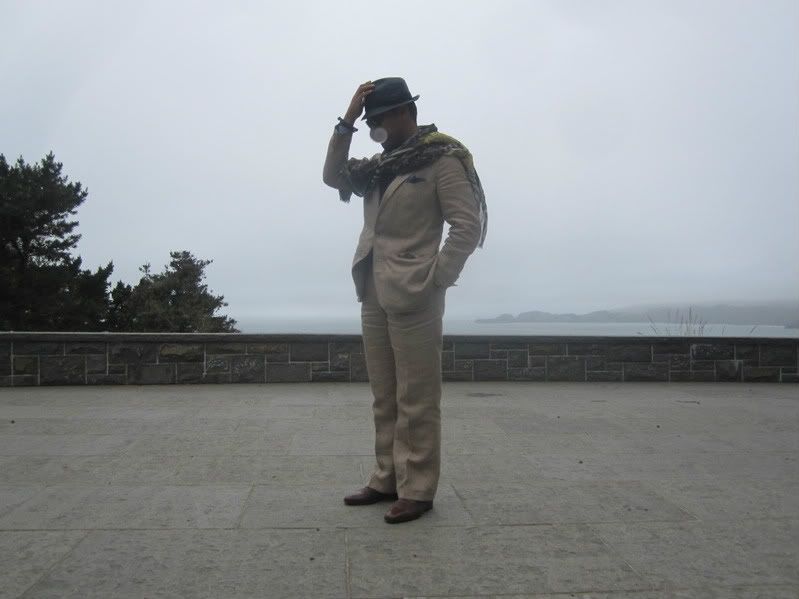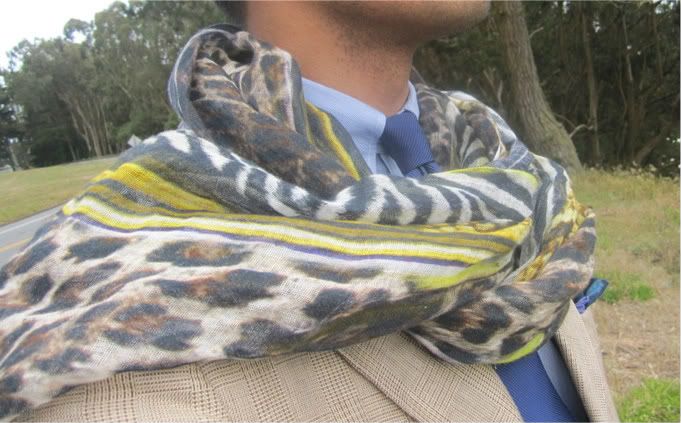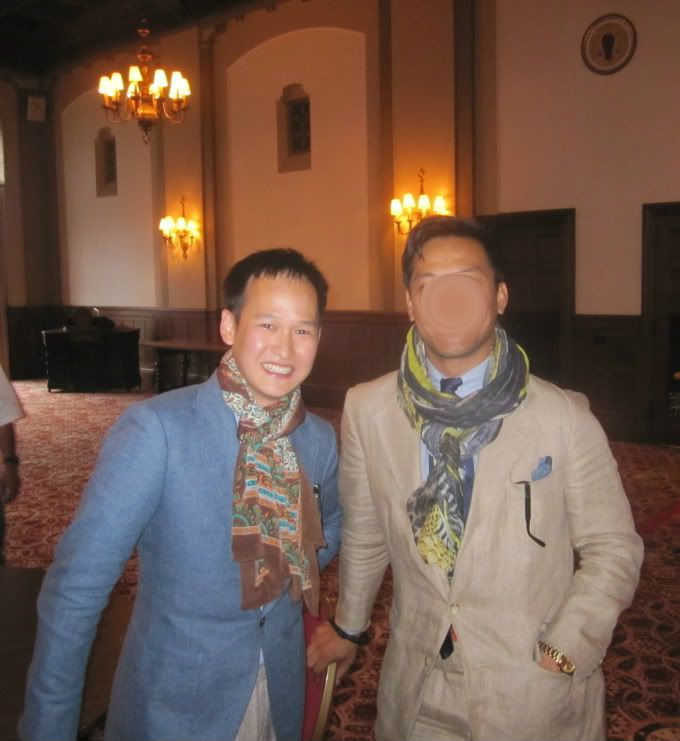 From scorching...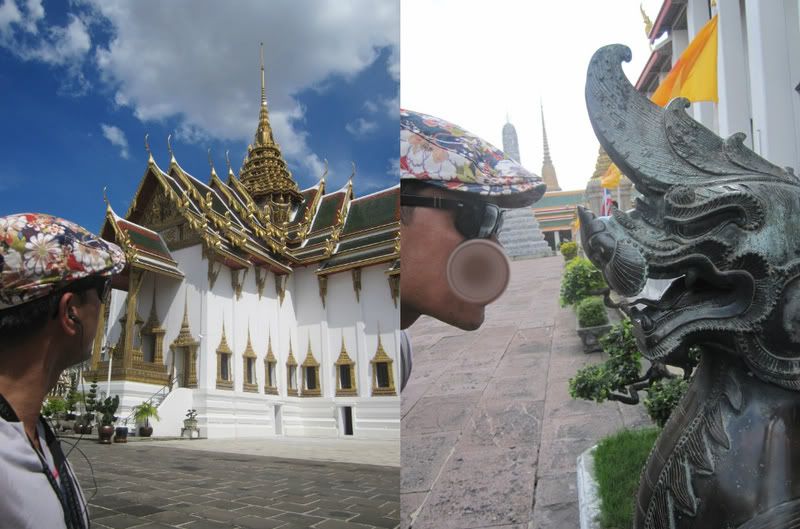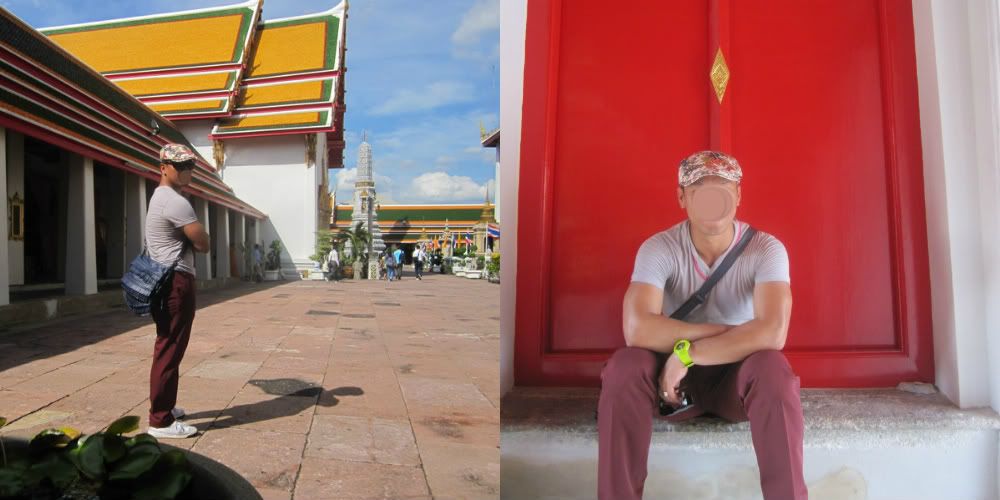 ...to raining...



...to mile-high dry...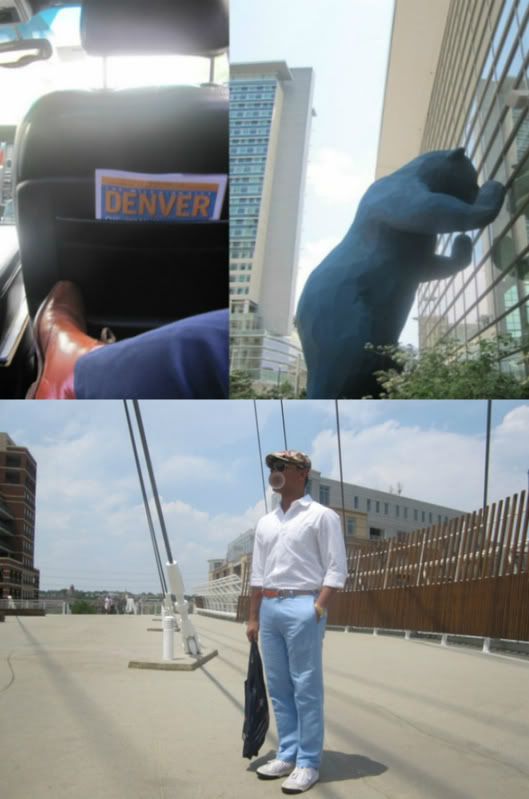 ...to the beach...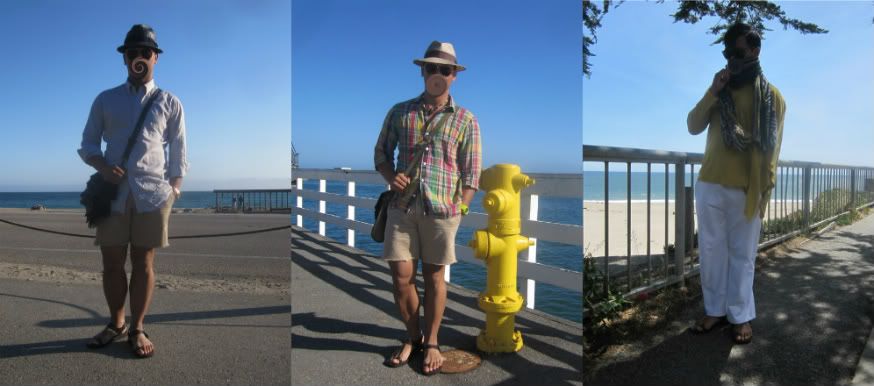 ..to the city...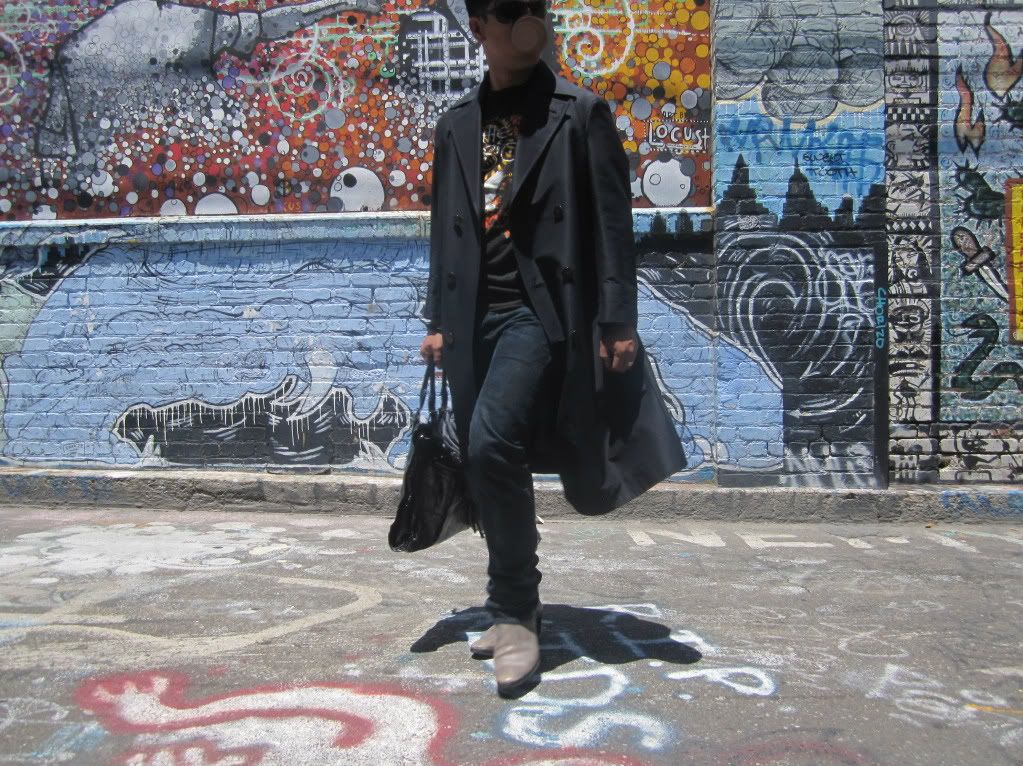 See you all around. Docking in for a few.
neo, you always rule so much.

it was kinda rainy and overcast and cool today""probably not the best day to wear white pants & madras...


More crappy iPhone photos. I think this trend may continue for a while. Sorry gents.

Home from work...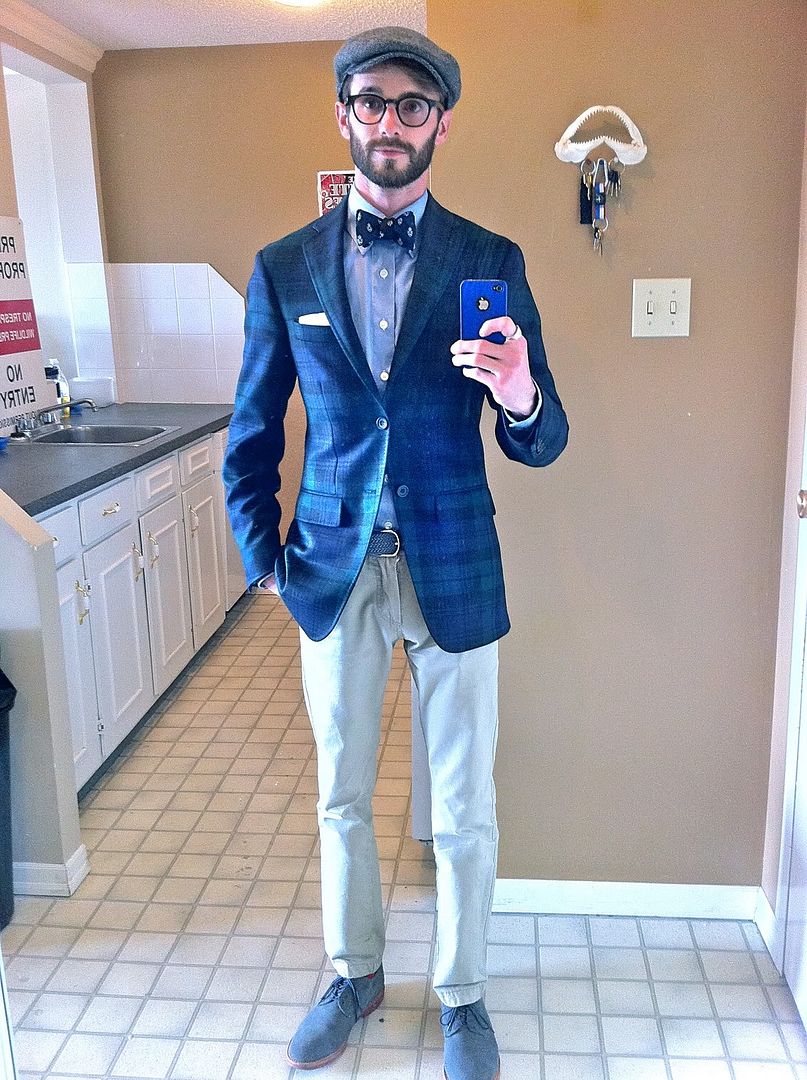 And now off to DJ at my favourite cocktail lounge...


I stick my MC stuff in SW&D so I may as well do the same for MC:

Originally Posted by

A.J.V
Had no time to post on weekend, but here's couple casual outfits from saturday and sunday.

Saturday:



Sunday:

Vacation steezy, rumpled and easy.

Probably the last work related thing I post for this job (finishing it up soon). Been sort of cheating things lately; only a "dress shirt, dress slacks, dress shoes and necktie" are required so I just toss a tie on at work.

Very casual today:


Take 2.

Originally Posted by

Holdfast
Chilled-out sort of day...


Originally Posted by

molayo
Encouraged by some good comments, I am being bold to post another WAYWRN.
It's Saturday, so I wore jeans with a jacket. I did try a pocket square but still it looks weird to me.


While posting, I found I had worn almost the same style last weekend.


Originally Posted by

joneog
An attempt at casual; lets keep the collective disapprobation of the moccasin-loafers civil.

Originally Posted by

Threadbearer
This is the most "dressed up" I've been since the school year ended. Thought I should capture it for posterity.




Indigo Palms linen shirt
Banana Republic lightweight cotton slacks
Polo striped cloth belt
Ray-Ban shades
Citizen watch
Johnston & Murphy disposable loafers
Oldog/oldtrix socks
Haven't posted in a while. The casual thread inspired me to take some photos. This is from Friday/Saturday/Sunday:
Originally Posted by

JapanAlex01
I know it's half SW&D, but **** poasting there! I need to get rid of this shirt""it's an inch & 1/2 too large in the neck! (And lol at my A.P.C.s""they were an inch too big to begin with, and stretched out in the crotch and knees, etc. It's so funny how weird these areas look!
)


End of a long day, crappy iPhone pics... ironic, as I just returned from a photography class.



Originally Posted by

StanleyVanBuren
ridiculous pants require ridiculous facial expression


Last edited by a moderator: