Joined

May 18, 2009
Messages

4,570
Reaction score

92
I have several wonderful tweeds to pass on today--including a Custom Made Brooks Brothers, several 3/2 sacks, Harris tweed, and a wonderful jacket that embodies the American dream, and is packed with history!
As always, I offer
FREE SHIPPING ON EVERYTHING IN THE USA
; International inquiries are welcome, with shipping at cost!
Also as always,
ALL OFFERS ARE VERY WELCOME!
Please PM with interest and offers!
1) WONDERFUL Southwick houndstooth jacket.
This is wonderful! Made by Southwick, one of the great traditional American clothiers, for Roots, one of the great (and long gone) tradly clothiers of upscale New Jersey, this beautiful jacket is cut from a classic grey and cream houndstooth tweed with accents of forest green, with a complementary dark red windowpane overcheck. It is half-canvassed and fully lined. It's a contemporary two button front closure jacket, with subtle darting and a single centre vent. It has four button cuffs; all the buttons are likely horn. It was, of course, Made in the USA, and it's in absolutely excellent condition.
Asking just $49, or offer, for this beauty!

Measurements
:
Chest: 22
Sleeve: 24 1/2 (+2)
Shoulder: 18 3/4
Length: 30 1/2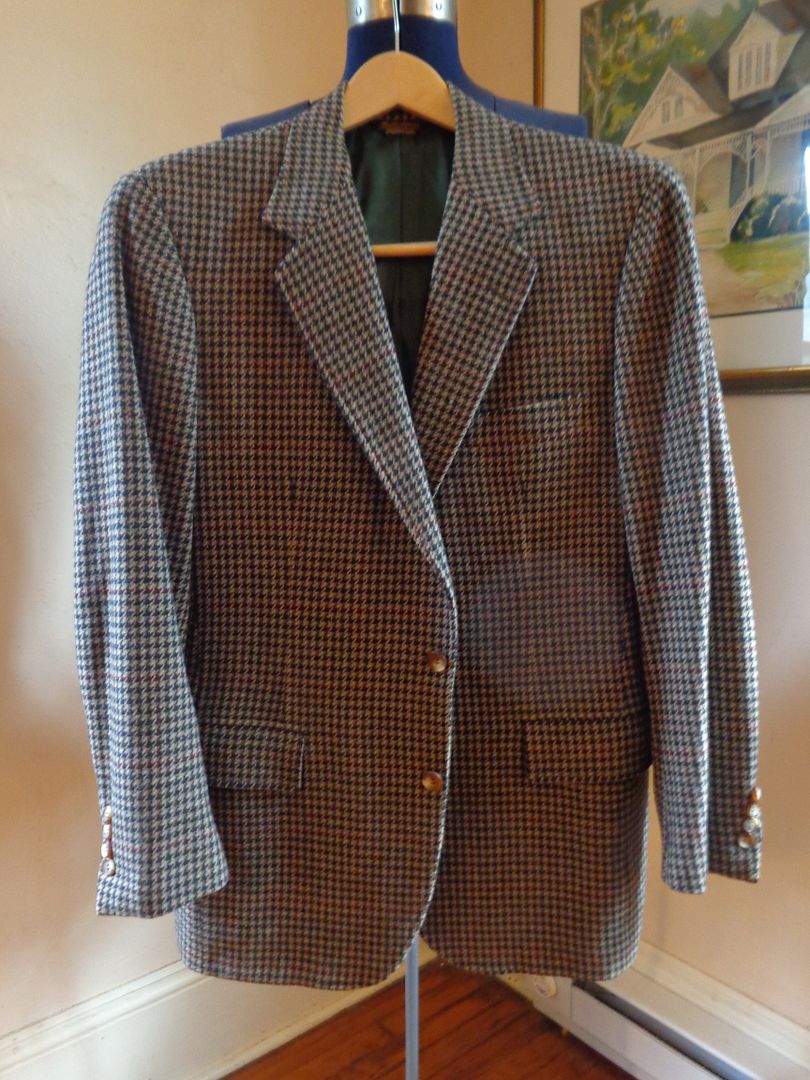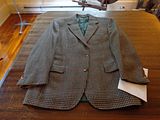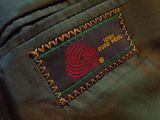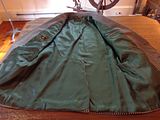 2) WONDERFUL Vintage Hacking Jacket!
SOLD
This is absolutely wonderful! Dating from the 1960s, this is a wonderful muted Glen Plaid in a muted colourway of petrol blue, forest green, and peat black that's evocative of the 1950s and 1960s, and is rarely, if ever, seen now. This has the classically 1960s narrow lapels, and two front flapped hacking pockets. It also has a fully functional hacking ticket pocket. It has a twin vent, as befits its Anglophile heritage, and two button cuffs. It is half canvassed, and half-lined.
This was Custom Tailored by Sears, back when they made very nice and very serious clothes indeed.... If you doubt this looking at today's Sears, just remember who brought us the original horsehide Hercules jackets!
This jacket is in Very Good condition; it has some minor fraying to the lining, as shown.
As such, it's a steal at just $29, or offer.

Measurements:
Chest: 21 1/8
Sleeve: 24 (+1 1/2)
Shoulder: 18 1/2
Length: 29 1/2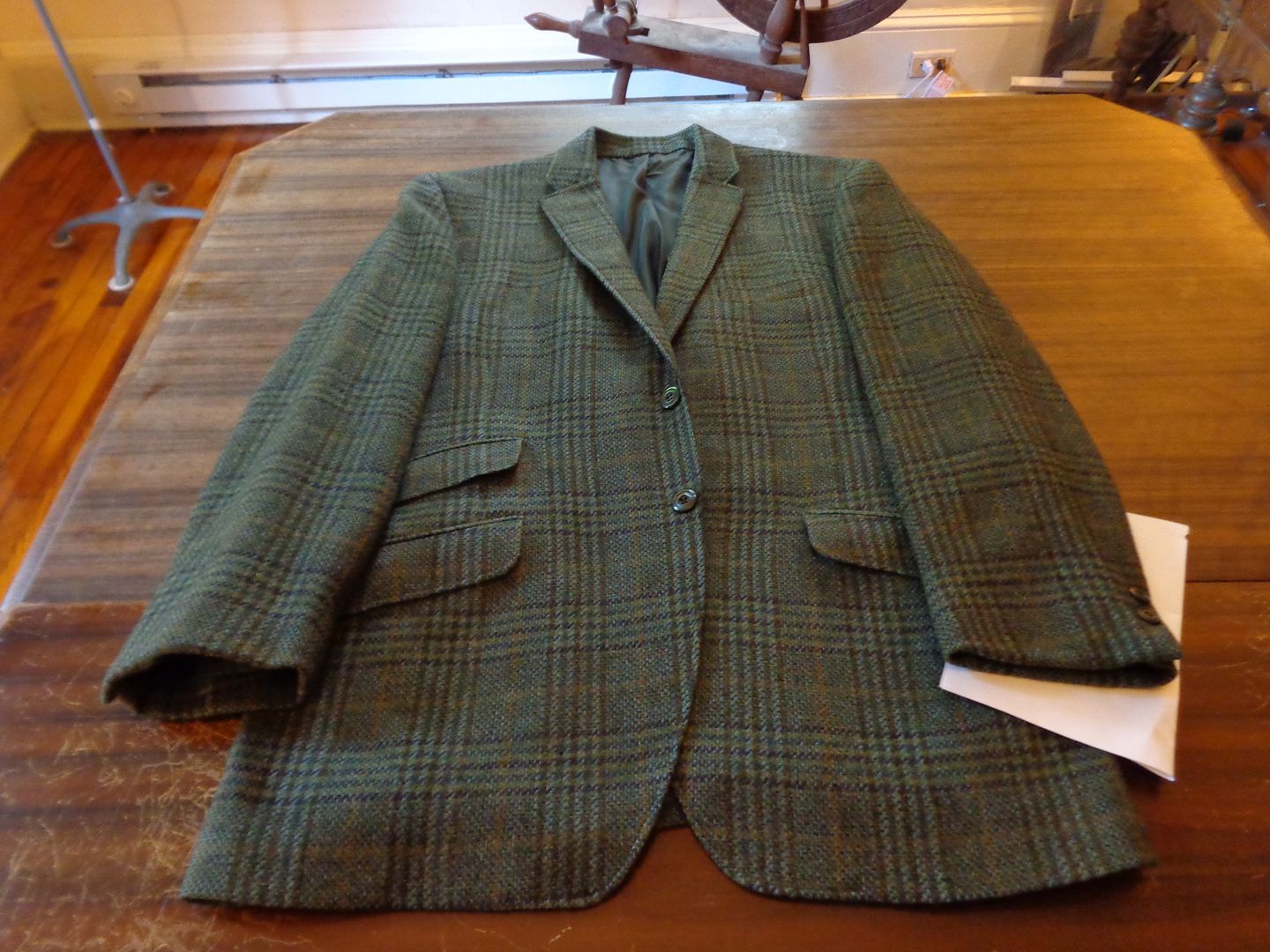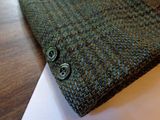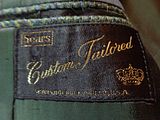 3) WONDERFUL Custom Tailored Tweed 3/2 sack by Brooks Brothers!
This is a wonderful jacket--and one attached to some political controversy!
This jacket was made in 1989 for John R. Fiorino... who made the headlines of the Washington Post in 1988 as a contributor to the Dukakis campiagn. Dukakis was running ads against George Bush (The Other One) criticizing him for being an elitist, and presented himself a a Man of the People. In response to this The Washington Post ran an article attacking Dukakis for being an elitist, noting that at least 50 wealthy Americans had contributed over $50,00 each to his campaign--and some had contributed as much as $100k! (Remember, this was 1988... and while these figures are large now, they were astronomical then! One of the wealthy American elite was the wealthy Chairman of the Monmouth Co., NJ, Democratic Party--John Fiorino... who commissioned this jacket just over one year later. (For the record, Fiorino contributed $80,000 to the Dukakis campaign--which would have bought a LOT of nice tweeds!)
Whatever you think of his politics, Fiorino had excellent taste in jackets! This beautiful 3/2 sack has a wonderfully liquid label roll, and is cut from a beautiful dove-grey herringbone tweed that's shot through with vertical striping of cream, baby blue, and sepia tea rose pink. It's absolutely lovely! And the tailoring on it is exquisite--it's absolutely beautifully cut, and the pattern matching on the back is beautiful. It's half-canvassed and half-lined, with a single centre vent. It has three button cuffs and faux buttonholes. It was, of course, Made in the USA. It's in excellent condition, and a steal--for either Democrats or Republicans--at

just $49, or offer.

Measurements:
Chest: 21 7/8
Sleeve: 23 1/4 (+1 1/2)
Shoulder: 18 3/4
Length: 29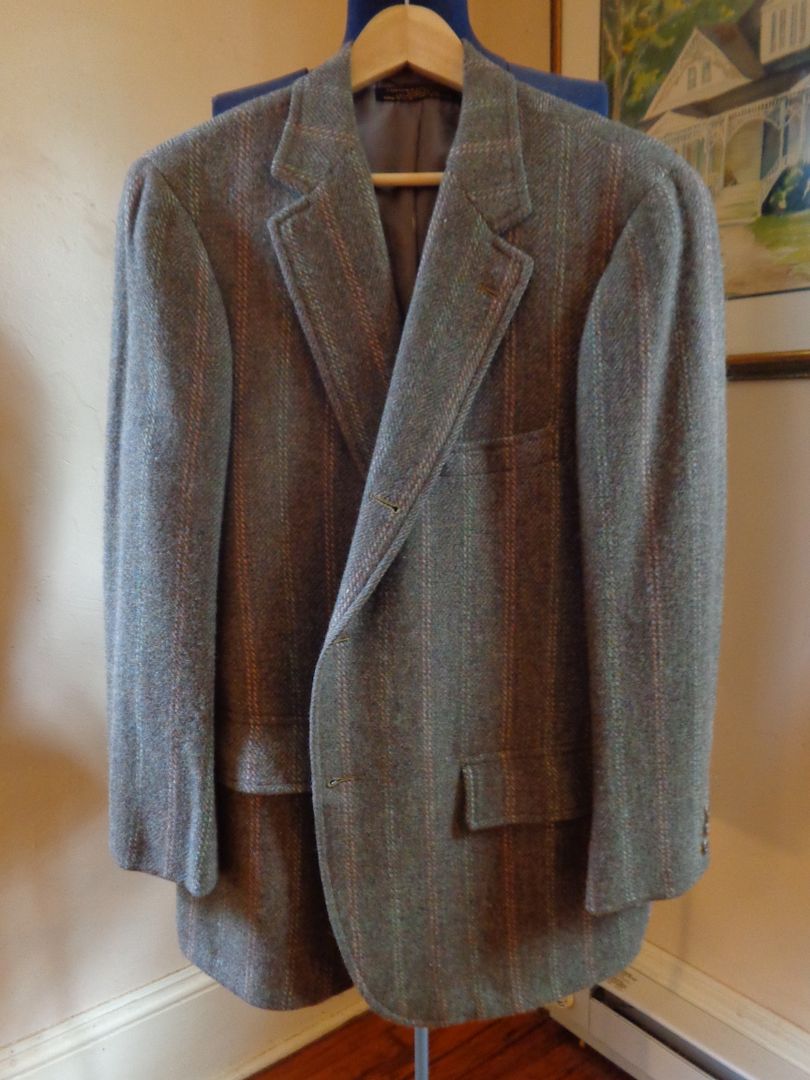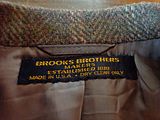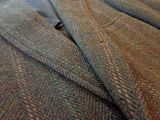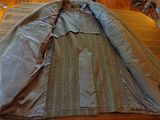 4) A JACKET WITH AN AMERICAN TALE
This jacket is wonderful.... Not just for its own sake, but for the American stories that are woven into its fabric.
If the Brooks Brothers jacket, above, was a sign of the Establishment, this jacket is an example of the other end of the American spectrum--the self-made immigrants and long-time workers who built AMerican from the ground up, and made themselves wealthy in so doing.
Let's start with the jacket itself. Made by Schneider's Custom Tailoring of Pittsburgh, you might think that this was made by a tailoring firm with German origins. But it wasn't; Schneider's was owned and operated by Tonino Trivelli, an Italian immigrant to the United States. Trivelli had little formal education, since he began work as a tailor's apprentice in 1946, age 12. The Second World War was just over, and young Tonino needed to help contribute to the family finances in a devastated Europe. Through hard work and skill he rose to the rank of Master Tailor--no mean feat in Italy. At some point he emigrated to the United States, choosing as his destination Pittsburgh.... as he already had family connections in the large and vibrant Italian communities that supplied a lot of the labor to the local steel mills. There, he set up Schneider's Custom Tailoring, eventually managing to move into the prestigious Oliver Building, Pittsburgh's famous skyscraper. He'd arrived--and his clients knew it. You want first-rate Italian tailoring? You go to Schneider's.
And who better to be a client of his than another self-made man, Edward L. Solomon? A long-term Western PA working class family, his grandparents were in the steel industry as foremen and union bosses in Beaver Falls and Pittsburgh, probably employees of Crucible Steel. After serving in the Naval Air Corps Edward saved enough to buy Mercer Lime and Stone, which he expanded and made successful.
Steel, stone, and Italian tailoring from immigrants who started age 12.... This is an *American* jacket!
And it lives up to its heritage. Made in November 1993, this is a beautiful glen plaid check, this is cut from lighter-weight 11 1/2oz cloth; perfect for modern office environments, which is just what the CEO of Mercer Lime and Stone needed. The colourway is beautiful; muted and autumnal. This has patch pockets--always a desirable feature! It's half canvassed and half-lined, and has a single centre vent. It's subtly darted--as you'd expect from Italian tailoring--and has a two button closure. This is a wonderful example of Italian-American tailoring! It's in excellent condition.
Asking just $50 for a piece of American history, boxed and shipped in the USA.

Measurement
s:
Chest: 22
Sleeve: 23 (+1 3/4)
Shoulder: 19 1/2
Length: 30 1/2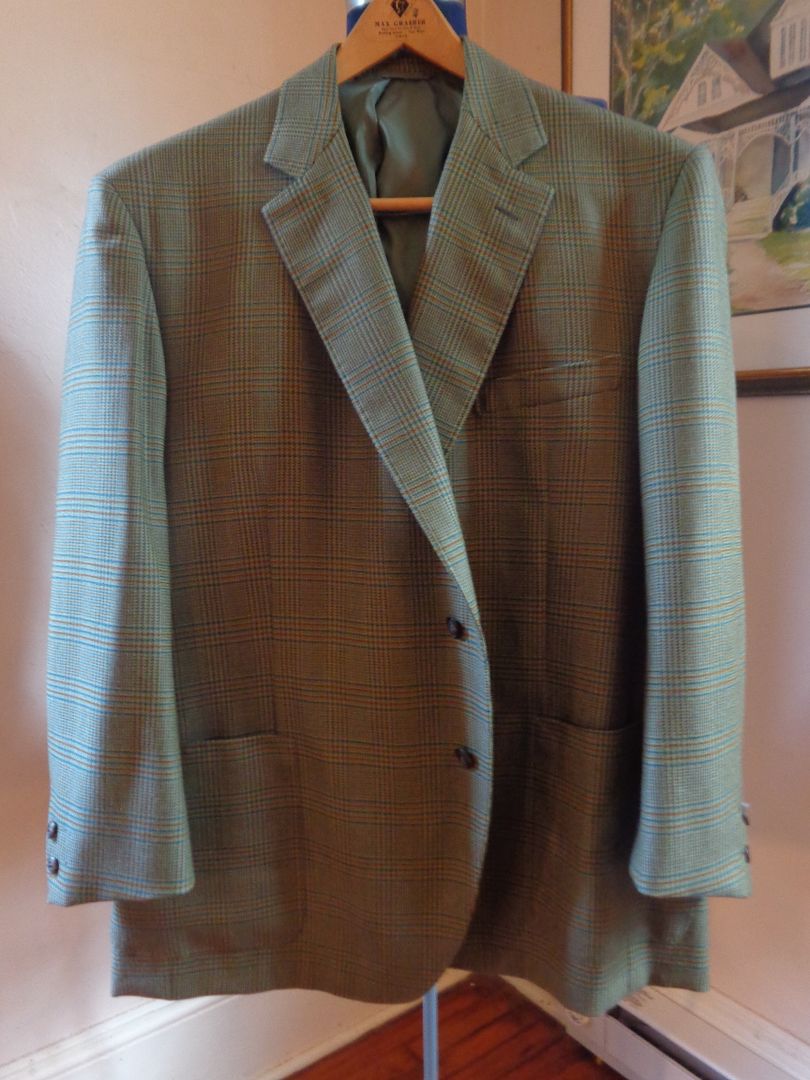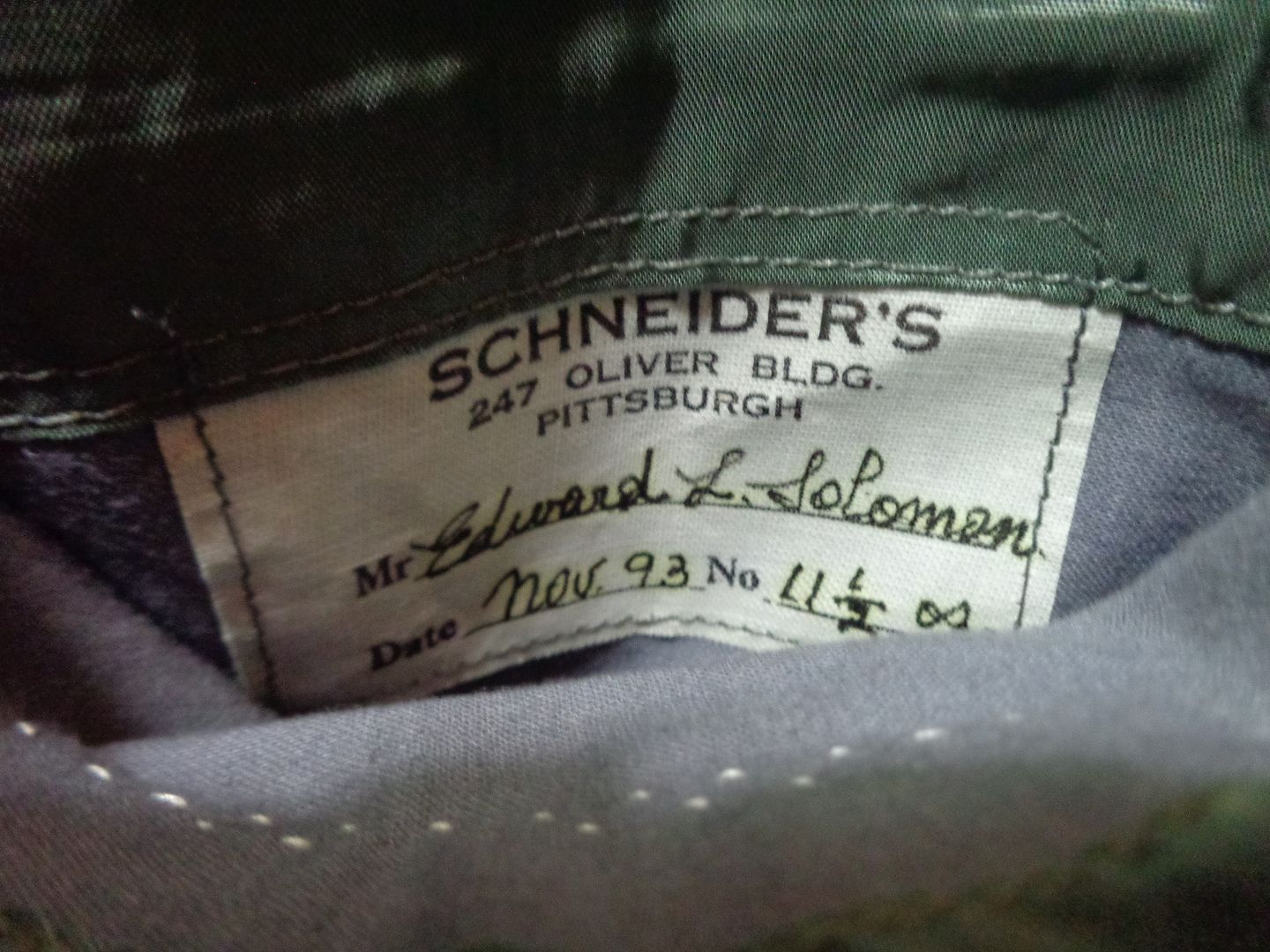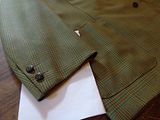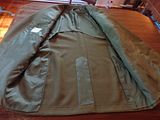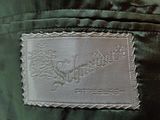 5) CLASSIC TWEED in herringbone and barleycorn--with TICKET POCKET!
This is a lovely, classic tweed jacket! The tweed itself is wonderful; alternating vertical bands of classic grey herringbone in light grey and dark grey, and classic barleycorn, in the same colour scheme, woven together to form a beautifully complex yest subtle tweed. This is shot through with vertical stripes of forest green, sky blue, sepia pink, and dusty orange, for a wonderfully complex tweed indeed.
The cut of the jacket does justice to its cloth. A contemporary two button front closure, this has flapped front poickets--including a ticket pocket that is still basted shut! It has subtle darts, and a single centre vent. It has four buttons cuffs--the buttons throughout are likely horn. It is half-canvassed and half-lined. It was Union made in the USA for Austin Reed, and is in excellent condition.
Asking just $35, or offer.

Measurements:
Chest: 19 1/2
Sleeve: 24 3/4 (+1 3/4)
Shoulder: 17 7/9
Length: 29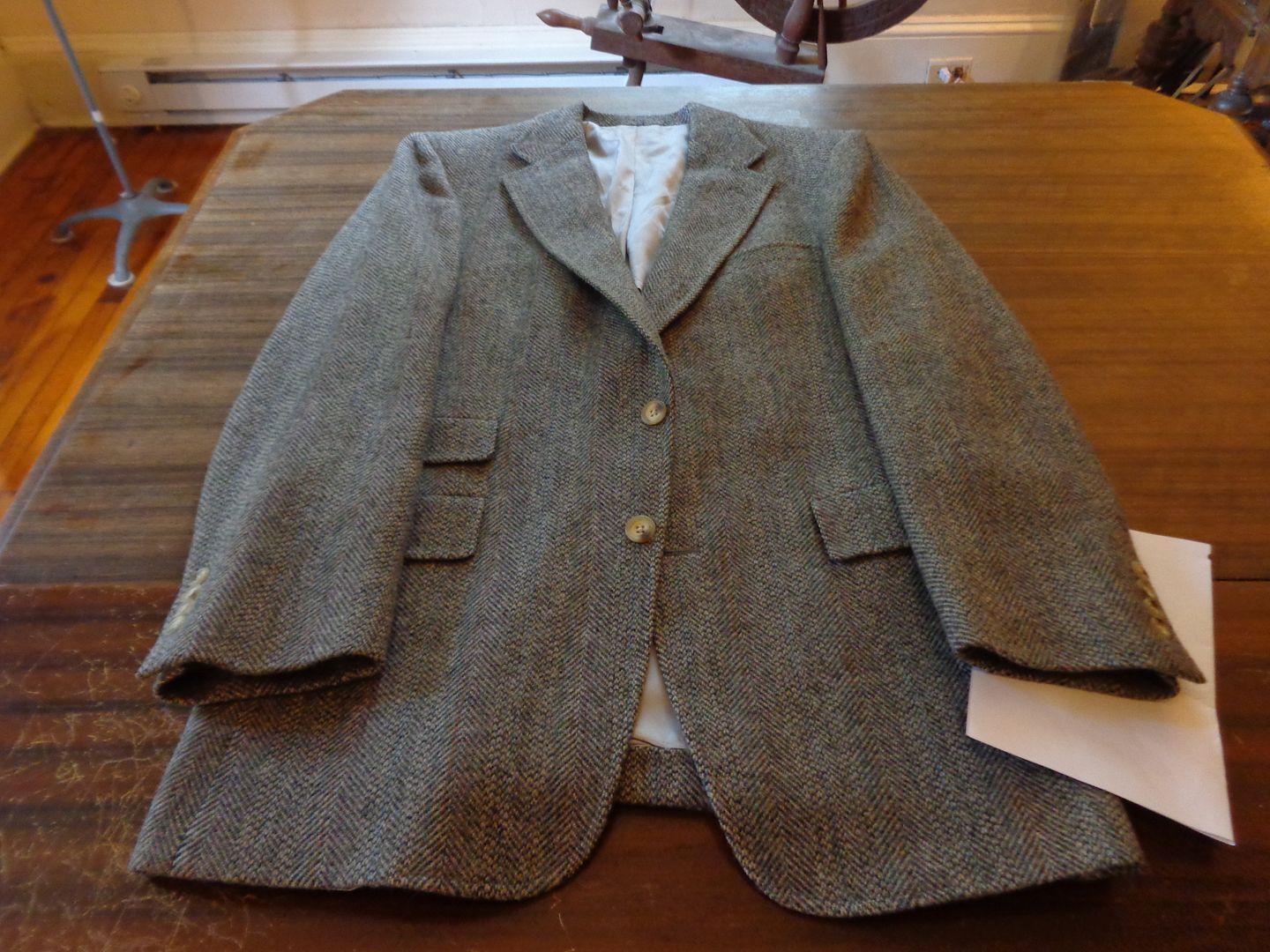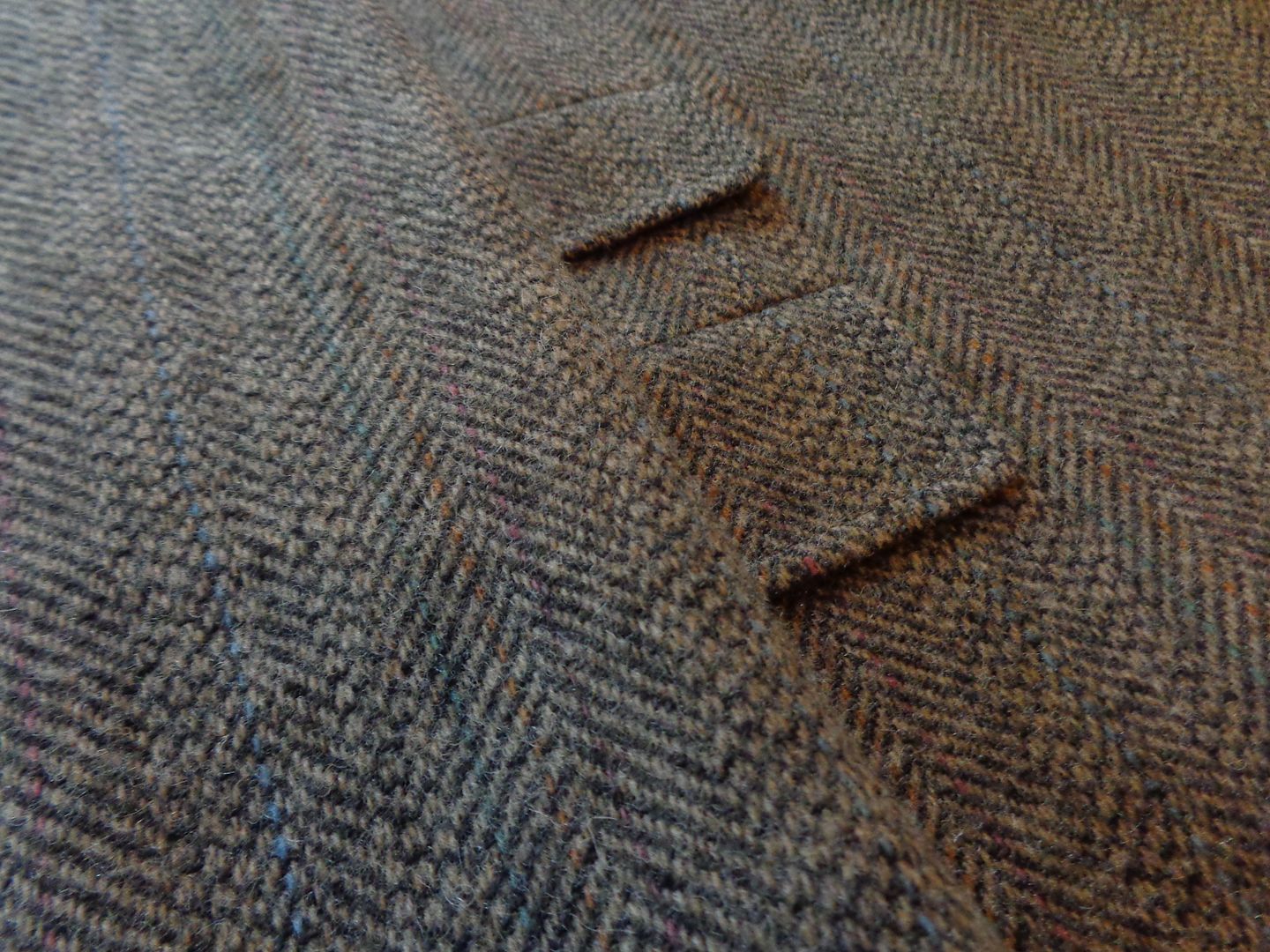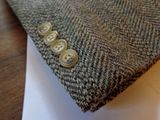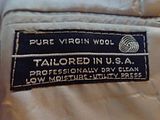 6) GORGEOUS Harris Tweed in Charcoal Herringbone with vertical striping!
This is absolutely GORGEOUS! A classic charcoal herringbone Harris Tweed, this is enlivened with classic Harris vertical stripes in beautiful shades of forest green, Royal blue, and rust orange; this is a truly lovely example of Harris tweed!
The jacket lives up to the cloth; a contemporary two button model with subtle darts and a single centre vent, it appears to be half-canvassed, and is half-lined. It has four button cuffs--and all the buttons are the classic leather covered, metal-shanked, football buttons that go so perfectly with Harris tweed. This jacket was Made in the USA, and is in absolutely excellent condition. It's a bargain at
just $39, or offer.

Tagged 40R. Measurements:
Chest: 20 1/4
Sleeve: 24 1/4 (+ 1 1/2)
Shoulder: 18 1/8
Length: 29 1/2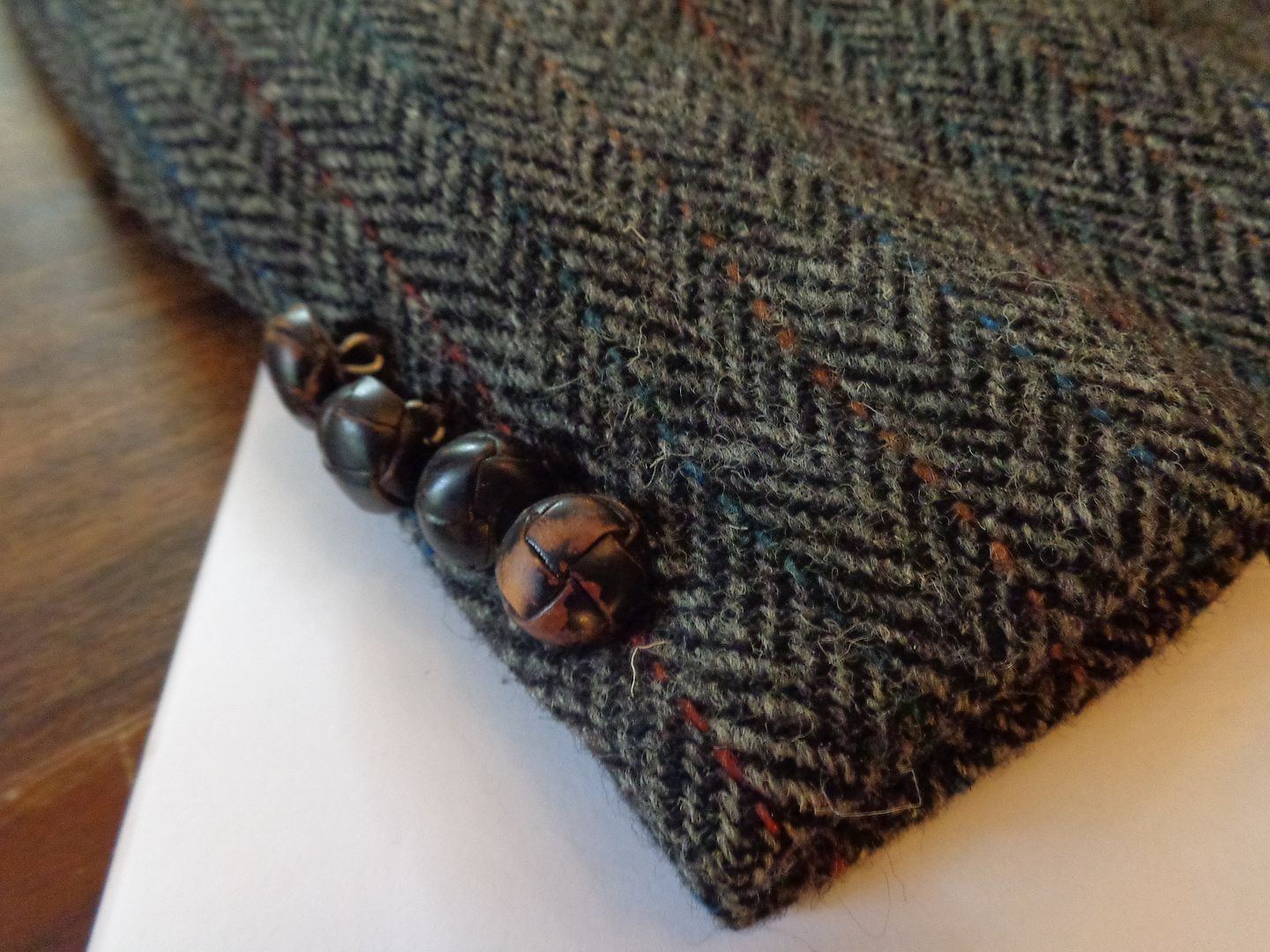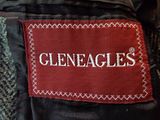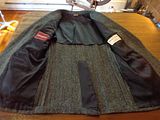 Last edited: