Joined

Mar 27, 2014
Messages

20
Reaction score

0
I purchased an old shoe box which must have been from an estate, since these items look to be really old. The shoe box is an Esquire one with the original tag still hanging on. Anyway, there's really old shoe polish, lather cream, and saddle soap, as well 4 brushes. The saddle soap is marked with the original manufacturer's price of 59 cents. Anyway, is it still good to use? How do I go about reviving it, since it looks completely dried out? Maybe it's best to use new ones instead, and sell off the older ones for whoever may like this kind of stuff.
The saddle soap looks very similar to this, but with "59" instead of "49" for the price:
Leather cream looks like this: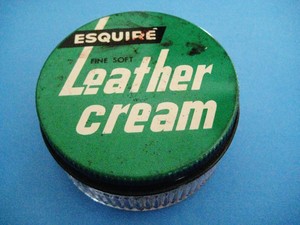 Thanks in advance!
Last edited: