Joined

Apr 5, 2013
Messages

10,981
Reaction score

33,533
The Official Alden Thread for 2016
by @mdubs
based on a post originally by @borderline
(Admins note: Thank you gentlemen - Cheers, Fok.)
Gentlemen, welcome to the Official Alden Thread for 2016. This thread is the continuation of the long running
Official Alden Thread
. This thread is intended to provide an environment to share information, enthusiasm, and pictures about Alden Shoes; ask questions about Alden; and to provide advice to others interested in Alden shoes. As alluded to in the title, a new thread will be started for each year in order to keep thread sizes manageable.
I am starting this thread off with the Frequently Asked Questions to utilize as a reference for all in the Alden Community. The FAQ is broken out into four major sections: Before Buying, Lasts and Sizing, After Buying, and Miscellaneous.
Before Buying
First of all, congratulations on your decision to purchase an Alden shoe! I hope that this guide will help you in getting into your first pair of Aldens.
Where do I buy a pair?
To start off, the factory does not sell shoes directly. There are two stores that are owned by the Alden Shoe Company and that would be Alden of Washington D.C. and the Alden Shop (a.k.a Alden San Francisco). Besides the "factory stores", there is a plethora of independently owned retailers who carry Alden shoes. There is a fairly

comprehensive list

of retailers below.
Most retailers offer the stock models and many of them offer store specific special makeups. It is highly recommended that you form a relationship with your most convenient retailer if possible in order to take advantage of their store unique special models.
What is a last?
Lasts are wood forms over which the shoe is formed on and molded to during the construction process.
What are the different lasts and how do they fit relative to one another?

Source: @REguy , Reference:

http://www.styleforum.net/t/85589/the-official-alden-thread/13590#post_4526910
How do I size my shoes?
Sizes depends on the Last that the shoe is made around. It is more complicated than one would originally expect. See the next section for the full details.
What do the different cordovan colors look like?
Alden offers two standard colors of Shell Cordovan (Black and Color #8) and three exotic colors (Cigar, Ravello, and Whiskey) and has very rarely offered a few other colors (Color #4 and Color #2).
Black - The classic color in which all light is absorbed. Black Shell Cordovan has a nice shine to it.
Color 8 - Most commonly associated with Burgundy, this is the classic color of Shell Cordovan, and it is not uncommon to see leather shoes called "Cordovan" in color and it will be a burgundy shoe. Alden puts a nice, proprietary finish on it to give it more of an eggplant color in general. Varies in darkness between batches.
Cigar - Alden's Dark Brown color. It has varied in color from a Milk Chocolate color, to having an Olive Undertone, to more modern Cigar which is more of a Dark Chocolate color.
Ravello - Alden's Medium Brown color, typically associated with having a red undertone to it. Varies in darkness between batches.
Whiskey - Alden's Light Brown to Tan color. Varies in darkness between batches.
Color #4 - Generally pretty close to Ravello. Color #4 is supposed to be half the darkness of Color #8. I consider Color #4 to have be a reddish color with brown undertones. This color has not been sold by Alden in several years and is highly unlikely to return.
Color #2 - Color #2 is a light red to ruby color. Color #2 is supposed to be half the darkness of Color #4 (a quarter of the darkness of Color #8). To date, it has only been used on two makeups.


Black, Color 8, Cigar, Ravello, and Whiskey.
The Exotic Colors: Cigar, Ravello, and Whiskey Shell Cordovan

@zippy Color Comparison:

http://www.styleforum.net/t/85589/the-official-alden-thread/21165#post_5102551


@makewayhomer Color Comparison:

http://www.styleforum.net/t/85589/the-official-alden-thread/21300#post_5108188
Color Variation Samples
Alden shoes are made of natural leathers and products and are tanned and typically dyed by hand, therefore Alden colors, particularly in Shell Cordovan can vary fairly considerably from batch to batch.
All of these shoes are marked and sold as Ravello Shell Cordovan.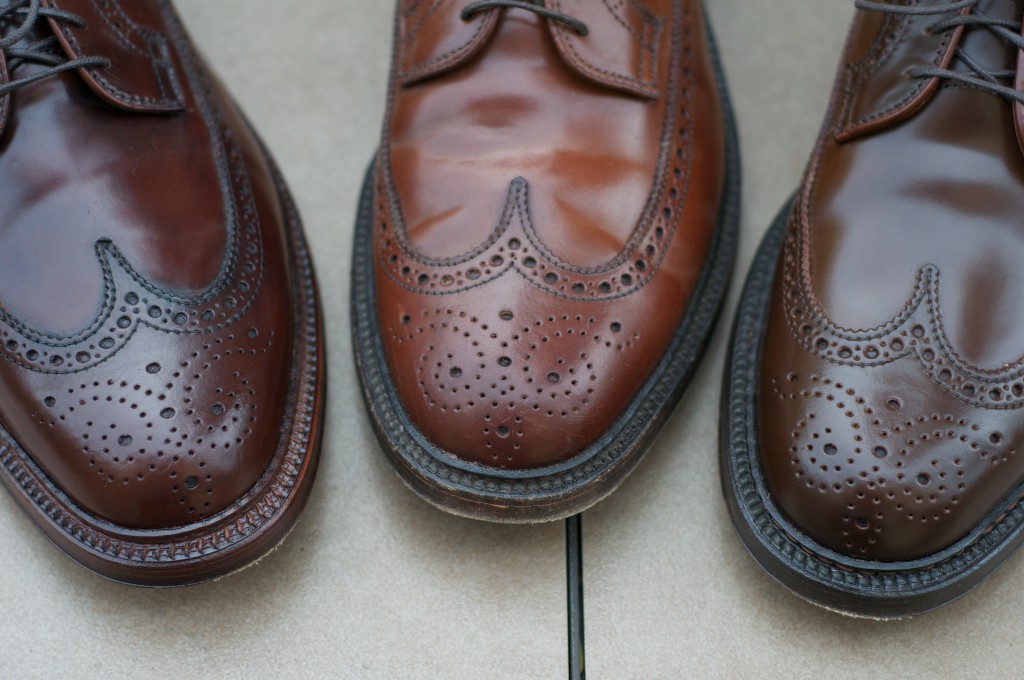 All of these shoes are Whiskey Shell Cordovan. Whiskey is probably the most consistent color of the exotics and it probably changes the most over its life due to the little amount of pigmentation in it.
I feel like I'm buying too many Aldens, what can I do?
1) Give up, there is no hope.
2) Stop reading this FAQ
3) Never talk to @mdubs
Are Alden shoes worth the price?
At the end of the day, the main benefits to Alden shoes are
1) High quality Horween leathers (Chromexcel, cordovan, and I assume suede) in unique colors
2) Willingness to work with retailers (many of whom work with customers) to develop special styles
3) Variety of well-fitting lasts
4) Recraft-ability (not necessarily by Alden, but by a variety of cobblers)
5) Decent price point compared to shoemakers that work with similar materials
6) Traditional aesthetic (high quality and stylish in a "handsome," "gentlemanly" way)
7) Alden shoes are pretty comfortable, can be very eye catching (cordovan, suede, etc tend to get tons of compliments) and overall enhance one's look.
The obvious downsides are
1) Poor quality control, particularly as they ramp production
2) Low / inconsistent availability
(Alcibiades)
Online Purchasing Options
Also, do not forget about the used market,

eBay

,

the StyleForum MarketPlace

,

Mac's Treasures

, and

AldenSD Sales

area all good places to find used Aldens.
Lasts and Sizing
Nailing down the correct size on the lasts is the most critical step when buying an Alden. Who wants a shoe that doesn't fit? This guide should help you in discovering the proper size for each Last. I will say up front that this is intentionally a guide and that on certain models, such as the Leisure Handsewn Penny Loafer, it is a three dimensional problem due to the vamp (top of the shoe) also being a factor.
What are the different lasts and how do they fit relative to one another?

Source: @REguy , Reference:

http://www.styleforum.net/t/85589/the-official-alden-thread/13590#post_4526910
Anecdotal Sizing Information
From @mdubs:
Size Lasts
10.5C True-to-Size
10C Van
10.5B Barrie, Modified, and Trubalance
10.5C Copley, Grant, Leydon, Plaza, and Tremont (AE 5-Last for reference)
11B Hampton and Aberdeen​
From @NewYorkRanger:
I find the Modified last (for my foot) is wider than the Barrie. 9D Modified fits me great, while 9D in Barrie is a snug fit, the E width for me in Barrie is too wide. I find the Trubalance last to be a little bit bigger overall last to the Barrie, whereas the Modified has a more tapered mid foot under the arch, opening up to a wider forefoot.
From @borderline:
Normal size is 10.5D, I take a 10D in Barrie and 10.5E in Leydon
From @Pastor:
I wear a 9 D in the Barrie and i've also tried a 9E in the Barrie. I won some of each and wear them both. The 9D is a little snug and the 9E is a little loose. I have a pair of 9.5 D leydon lasted LWB and they fit great. I went with a 9.5D on the grant.
9.5 E in the Dalton and most all AE's
9D in the truebalance (almost perfect fit)
9.5 D in grant ( perfect fit)
9.5 D in leydon (perfect fit)
From @dsmivtr:
I wear 6.5D Barrie and the 7D Grants fits well for me (actually 6.5E also works fine).
From @kippy:
If you size down 1/2 for barrie (say 10E to 9.5E), don't try to size down 1 and go wider (to 9EE)
From @MiniW:
the best way to determine fit and comfort is to ensure that the ball of your foot is at the widest part of the shoes. some people may have short toes and some people may have longer toes but using that area as a reference point has always worked well for me. Also there is just a feel when you put on a pair of shoes if it feels slightly too large or slightly too tight. If you think it fits you well and is not causing any pain or slipping off when you lace them, then they are likely the right size.

After Buying
How should I break in my shoes?
Use "Mac's Break-in Procedure":
Shoes should be worn only on carpeting on three different days for a minimum of one hour in order to ascertain that the fit is proper. Some also believe that it helps to break in the stiff soles and reduce toe wear.
What is the "pen trick"?
You put a pen where your foot joints are and then crease the shoe. This way the crease is set exactly where your joint bends and the crease is nice and even. People report varying levels of success with this, and it is generally thought to be more important for the PTB.
Will my cordovan shoes stretch?
The consensus is that cordovan stretches very little, if at all.
Care and Cleaning
How should I clean my cordovan shoes or boots?
Use the "Mike Method":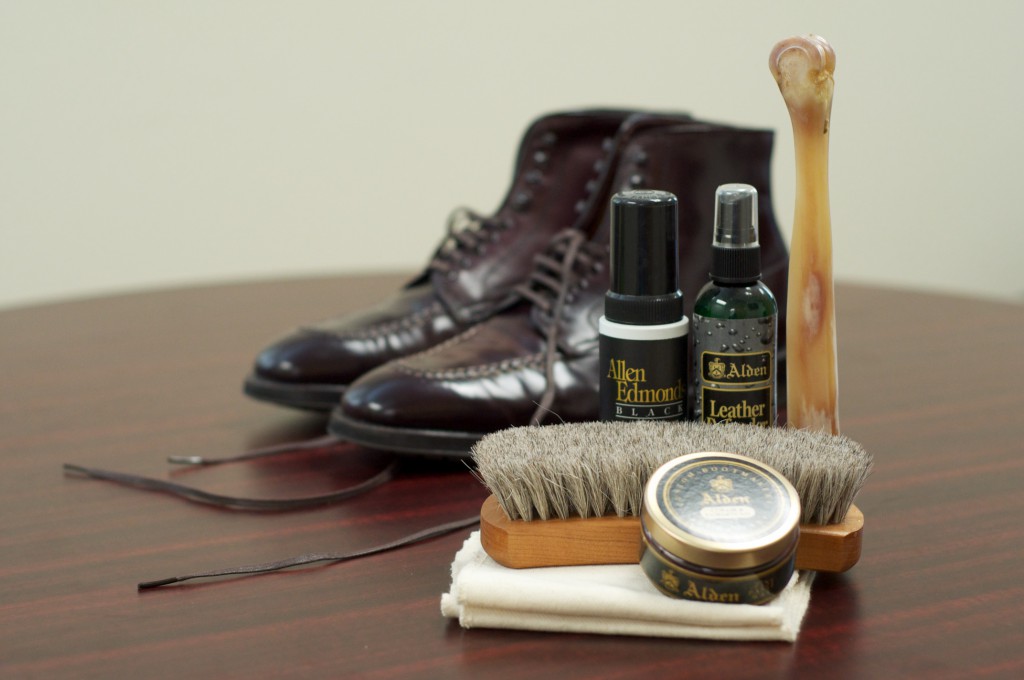 Small derivative of the "Mac Method" with additional specificity. Detailed process can be found

here

.


http://aldenofsandiego.com/caring-for-your-shell-cordovan/
Use the original "Mac Method":


1) Clean shoes with damp cloth
2) Brush vigorously with a horsehair brush
3) Buff with smooth cloth
4) Use wax after a minimum of fifteen wearings


http://www.youtube.com/watch?v=lp5nyVAjMWQ&feature=player_embedded




http://theagatineeyelet.wordpress.com/2010/10/05/the-mac-method/
Some other cleaning advice from Alden of Carmel:
1. Do not use 'neutral' polish
2. Do not clean cordovan shoes using saddle soap
3. Do not attempt to clean cordovan shoes using petroleum distillates or cleaning fluids
4. Do not use any spray shines or aerosol type waterproofs
5. Do not attempt to dry wet shell cordovan shoes with heat or a heater. Wipe them dry, and allow them to dry naturally
6. Do not attempt to polish shell cordovan shoes while wet


http://www.alden-of-carmel.com/index.cfm/care_of_shell_cordovan.htm
My shoes are dry and/or discolored in the creases. How can I fix this?
Alden SF recommends using a small amount of cream in the creases. This can moisturize the area and also bring up some of the natural color in the leather. Most people use either Saphir Renovateur or Venetian Shoe Cream or Alden Boot Cream.


http://www.hangerproject.com/saphir-renovateur.html




http://oakstreetbootmakers.com/accessories/venetian-shoe-cream
My cordovan shoes got wet and there are tiny round marks or bubbles. What should I do?
1) Next time try the Alden Leather Defender
2) Brush them for awhile
3) Try some Renovateur
4) Try the deer bone treatment
5) Just wait, it will go away evenutally
My cordovan shoes has some white stuff on the leather. What do I do?
This is called "bloom". One method is to use a hair dryer, hold it 6″ away from the shoe, and then after it cools down use a chamois cloth and buff it for awhile. It should go away.
How do I care for the edges on my shoes?
This depends for the color of the dressing. For Black, I recommend the Allen Edmonds Black Heel & Sole Edge Dressing. You may also want to consider the Saphir edge dressing projects available from the hangerproject.com as well.
For antique edge dressing, I recommend Patrick's method, which is as follows.
"I scuffed up the edge trim on one of my cigar PTB's this week. I've no idea how it occurred. I didn't want to use a dark brown edge trim as I wanted to keep the visible layers of the stacked leather sole. I only have brown & black edge trim, both AE branded.
To add color to the scuff, I touched it up with AE's Walnut cream polish ("Premium Shoe Polish" in the tube). For reference, AE's walnut shoes are a light to medium brown. I then applied a thin layer/small amount of AE's brown carnauba wax polish to the entire edge trim. IMO it came out well.
Before & After pics below. In the before images, I bumped up the exposure & sharpening to make the damage more easily visible."
Before:



After:


I want new shoelaces for my Indy Boots. What are my options?
1) Alden will mail you a pair if you ask.

http://www.aldenshoe.com/


2) The Alden Madison store will sell you waxed laces for ~$6.

http://aldenmadisonny.com/


3) Red Wing model 9011 will work, request them here

http://www.redwingheritage.com/laces/
Matching Belts
Now that you have the finest pair of shoes, what do you wear with them? Well, most likely the only other piece of leather that you are going to have on you is your belt. So, where do you get the best possible match in terms of a belt? Sadly, Alden is not producing belts any more at this point in time. Here are some other alternatives that are available at the time of this posting:
Restoration and Cobblers
Alden offers a restoration service. More information can be obtained from Alden directly.


http://www.aldenshoe.com/DrawOnePage.aspx?PageID=12
Will Alden put a different sole on my shoes?
No, Alden Restoration will now only recraft your shoes using original materials.
If you want to put on a different sole, your best bet may be B. Nelson, Ah One Shoes, or Randy the Cobbler.


http://www.bnelsonshoes.com/


http://www.ahoneshoes.com/
http://randythecobbler.com/
http://www.sublimegoods.com/ (just does Brass Eyelets and conversion to Antique Edging)
Can I have speed hooks converted to eyelets?
B Nelson will do it for $12 per eyelet (not per pair). A standard Alden boot with 4 pairs of speed hooks would therefore run $96. The top four eyelets would be off-centered with the bottom five, which is often done to compensate for the oblong size of the speed hooks.
Here's an example:

http://www.styleforum.net/t/85589/the-official-alden-thread/18000#post_4958968
Miscellaneous
Acronyms
LWB: Longwing Blucher
SWB: Shortwing Blucher
AWB: Alt Wien Blucher
PTB: Plain Toe Blucher
LHS: Leisure Hand Sewn (A Penny Loafer)
NST: Norwegian Split Toe
CT/ST: Cap Toe/Straight Tip
PCT: Perforated Cap Toe
WTB: Wingtip Boots

AoC - Alden of Carmel
AoDC - Alden of Washington D.C.
AoM - Alden Madison (New York)
AoSF - Alden of San Francisco
TSM - The Shoe Mart
What are the numbers on the inside of my shoe?
The numbers consist of the model number, size, and the run number. More information in the spoiler.
Decoding of the Numbers Inside Aldens
The numbers visible here are 10 A/C, 6717, and 2K29 029 3.

The 10 A/C is the size (So these are 10C). Alden uses what is called "split" lasts, which have a size the denote the width at the widest part of the shoe and the heel.
The 6717 is the model number and in this case corresponds to the Cigar Shell Cordovan Leisure Hand Sewn.
The 2K29 029 3 is the run number and it is composed of 3 parts, the date, the order number and the pair number.

The 2K is the date. The 2 means that this pair was made in a year ending in 2; 2012, 2002, 1992, 1982, etc. Alden apparently felt that one digit years was sufficient fidelity. K is the month in which the shoe was completed. I believe that K would be the 11th month and therefor this pair was completed in November (of 2012).
The 29 029 is the order number that the vendor submitted to the factory. There seems to be no rhyme or reason to this at all.
The final digit(s) separated by a space is the pair number. This happens to be pair #3. This can be one or two digits depending upon where your pair fit in the run. These should match between your two shoes, otherwise you have a mismatched pair!
Why do they call it the Indy boot?
http://www.styleforum.net/t/85589/the-official-alden-thread/21750#post_5128364
http://www.theraider.net/information/indy_gear/boots.php
http://www.indygear.com/igboots.html
Did Alden invent the Tasseled Loafer?
It has been claimed that Alden invented the Tassel Loafer for Paul Lukas.
http://aldenofsandiego.com/alden-faq/history/


http://www.nytimes.com/1993/11/03/garden/the-politicization-of-tasseled-loafers.html
A video by Epaulet about the Alden factory
Epaulet presents: the Alden Shoe Company

from

Epaulet Shop

on

Vimeo

.
A video by Leffot about the Alden factory and the shoe making process
Cordovan: A Photo Gallery of Some of Mac's Shoes
Mac's Blog: http://mcarthurstreasures.blogspot.com/
Whiskey:

http://www.styleforum.net/t/85589/the-official-alden-thread/11760#post_4267010


Ravello:

http://www.styleforum.net/t/85589/the-official-alden-thread/11760#post_4266962


Cigar:

http://www.styleforum.net/t/85589/the-official-alden-thread/11745#post_4266729


#8:

http://www.styleforum.net/t/85589/the-official-alden-thread/11745#post_4266673
Last edited by a moderator: