Joined

Apr 29, 2011
Messages

867
Reaction score

245
Would you wear one? Why or why not? Do you prefer DB peak or DB shawl or
DB notch* to the lapelless DB? If so, why? Is the lapelless DB less conspicuous than a DB with lapels? Dressier or less dressy? Does it look better with the wrap very high, or can it look good with a lower wrap?
I'd value any thoughts or opinions. SF member obiwan has said he owns one. Anyone else?
Manton, in
a great post on vest lapel rules at AAAC
, says they tend not to look as good as DB vests with lapels. But, he says, according to The Rules, they are not incorrect.
On to images. I had trouble finding any images of the lapelless DB in wear, especially with anything other than a frock coat. Does that tell us something? Anyway:
Poached this sketch of the cut from
denverbespoke.com
:
There's one in runway wear in 8x4 in the top photo of
this blog post
.
Here's a fancy one in wear with a frock coat from Sator's superb post on Kind Hearts and Coronets at clothesonfilm.com. You have to look carefully, but you'll see that the fronts do wrap. It looks like there's piping on the edges: see how the left front wraps over the right:
Here's a 10x5 in wear with a lounge coat, from the same post. Much easier to make out the silhouette:
Here are four pictures stolen from Sator's posts here at SF:
(In the bottom right of this 1876 plate):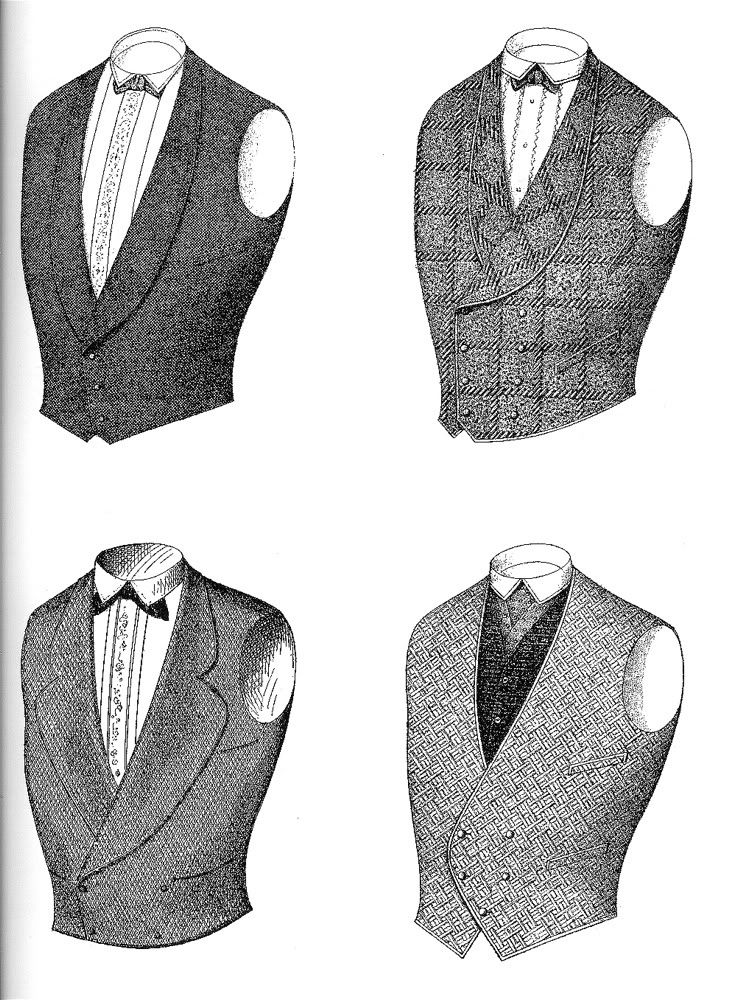 This one (440) was posted by Dr. Kilroy
at AAAC recently
:
There's a 6x3
here in, of all things, a sweater vest
.
Poached this one from
The Eccentric Orange Gentleman blog
.
Here's a link to one in a NOT SAFE FOR WORK video.
Scene starts at 1:33
. It's on Sam Neill as Sidney Reilly.
Does it look better with the tight V-shaped throat we've seen above, or the wide-cut U-shaped throat?
Here's a link to Sator's 10x5 DB shawl in U-shape
.
Imagine that the lapels were removed.
* It can look good when done well, as on
Michael Ay329's here
.