Joined

Mar 13, 2006
Messages

3,458
Reaction score

27
Well, this is really ladies' clothing, but I suppose the same thing might go for silk pocket squares; I recently bought a cold-war-era silk "escape map", to give to the candidate Mrs. Strike (she flies, even once an old Tiger Moth) as a present: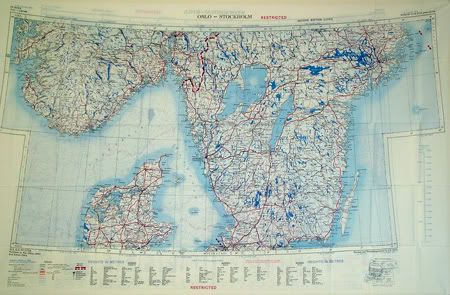 The idea behind these maps was that air force pilots would be able to carry a detailed, high-quality print map of the area they were flying over, in case they had to jump or were shot down. Silk maintains the print quality even when wet, and is far more robust than paper. There were usually overlapping map leaves on each side, so they would be double-side printed.
The WWII-vintage ones can be fiercely expensive, but the cold-war era ones, like the one in the photo above, can be had for down to $12.50, typically from a place like this:
http://www.ima-usa.com/product_info.php/cPath/1_51/products_id/105?osCsid=e3a88dd83ff541634ba0536766a5b88e
The silk map arrived with fifty-year old folds in it, and some yellowing on the small portion which had been lying on the outside. It had the govt./army storage smell, something like floor wax and machine oil. The smell went completely away in the washing, though. The trouble is, the edges weren't finished – so the question is:
Could I use this article from AskAndy to edge it myself as a headscarf for Gf/Can/Mrs, or should it get a professional job?
http://www.askandyaboutclothes.com/Tutorials/HOBERHowToMakeAPocketSquare.htm