Joined

May 18, 2009
Messages

4,590
Reaction score

106
RALPH LAUREN PURPLE LABEL SHEARLING JACKET!
RETAIL c. $4,998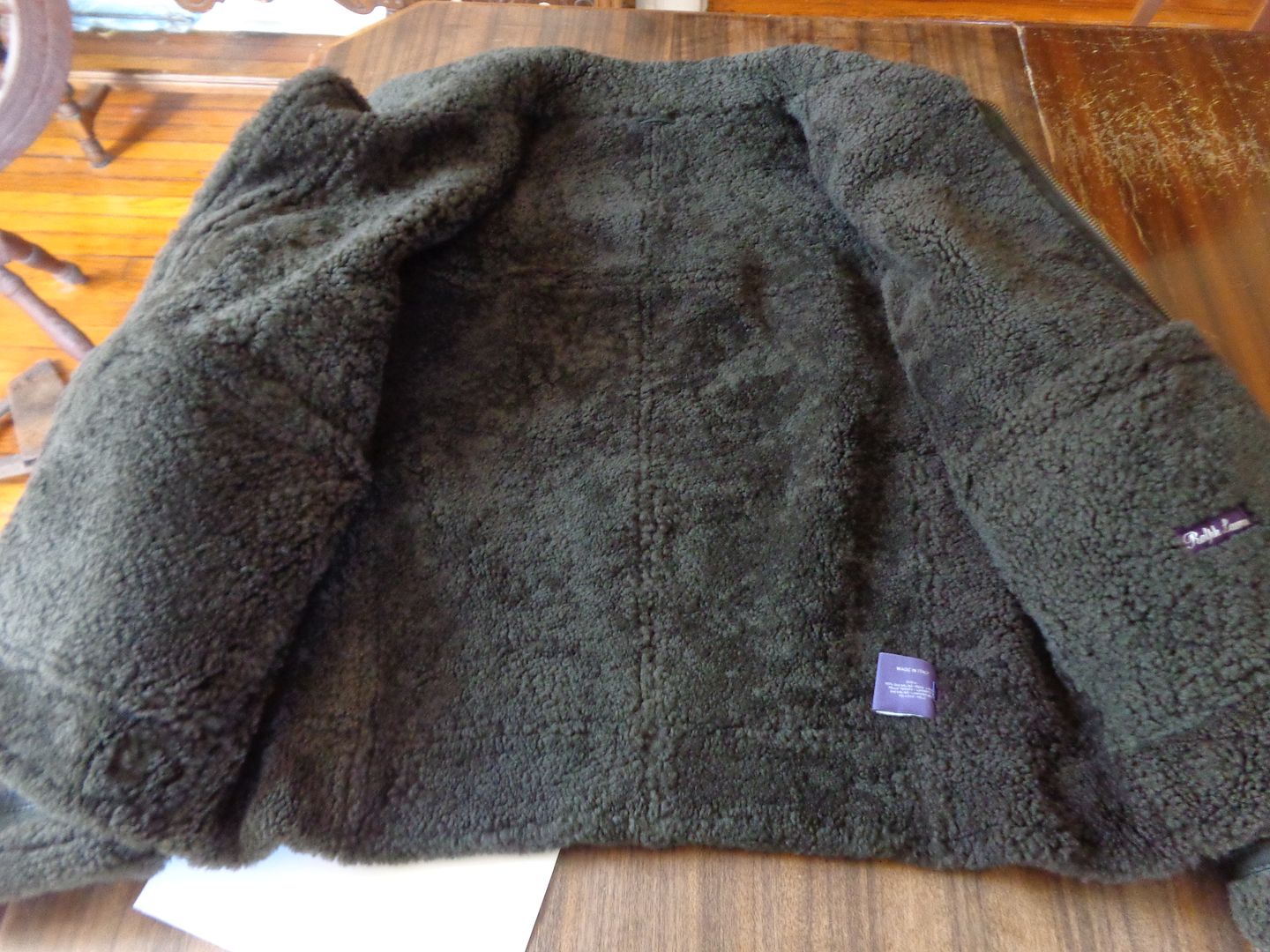 INCREDIBLY LUXURIOUS!
A worthy inheritor of the mantle of the B3 and Irvin jackets that lie in its ancestry!
​
This is the most incredibly gorgeous jacket that I've ever seen. It's amazing. This really is what true luxury looks and feels and wears like. It's just in a completely different class from any other jacket that I've ever encountered; there are over 30 pictures of it in this post simply because it was hard to stop taking pictures of something this beautiful. And, no, my pictures don't do it justice at all. This is an INCREDIBLE jacket!
From the first glimpse you have of this jacket it's clear that it's something very, very special indeed. The quality of the leather exterior is apparent even at a distance, and the tightly-curled fleece of the shearling that can be seen at the collar and cuffs indicate even to the completely uninitiated that this is no ordinary shearling jacket. The quality of the shearling is spectacular; tightly curled, thick, and extremely luxurious, this puts the beautiful Devon fleece of my Eastman Irvin to share. It's simply in a completely different class from any other fleece I've ever seen. The tightness of the curls and its incredible thickness means that this shearling is far, far, far softer to the touch that regular shearling, and is far warmer and more comfortable than the shearling of other jackets which needs to add bulk to get the degree of warmth that this offers. And the colouring is beautiful; a rich, mossy dark greenish-brown that complements perfectly the exterior leather of the jacket.
The exterior leather is similarly beautiful; soft, supple, and with a wonderful hand--and although this term is more typically applicable to the softer cloths, such as cashmere, Manx tweed, and lambswool, this leather is so wonderfully luxurious that it does indeed have a hand. The colouring of the jacket is also wonderful; a lovely and luxurious mossy greenish-brown. (Please see my close-up pictures for a good representation of this lovely colour.) The sleeve panels have been chosen carefully so that they're two shades of this colour--although shades that are very closely related, given interest to the jacket without even a hint that this is a "two tone" jacket. This type of colour matching s very, very hard to do in leather, and the makers of this jacket pull it off with aplomb. Similarly, the leather panel strips are perfectly complementary to the main leather panels that they join; this jacket was clearly designed to to the luxurious civilian inheritor of the mantle of the classic B3 and Irvin jackets of the Second War, thus ensuring that despite its status as an extremely luxurious jacket this doesn't compromise its masculinity one bit.
As you'd expect, the construction of this jacket is superlative, at the pinnacle of Italian craftmanship--Purple Label has its reputation for being among the best of the best for good reason. Any possible pressure point--at the throat, near the side buckles--has reinforcement, ensuring that this is sturdy as well s beautiful.
But there's more. The arms of this jacket are lined in shearling--something that can only be accomplished with the best and most tightly-curled fleeces, for only these can provide the warmth without bulk that sleeve lining requires. And the exterior pockets are similarly lined in shearling on the front side--again, something that only the best shearling can ever be used for.
The design of this jacket is clearly based on Second War flight jackets. As well as the classic and desirable leather stipping throughout and the construction of the sleeves from more than one leather panel (providing ease of movement that a simple leather whole-cut sleeve could never provide) this has waist adjusters at the sides, and two fully functional throat straps at the throat--the collar is cut so that it stays up perfectly. Naturally, the buckles and brass, and the leather straps have eyelet reinforcement at the wholes. It has a single locker look which is firm and intact and likely never used.
The main zipper is a Ralph Lauren special order; the snaps on the pockets are all monogrammed "RL". The zipper is beautiful and fluid and all the snaps work perfectly. PLUS, this jacket comes with its original spare snap cover, in case you lose one a few years down the road!
As is common for Purple Label this jacket was Made in Italy.
It is in excellent condition. There is some very minor surface wear on the back left shoulder panel, as shown, as well as on ethe left sleeve near the cuff, as shown, but that's the soft of wear that would be picked up after a few wearings. This really is a gorgeous, beautiful, luxurious and utterly masculine jacket!
I believe that the retail on this is c. $4,998.
Given this, how about $695, OR OFFER, boxed and shipped in the USA with insurance and signature confirmation for delivery?
Given that this is the going rate for most used Aero and Eastman jackets--which are lovely, but nowhere close to being in the same class as this!--this is a steal! And, as always,
OFFERS ARE VERY WELCOME!
This is tagged a XL. However, I believe that this would best fit someone in the 38 or 40 (with minor layering) range; possibly a 42 if you like your jackets rather tight!
Measurements:
Chest: 23 1/8 (This is a shearling--but it lacks the bulk of most shearling)
Sleeve: 26 from shoulder; c. 35 3/4, measured like a shirt.
Shoulder, at back: 20 1/2
Length (from bottom of collar): 24 1/4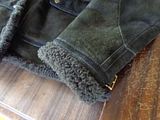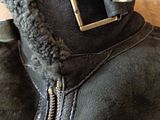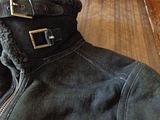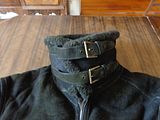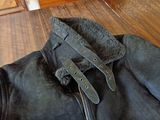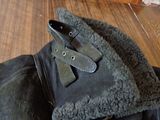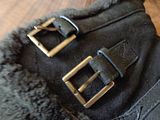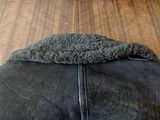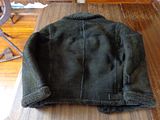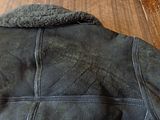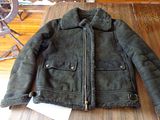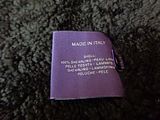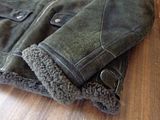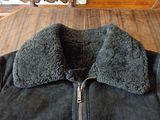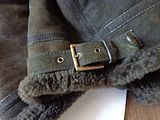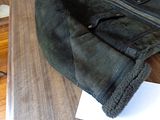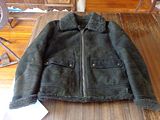 Last edited: