TWO BEAUTIFUL ISAIA JACKETS!
​
NB: Please note that I have over 250 items of traditional clothing available for sale on SF. To find them, please go to the "Most Active Sellers" list on the left of the Buy & Sell screen, and click on my username, tweedydon--found at the top of the list!
As always, I offer
FREE SHIPPING
on everything within the USA; International inquiries are welcome, with shipping at reduced cost!
Also as always,
ALL OFFERS ARE VERY WELCOME!
Please PM with interest and offers!
1) ABSOLUTELY BEAUTIFUL ISAIA jacket in silk and cashmere.
SOLD
Founded in the 1920s, in 1957 ISAIA moved to Casalnouvo, near Napoli, where almost half of the male adult population were tailors. They have had a national reputation in Italy for superlative tailoring, and this reputation spread internationally in the 1980s when they started to market to the United States and elsewhere in Europe. Despite the expansion of their business all of their jackets are still made in Casalnouvo.
This jacket shows just why ISAIA are so esteemed. Cut from a blend of 75% silk and 25% cashmere in a wonderful Spring green, this beautiful jacket has a Neopolitan hree button front subtle darts, and two lower patch pockets. It is fully canvassed and fully lined in ISAIA's signature lining in a wonderful complementary sky-blue. This jacket features simply masses of handwork, with pick sticthing along the placket, the lapels, around the pockets, and in the lining. It also features a twin vent and four button cuffs.
Made in Casalnouvo, Italy, this is in absolutely beautiful condition.
Asking just $135, or offer, boxed and shipped in the USA.

Tagged EU58 (US 48), this measures:
Chest: 23 1/2
Sleeve: 24 1/2 (+2)
Shoulder: 19
Length: 30 1/4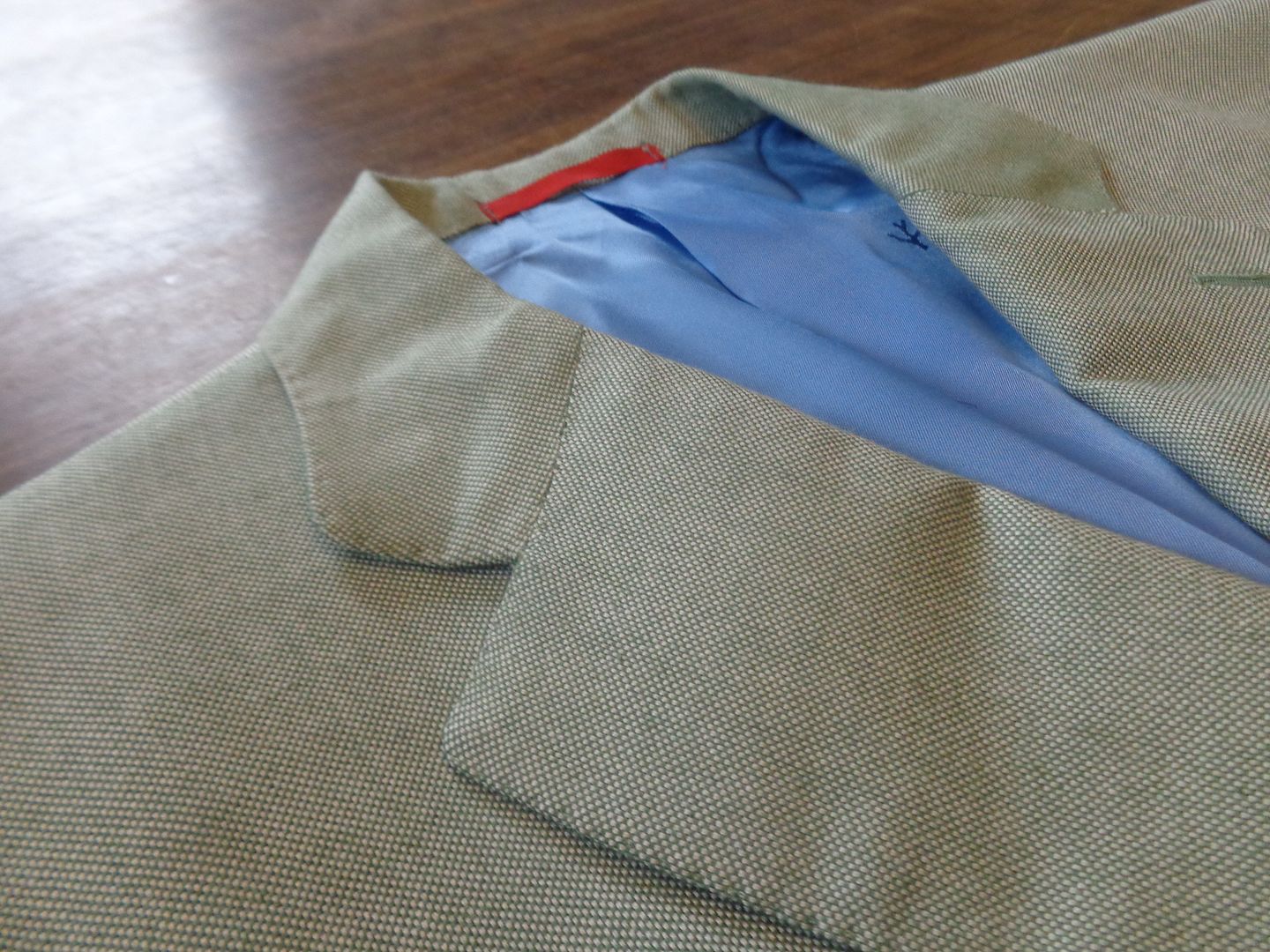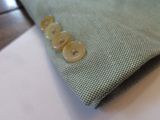 2) ANOTHER BEAUTIFUL ISAIA JACKET!
Cut from cloth that's a lovely blend of wool, silk, and linen, this beautiful jacket is a wonderful light brown with cream pinstriping--the perfect colourway for Spring and early summer, especially given its Neapolitan heritage!
Cut as a contemporary two button jacket with subtle darting, this is fully canvassed, and fully lined in ISAIA's signature lining. This jacket has a twin vent, and features fully functional three--button surgeon's cuffs. It also features extensive handwork, not only on the buttonholes but also on the placket, the lapels, and in the lining. It was, of course, made in Casalnouvo, just outside Naples, Italy. It is is absolutely beautiful condition.
Asking just $125 > 95 > 75 > 65> 55> 45, boxed and shipped in the USA.

Tagged EU6 (US46) this measures:
Chest: 23 1/2
Sleeve: 24 1/2 (+2)
Shoulder: 19
Length: 30 1/4