Joined

Feb 21, 2010
Messages

263
Reaction score

18
I'm not normally a big fan of brand loyalty. Generally I buy what I like, regardless of the brand that makes or sells it. However, I think that today made me a lifelong Maui Jim customer. I realize that this forum is dedicated to buying high-quality products, so I'm most likely preaching to the choir, but I still feel the need to share this: I had the day off from work so I decided to head to the beach for the afternoon. One minute I was standing near the water and the next minute I was knocked over into the sand by something that felt about like getting hit in the face by a baseball bat. After I got up from the sand my girlfriend decided that screaming was no longer necessary and she told me that a seagull had dove directly into my face, completely out of nowhere and then flew off like nothing happened. After taking a second to let the situation sink in, I took a look around and saw my sunglasses on the gound. When I picked them up I was pretty upset that the lens had cracked from the corner to about the center of the right side. However, After a minute or two, I realized that that seagull hit me with so much force (and had obviously come in beak-first) that without the glasses on I would almost definitely have lost that eye. You could argue that any pair of sunglasses would protect your eyes, but I find it pretty incredible that something with enough force to knock me down and with a razor-like beak barely even cracked the lens. Not only that, but also that the frame was solid enough to keep the glass from flying into my eye. Because of this, I'll be sending these in for a fresh set of lenses and will most likely never buy sunglasses from anyone but Maui. What I learned: a. Seagulls are terrible creatures. b. Seagulls are not only terrible, but they're stupid beyond belief. c. Seagulls are not only terribly stupid beyond belief, but they have ridiculously sharp beaks. d. Maui Jim makes a hell of a pair of sunglasses. The ( very miniscule) amount of damage: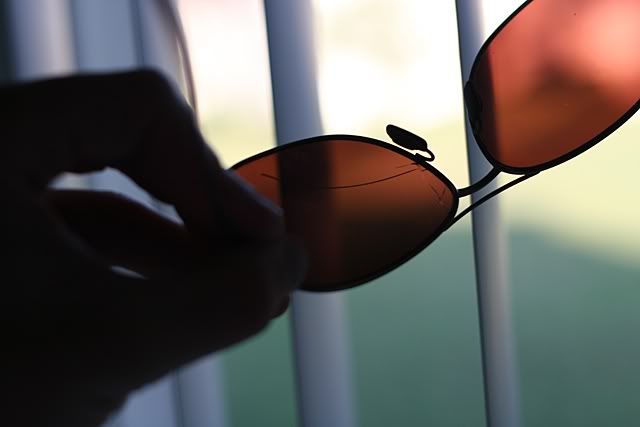 All because of this little shithead:
6/15 UPDATE: I just received my Mauis back from the repair center and was incredibly surprised. I was blown away that they didn't even charge me for the lens replacement. I didn't provide proof of purchase nor did I have them under warranty. Really phenomenal customer service on their part. If you're looking for a pair of sunglasses I can't recommend Maui Jim enough.