Joined

Sep 23, 2009
Messages

2,691
Reaction score

138
a few months ago I decided I wanted - a shell boot in one of the lighter colors - classically styled and versatile - winter appropriate, BUT I don't want a commando sole - preferably with speedhooks for easy on/off - not at full retail price yes, that is quite a wishlist 2 have come up recently that fit some, but not all of what I wanted. I can't afford to keep both. which one do you guys think is better/a better fit for me? Contender 1:
C&J for BB Dark Brown Shell Cordovan
Pro's are: I love the captoe, love the speedhooks, this is a real kick-ass boot thats nearly 2 inches higher than Alden boots Cons are: the color is darker than I hoped it would be, it's about $200 more than Contender #2, and many posters recently opined that the Dainite sole is actually really bad in the winter, it's made more for rain/wet vs ice/snow. I have a longwing and a loafer in Burgundy shell already...so for my purposes the ravello may be more versatile and that is the main drawback to the c&j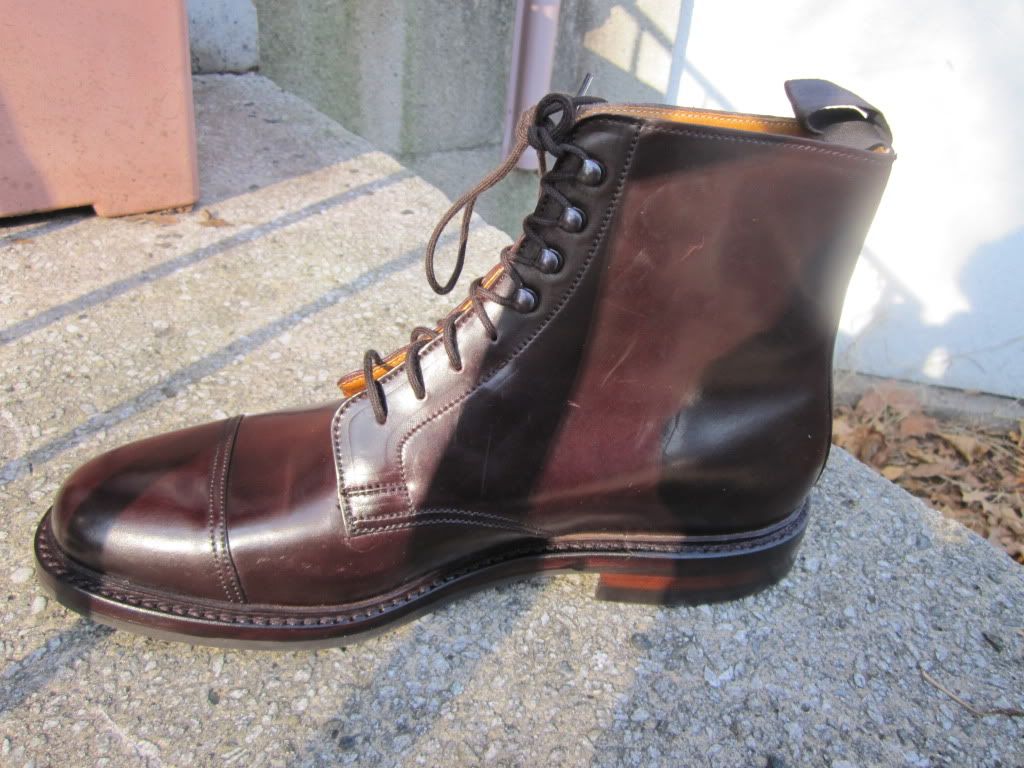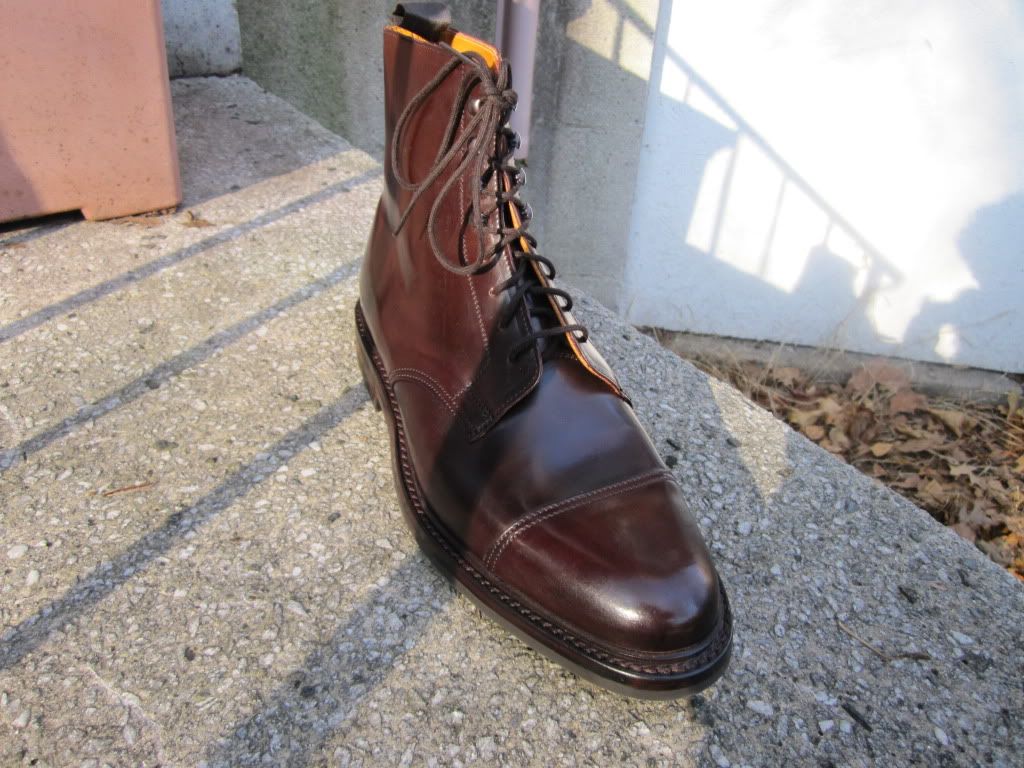 Contender 2:
Alden Ravello NST Handsewn
Pro's are: Ravello is my favorite color of shell and in boot form is nearly impossible to find at the discount I did. I would probably just have the leather sole "vibram'd" which may be a better option than Dainite. basically just a grooved, thin, rubber topy Cons are: I'm not sure what I think about the NST. my gut tells me I prefer a wingtip or captoe boot, but tastes changes and 6 months ago I wanted a plain toe. all eyelets vs speedhooks makes the on/off a bit harder. is this a style that will look good in 5/10 years? my bad pic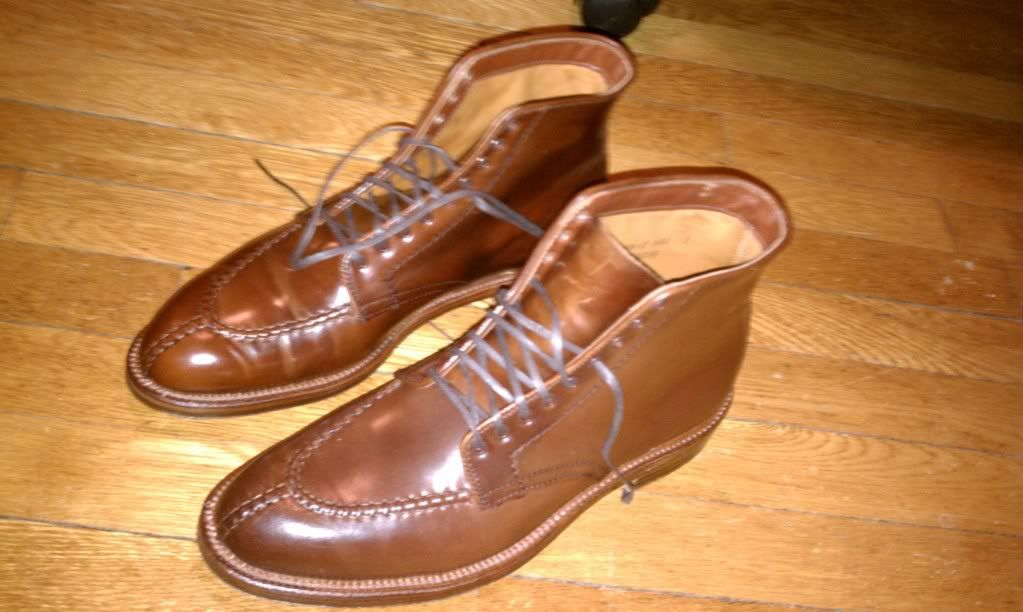 boots together along with some other shell colors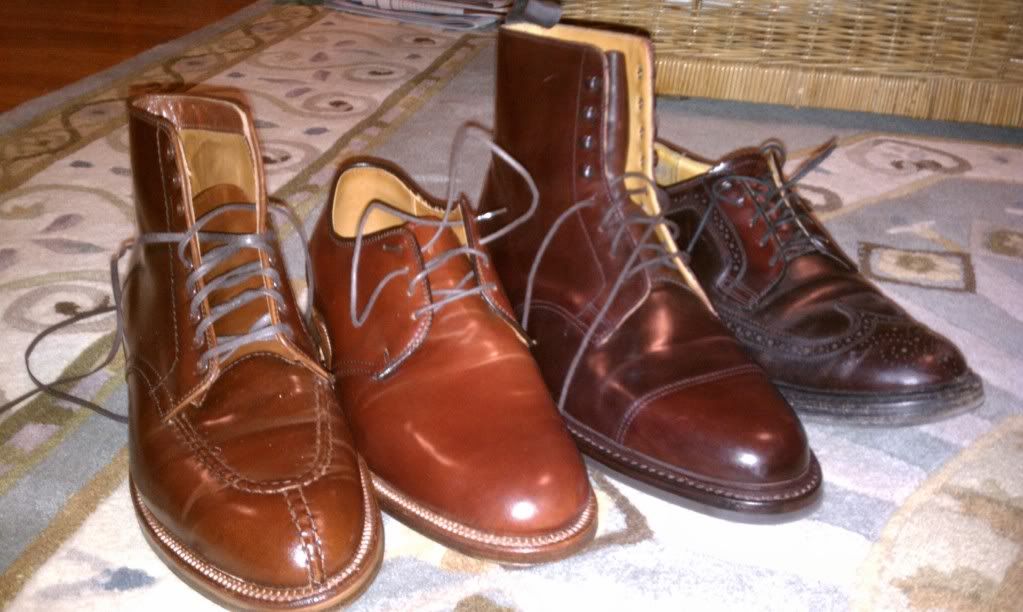 what say you, style forum?