So, for years I had an eBay account. A couple years back, eBay deleted it due to inactivity. Let's ignore for a moment that I logged in frequently, and was watching several items. So when I decided to start flipping vintage shoes, I needed to start a new account.
My wife, who has been selling on eBay for the last 20 years, argued that many buyers wouldn't want to buy from a seller without any feedback. So she recommended that I make some purchases to get my score up. I'm not one to argue. So I kinda impulsively bought these.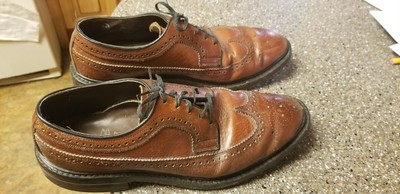 Good condition leather wing-tip upper; steel-toe safety shoe wit rubber sole.
Do I need steel toed wingtips? Of course not. But at $14.99 with free shipping, it would be silly not to buy them. Right?