my long awaited vass are unfortunately too small for my feet.
arggh.
i guess what was miscommunicated was that the size 9 on their actually means US not UK.
they feel like a 9 US. i have a 10 US size i can fit into 9 E UK lobbs pretty snug. but these are impossible.
I tried them on, carefuly with horns. i am picky, i did not creas them or walk in them. just carefully stood up and marched several times in place.
they are way too tight.
no , it is nothing like they are snug and they need break in time feeling, i know that feeling. these are just too tight.
anyways, brand new shoes , spanking brand new, came with two wax tins , extra laces, lovely spring loaded trees, catalog, bags.
i will post up pics when i get home. i paid 579 euro for these. my cc statement showed $757. anyone interested in picking these up for that? i will ship to you for free.
i have the option to exchange or return these to the gentleman i purchased them from, but i have to pay for shipping back to europe anwyas.
rather try to sell them here first, (i ll save more on the shipping and less hassle for me and the seller , as i do want to maintain goo d relations). if you purchase from europe, well, you know, it will take at least 14 days to ship. mine are here already in the states.
let me know.
here is the pic of the shoe in question.
if anything, these pics are sufficient. my pair looks exactly like this in shape, form, and condition.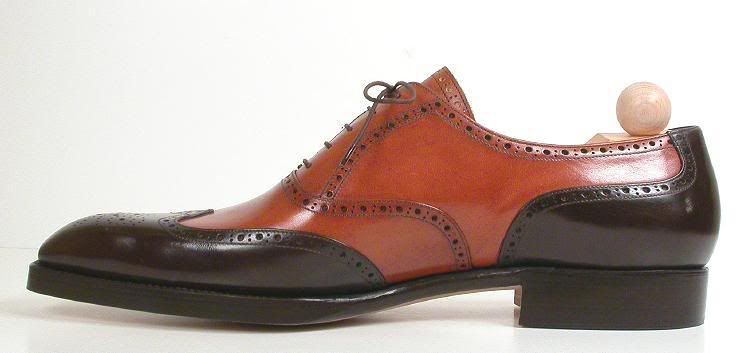 this is a harris' photo