Joined

Mar 10, 2006
Messages

1,031
Reaction score

3
Have you ever wondered what
Style Forum's own Ed Morel
does with the profits from his legendary bargain priced high-end merchandise sold to fortunate Style Forum members? Well, despite his claims to use the profits for the acquisition of Ferragamo Tramezza shoes, the papparazzi image below shows otherwise.
Thanks to his keen ability to turn a consistently healthy profit while keeping Style Forum buyers not only deliriously happy and clamoring for more, Mr. Morel has been able to acquire the Ferrari Testarossa 500 TRC once driven his very own forum avatar at Sebring in 1958. It is said that Mr. Morel only uses the car outside of New York City when climatic conditions are safe on certain spring and autumn days.
With apologies to Style Forum's Mr. Morel and his avatar (below left), I present to you the other Ed Morel . . . everyone's favorite playboy. Hopefully, this friendly essay will engender lighthearted and good-natured remarks absent the contentious nature of of some recent Style Forum character threads. Although I did not use any of their erroneous information, some of the text is lifted from the dreaded Wikipedia for the sake of expediency.
The Other Ed Morel was born in the Dominican Republic in 1909 and died in Paris, France in 1965. Although he was an aspiring Fangio and raced sports cars world-wide, a decent polo player, quite a good boxer, and sometimes Dominican diplomat, his real fame was established through public comparisons to Cassanova, and Don Juan. His list of female conquests was composed of the world's wealthiest women. He was a jet setter before jets were in regular use.
He was born humbly into very middle-class circumstances. His father was a general in the army of the Dominican Republic. He grew up in Paris, France, after his father was appointed the chargÃ
d'affaires at the Dominican consulate in 1920. He returned to the Dominican Republic at 17 to study law but did not complete his schooling. He then began to promote boxing matches before enlisting in the military.
Essentially, the other Morel was a gigolo of the highest order. He first married Flor de Oro Trujillo, daughter of Dominican dictator Rafael Leónidas Trujillo Molina. Trujillo twice put assisination orders out on the other Morel. Each time, the other Morel charmed his was back into Trujillo's good graces and the orders were rescinded. The other Morel and Flor were sent to Berlin on a diplomatic post . Soon, Trujillo granted his daughter a divorce when it became obvious that the other Morel had been unfaithful. Now unable to return to the Dominican Republic, the other Morel supported himself by selling Dominican visas to Jews seeking to flee Europe. The other Morel soon got back into his former father-in-law's good graces, and continued to receive government posts until Trujillo's assassination.
He socialized with Egypt's last king, Farouk. He was pals with Frank Sinatra, Stewart Garnger, Teddy Kennedy, David Niven, and Oleg Cassini. While he was the Dominican ambassador to England, he ran around with King George VI (Bertie). He was Dominican ambassador to Belgium, Holland, Cuba, Italy, and to France during World War II. The Germans imprisoned him with other Allied diplomats. Nevertheless, he received preferential treatment from the Hitler regime because Herr und Mrs. Goebbels lusted after his wife Darrieux. He was accidentally shot by the French resistance and survived. While he was Dominican ambassador to Argentina, he hobnobbed with Nazi sympathizers Juan and Evita Peron.
His suave manner and rugged good looks came with a prodigious male appendage and sexual prowess, both subjects of much gossip. Truman Capote described his male organ as "an 11-inch cafe au lait sinker as thick as a man's wrist". To this day, large pepper grinders are commonly referred to as "morels". Ironically, he was sterile due to childhood mumps! Another contemporary playboy, Prince Ali Khan, shared his secrets for sexual endurance with the other Morel shortly before Prince Khan died from a nasty accident in his Lancia sports car. The other Morel used to say that if he ever died in a car crash, he wished it would not be in a Lancia like Prince Ali Khan, but in a Ferrari.
He was linked romantically to Jayne Mansfield, Tina Onassis, Joan Crasford, Dolores Del Rio, Ava Gardner, Marilyn Monroe, Veronica Lake, Kim Novak, and Eva Peron. He dallied with his ex-wife Flor during his marriage to Doris Duke, and with Zsa Zsa Gabor during his marriage to Barbara Hutton. He was named a co-respondent in at least two divorces, the husbands charging adultery.
He married Danielle Darrieux on 18 September 1942. Duke (whom he married on 1 September 1947), and Hutton (whom he divorced just 53 days after their 30 December 1953 wedding) made him wealthy. Duke gave him $500,000, a stable of polo ponies, several sports cars, a converted B-25 bomber, and a 17th Century house in Paris in the divorce settlement. Hutton bought him a coffee plantation in the Dominican Republic, another B-25, and paid him a reported $3.5 million in their settlement. His last marriage was at age 47 in 1956 to then-19-year-old French actress Odile Rodin.
He was still married to Odile when he got the aforementioned wish. He was on the way home from an all-night party to celebrate a polo match victory. He took a short-cut through the Bois du Boulogne. In the misty light of early morning on the park road, he hit a parked car and and caromed into a tree. He died in a Ferrari 250, not a Lancia.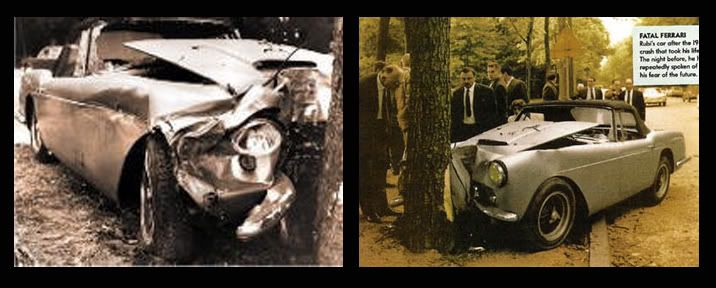 The Other Ed Morel is, of course, Porfirio Rubirosa, diplomat, sometimes racing driver, bon vivant, and world-class stud. He was one of the early types to be famous for simply being well known. He showed up with this Ferrari Mondial (0438MD) at Goleta airport near Santa Barbara over Labor Day weekend in 1954. He had Zsa Zsa Gabor ("
I'm a wonderful housekeeper; I've kept the house after every marriage.
") in tow and created quite a sensation everywhere except on the racetrack. Below is an image of Porfirio behind the wheel of the Mondial at Goleta. It was acquired from the Lynch Archive. The other image of Zsa Zsa and Porfirio was taken at the Biltmore Hotel in Santa Barbara.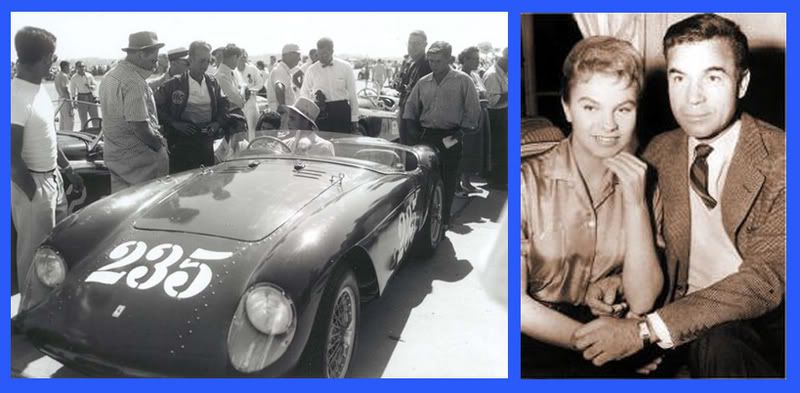 Some members already know that I have a fairly large archival collection of motorsports photographs. There are more than 300,000 images in total and only about 70,000 are scanned at this time. Approximately 11,000 of the images were taken by me. The remainder were acquired one at a time or as entire album collections from true professional photographers. At best, I am a dilettante with the camera. The scanning labor of love continues when time allows. I made my first racing photos at Laguna Seca in May of 1965.
__________________________