Joined

Aug 18, 2007
Messages

4,475
Reaction score

44
I just got a couple jeans in the mail I bought from Attic on their 50% off sale. I knew I'd do it sooner or later blind buying without trying on before hand. Of the dozens and dozens of clothing items bought online I finally screwed up and didn't get the fit I wanted. So I'll be searching through the pinned jeans thread on this forum all night but I'd like some help on what I should do. I bought a pair of Sugar Cane 1966 Raw unwash selvage denim in 36" waist. I'm a true 34" waist (started working in hopes of losing weight too) and thought on these I should size up and shrink them down to size. Wrong decision.
So my question is what should I do here. I'd like to soak them and see if I can get them to shrink to what I want, but I'm thinking they wouldn't shrink enough. My inclination was to size up as I have larger thighs and then shrink them so the waist would fit better or even take them to the tailor and have him take in the waist. But, the thighs are much baggier than I thought they would be as well.
Anyways, in your guys opinions, since I am relatively new to denim compared to those here, should I try to soak them and see if I can get the desired fit, or would this be hopeless? Or would you just sell them, and size down to a 33" or 34"?
Below is the pair of 34" Nudie regular ralf selvage to compare to, that was also purchased and in which I like the fit. The spots are from the dirty mirror.
Nudie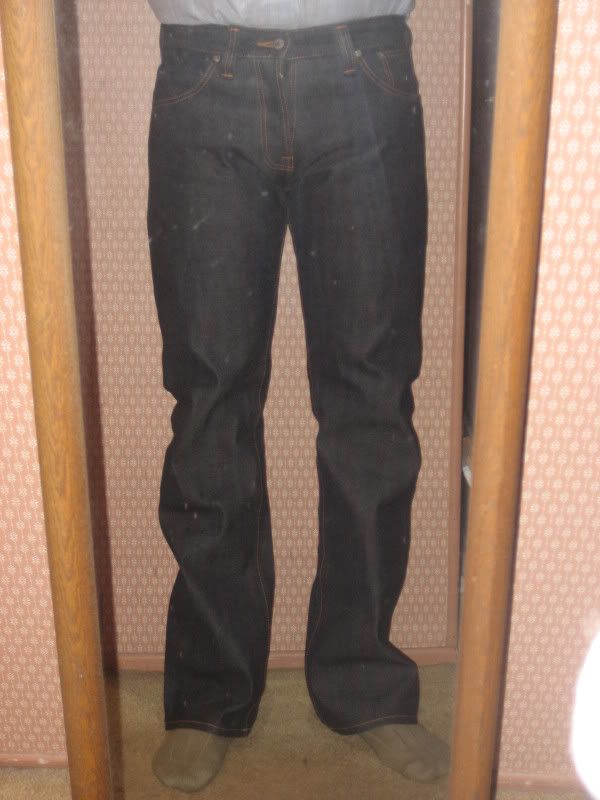 Sugar Cane