Joined

Sep 10, 2008
Messages

7,988
Reaction score

4,533
Swag. Steeze. Style. Whatever your adjective of choice may be, these are the gentlemen who didn't have it. But then, much like an improbable comeback in sports, they made a miraculous turnaround. Their aesthetically offensive WAYWT contributions morphed into fodder for e-peen stroking, the likes of which many of us had never seen before. Let this thread serve as an archive not just as evidence that vast improvements are possible. But let it also serve as inspiration for those presently making meek or atrocious WAYWT entries that with some concerted effort and modifications, you can go from being ridiculed by faceless dudes on the internet to getting e-props from those very same faceless dudes. Mediocre-to-balling success stories are applicable, but let's try to keep the focus on the "180" cases.
fuji
Once the proud owner of 29 polo shirts, fuji is perhaps the most improved SF poster of 2010. He went from smiling like a dork with his multitude of colored polo shirts to looking like a coked-out badass with a possible future career in being the poster boy for a "Don't Let Your Daughters Near This Kind of Guy" campaign.
aeglus
Once a risk for becoming immersed in the overwhelming ocean of dumpy-looking MC clothing, aeglus got up one morning and said, "Fuck it, bring on the Buttero boots and ToJ leathers." While aeglus still flirts with the MC side of things, these days, he's just as likely to look like he just murdered greaser Marlon Brando.
AndrewRyanWallace
Yes, even some of the supporters of avant-garde fashionz dabbled with iterations of the SF uniform. Thankfully, ARW banished the raw denim and crappy BR knits in favor of drapier, more left-of-center aesthetic that gets him high-fives from fellow men via computer monitors.
The Artist Formerly Known as kelvinsense
The man once known as kelvinsense was chugging down the road to Corny AZNville when he came across R2-D2, who played a recorded message from some princess which said she needed the help of a futuristic Jedi grandpa. Kelvin realized he was her only hope. Gone were the vests and boat shoes. In their place were dope sweaters knitted by virgins and closed shut by steeze...bitch.
Volume II: All AZN-ish Edition!
snake
If, for some reason, someone decided to create an ad campaign with the purpose of showing that SF-approved brands don't work for everyone, snake circa 2009 would be the unanimous choice to be the face of the campaign. Even though snake's head has been lopped off in the first image with the wonders of Photoshop magic, I can assure you that there was sorrow in his eyes. "I don't get it," I'm assuming he thought. "StyleForum told me that these were good brands, but I still look like a big dummy." Thankfully, snake's growing pains were succinct enough where he was able to make the shift from Wings + Horns coats and hideous Engineered Garments neckties to Julius leathers and other brands that would make Ford-loving real Amer-uh-cuns cringe. The proof, as Billy Cosby once put it, is in the Jell-O pudding. Now snake
doesn't even need the gun/cock holster
that came with this leather. He's got beezies (or at least a lot of Styleforum members) willing to hold his dick for him.
impolyt_one
Much like The Artist Formerly Known as kelvinsense, our now beloved curator of ToJ once followed the path to Corny AZNville. As evidenced by the first image, however, Drew got to a point where he stopped dead in his tracks, leered down that path, and said, "Fuck it, it's always gonna be a dead animal across my back concept from now on." But Drew didn't stop by abandoning the baggy biz caz steeze. He told Gillette to fuck off and stopped shaving. To compliment the scruffier appearance, he also ditched the conservative cropped haircut. All pulled together, the man once destined to be Mayor of Corny AZNville (or at least a city commissioner), now looks like the kind of guy who'd fuck YOUR bitch and your only response would be, "What can I get you to drink?"
nicelynice
I'm breaking my self-imposed "Before pictures shouldn't come from way before SF residency" here. In his former condition, nicelynice's user name would have made him the mockery of the forum. "Hey nicelynice, stop looking so nicely nice and get some steeze, nerd" and what have you. But now? Now nicelynice is still nicelynice, but because he owns more leathers than aeglus, can fit into wjk, and still grins on occasion. He still looks more likely to hold the door open for you than to bang your broad, but nicelynice has still made quite the journey from dad jeans and Asics to leather-clad chap sending his regards from Korea/Japan/The Czech Republic?
Volume III: Less AZN, No Leather, Stop Menstruating All Over My Thread Edition
Ga-vroche
No doubt you've spent at a few minutes wondering how to pronounce his user name. "Is 'vroche' pronounced like Jim 'Croce,' but with a V instead of a C? Man, how great was Bad, Bad, Leroy Brown?" some of you have probably asked yourselves at least once. Well never mind that, because you should have been focusing on more important things, such as how Ga-vroche-croce managed to make a subtle, but effective stylistic transition with fewer than 100 posts in three years. In this instance, we can attribute this transformation to ga-vroche learning how to work with textures and also apparently buying stock in APC.
March 2008
:
"Hmph, where oh where has my swag gone?"
October 2010
:
And bam, a successful transformation without completely revamping aesthetic, killing a cow or moving to Asia. Yes, Ga, you're right. A salute IS in order.
whodini
Today, a lot of whodini's posts can be paraphrased like "Lulz newbie, you have NO idea how the fashion industry works. *I* do, because I've had lunch and imported beers with some mid-tier designers and shop owners. But I'm not actually going to give you any details to show why you have no idea." But in simpler times, Mr. Dini put together some pretty mediocre fits, presumably before those high-powered luncheons and brewski sessions.
May 2008
:
October 2009
:
whodini is still prone to some drab fits, but he's found some gold while experimenting with different silhouettes and footwear that aren't Chucks. Just don't misspeak about the inner-workings of the fashion biz around him.
Augusto86
He doesn't post around these parts anymore, which is a shame, because his 'net activity dropped off right after he made some significant aesthetic changes. My sources are unable to confirm why this is, but my expert analytical conclusion is: He started getting mad ass from the ladies and didn't have time to post pictures of himself for other dudes on the interwebz.
November 2007
: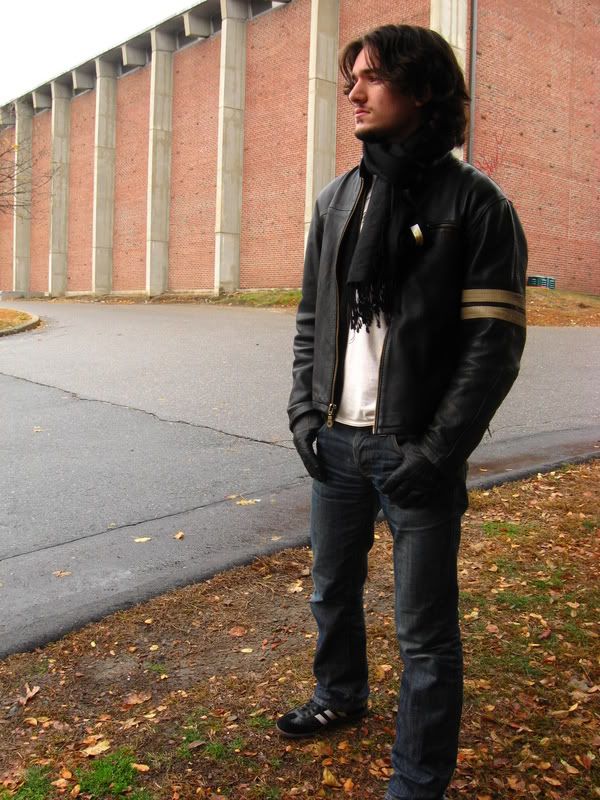 November 2008
: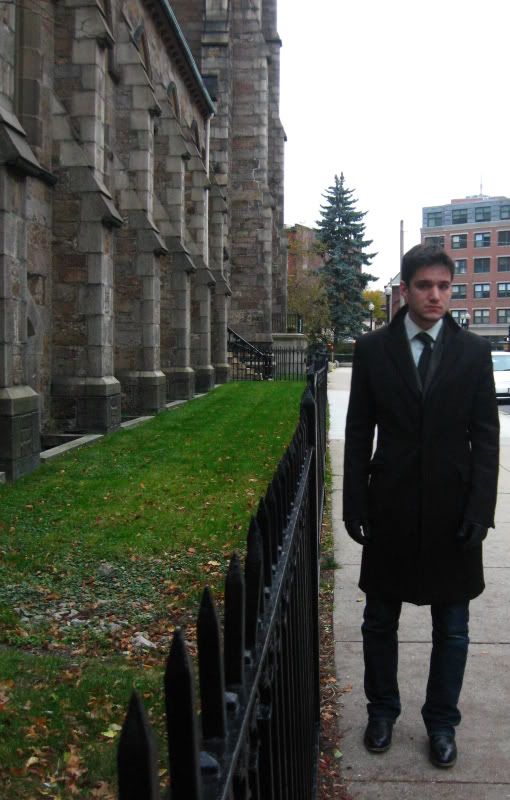 Now, Augusto86 had a leg-up in his transformation, since his "before" wasn't an abomination. Sambas and cafÃ
racers aren't advisable, especially as a tandem, but the ensemble is still more visually pleasing than the average person you see at a mall food court. Also, not everyone can simply trim their hair and do away with child molester facial hair to reveal a dashingly handsome face. But the moral of this story is that the nuances such as hair and facial hair can make a world of difference. You don't need to run to your local barber/hairstylist with a fistful of Synthese pictures. However, if you're one of the people suffering from nosteezeitis, then you may want to consider if details such as your hair are playing a factor. Your smacked-ass haircut may be the only thing holding you back.
Adam24
So initially, I had this entry reserved for user West24 after seeing some of his old WAYWT entries and then thinking about how good some of his more recent ones were. But then I realized that Batman had subconsciously caused me to waste time, because I was really thinking of
Adam24
. Thankfully, all was not lost, because Adam24 used to be pretty terrible, too!
November 2008
:

December 2009
:
So how did Adam24 distance himself from the
child molester comparisons
? Well, he stopped molesting children for one (I kid). But he also went for a cleaner palette. And as Adam(not West)24 shows, cleaner doesn't have to equal boring. A lot of his fits utilize muted colors, but in a manner where they
compliment
the other. He won't win any awards for boldness, but he's come a ways from running the risk of being arrested on sight any time he's near a playground.