THE FOO
Dubiously Honored
Joined

Feb 11, 2007
Messages

23,878
Reaction score

5,087
There's a thread on the Steetwear forum that brings into question age-appropriate 'streetwear' and what the more classically-inclined members of this forum wear casually. So, I thought it would be interesting to survey what everyone wears when they don't want to exert much effort or are in a more casual setting (say, going to class or the mall, getting groceries, attending 'street-occasions', etc.). Do you express your inner fashion-fiend, or do you climb into your sweats?
I'll be the first to admit that I don't bother putting on my tailored clothing most of the time since my daily activities largely consist of classes and running random errands. I do, however, try to put myself together. Most of my casual clothes are renditions of classic things. I veer toward lots of earthy colors and neutrals.
Here's two photos of me that are pretty representative of how I roll when I hear the call of the street:
Barbour Bedale, Brooks Brothers OCBD, R by 45rpm jeans, Jay Kos crocodile belt, John Lobb Vintage 2004s.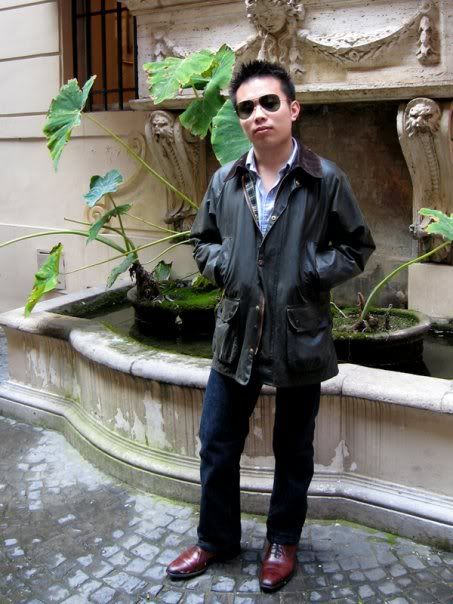 The same as above, but with a Baracuta G9 and white low-top Chucks instead.