Joined

Apr 28, 2004
Messages

18,360
Reaction score

16
OK, first off, I first saw Common live back when he was calling himself Common Sense. He seemed like a great dude. Smart, well spoken, intelligent, focused. I was really happy for him when he started to have real tangible commercial success. That being said, I think shilling for the Gap takes is a REALLY strange move. First of all, he's always seemed like the thrift-store shopping kind of guy to me, and when I think of the gap, unique, afrocentric, hip hop artists who wish they were hippies don't really spring immediately to mind. I couldn't believe what I was seeing. I dunno, it just seems weird to me.
Also, The Roots, Talib Kweli, Floetry, Common, De La Soul, and etc. Have been on tours sponsored by (and advertizing) KOOL cigarettes. Now, stop me if I'm wrong, but aren't KOOL's (and menthols in general) marketed heavily in "black" communities? Isn't this a VERY obvious way to get young black people to give RJ Reynolds their marketing info, to get free "sample packs" of cigarettes into their hands? Even if everyone on the tour smokes ( and I find that hard to believe ) Don't they think that repeatedly headlining an event sponsored by a cigarette company that markets their product (which has been proven to be unhealthy) SPECIFICALLY to black youth, is not really an OK thing to be doing? I mean, did nobody think of this?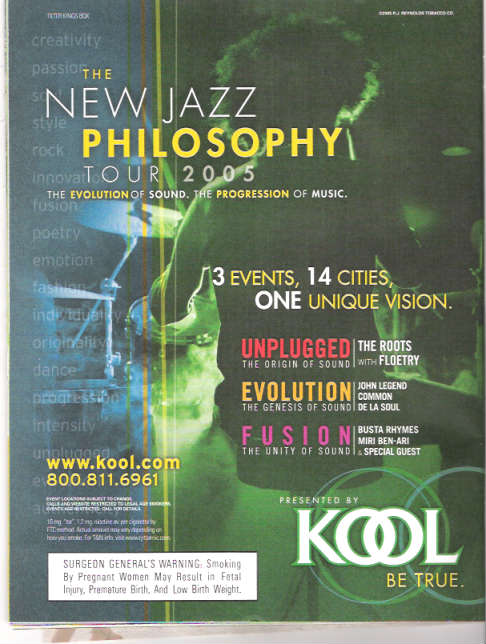 I guess that Gap ad isn't so bad after all, I mean, at least he's not in a Malt Liquor commercial with SpongeBob SquarePants. Sheesh.