Hello, I have been lurking around for some time in the forum before I registered. Now I really want to share about my own summary and experience of budget clothing as a university student on a rather small budget to build one's wardrobe. Any addition/comments/thoughts are welcomed ! And since this is my first thread, if anything violates the regulations and rules please tell me and I will fix it as soon as possible
I will try to organize the items in brand. Thank you.
Lands End:
Non Iron Twill Shirt
I really like the non-iron twill shirt that I have from Lands End. I got it at a sale for less than this price marked as above. The collar has adequate width for me unlike many other shirts carried by LE, and as advertised, it is indeed non-iron (does not wrinkle). Usually match it with chinos/khakis for the school (a more smart casual look) Unfortunately I think they don't offer a more plain colour/pattern for this shirt.
Link: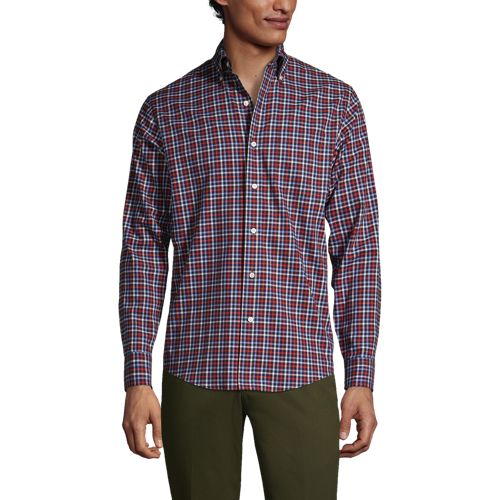 Shop our Men's Traditional Fit No Iron Twill Shirt at Lands' End. We fit every body

www.landsend.com
Also I have heard good words about the Hyde Park oxford button downs (some has mentioned about the collar width so I will make sure to check size table if I plan to buy), but I have not really tried them out, and may experiment with it if there comes a good sale some day. Glad if anyone can offer advice on this item.
Pleated Year rounder wool Dress Pants
Link:
https://www.landsend.com/products/m...ants/id_153293?attributes=17464,44967&rd=true
Got this pair around 40 bucks. I'd say it is a good deal. I have another pair of Brooks Brothers Madison fit Wool Gabardine trousers picked up during sale and compared the two, which doesn't make too much difference to me (maybe BB pair is thicker in material?), and the BB pair is about a dozen dollars more expensive even during sale. It is more of a lightweight (you can know since they call it year-rounder) pant, and since I do currently reside in California, it is fine for me during late spring, most of summer and early autumn. (I tend to be quite sensitive to temperature so I still prefer thicker pants during winter/early spring/late autumn when it may rain and temperature drops). But be sure to check out size table as the regular rise is quite short which has become a quite typical problem in many LE pants (I just bought a long rise version which is available for waist size 34 and above since I like a longer rise and my size is 33)
Pleated Twill Pants:
Link:
https://www.landsend.com/products/m...l-dress-pants/id_251713?attributes=1242,44967
Bought two pairs of these pants at about 27 dollars each. They turn out as good as the Dockers Khakis (maybe even better since they don't crease). I pair them up with dress/casual shirts for a daily basic wear before. Same as the dress pants they are of a mid rise so you can opt for a long rise version if you want and can accept waist of 34+. And all pants at LE can be hemmed for free with style of cuffs/no cuffs choice, another reason why I like their khakis more than Dockers, which offers only fixed inseam such as 30, 32, 34 etc. (Unfortunately I have around 31.25 inseam so that sometimes turns awkward since I am stuck in between)
Paul Fredrick
PF is a brand I discovered around a year ago. They offer quality dress shirts/pants, suits and etc at a quite reasonable price. I bought a pair of their dress pants for my dad and a dress shirt for myself. (Pants of 100% year rounder wool construction, Shirt 100% cotton ). The pants look really good on him (decent high rise, classical fit, correct sizing unlike BB). Since I already have a pair of BB and a pair of LE dress slacks, I will probably stop purchasing any more of them but I will definitely consider their slacks in the future. I remember the pants costing 50 dollars. The dress shirt is at 20$, decent quality straight collar style dress shirt. The only con is that this is not no-iron shirt, so it takes some ironing to make it presentable after each washing.
Link(Shirt):
A thoughtfully crafted collection of classic menswear - updated for today. Quality dress shirts, dress clothes & business attire, always at a sensible value.
Dockers:
Dockers Khakis were my classical go-to pants. I currently have three pairs of them. They are easy to match and comfortable to wear. The only issue as mentioned above is that their inseam is a little unfriendly for me. Be sure to buy the signature khaki, which is the 98% cotton one that doesn't wrinkle much and have permanent crease as they claimed it. I usually go for relaxed fit or classical fit. Relaxed tend to be fuller in cut while classical offers more colours as I believe it. The rise tend to be a mid one and sizing is usually true. There is a sale going on right now and this price is usually the lowest these pants get. (But you can also check Macy's or JCpenny since they carry this product and sometimes have their own sitewide sale that may bring the price down even further)
JCpenny:
St John's bay sweaters:
I do like Vneck sweaters very much as it serves as a good layering during spring/fall/winter. And these JCPennny sweaters are of ok quality (fits true to size with 60%cotton and 40%acrylic as I believe) while the price is astonishingly low (for this price what can you ask for more). Pick them up at sales and should be worth it. They also have cardigans and crew neck sweaters.
Uniqlo:
I am not going to recommend their suit/dress pants, whose fit look quite bad to me. But they do have decent products: Heattech and sweaters.
Though I currently reside in CA, my hometown has a winter that is cold and humid (it mostly rains, and sometimes snows, while temperature can drop to around 0 degrees Celsius). So I do need thermal underwear and long johns to keep myself warm (again, as mentioned above, I am quite sensitive to weather). I find them by far the best thermal underwear that I have. I do recommend the extra warm version as the regular version feels more like just a long sleeve t-shirt while extra warm is more comfy.
Link:
Uniqlo carries many sweaters, and the ones I bought (premium lambswool vneck) seems to have been discontinued. Still, they carry a variety of sweaters such as cashmere ones (better than the ones I have). The wool ones were really warm and I liked them very much. I am quite sure the cashmere ones are of quality too because I've been in a store to try them. There are also merino wool ones (looks thinner and feels so too), maybe good for layering in spring/autumn, certainly not winter for many regions unless you are wearing a heavy down coat outside of it.
Link:
Suit/Ties (more formal stuff):
Regretfully I have not had too much experience with these items. I have a set of navy suit of worsted wool from my father (don't know the brand, thinks he made it with a local tailor) from early 2000s that resembles the style of 90s suit (wide lapel, mid/high rise pants, generous cut), which I personally am quite satisfied with. Its weight seems quite heavy compared with currents RTW suits/pants in market (mostly year round weight). I have also purchased a Ralph Ralph Lauren (blue coloured label) suit from the discount stores (more of a summer weight, tan colour one) at around 100 bucks. Besides these I have close to no understanding of where to get good quality yet cheaper suit. For ties the same situation exist. So I would be really happy if anyone can add in some comments/suggestions on this topic. Personally I'd say I prefer heavier weight suits (due to the nature of weather of my hometown which still I reside in for quite some time during a year).
Dress Shoes:
I really only have two brands which I know well: Clarks and G H Bass. Both carries good quality shoes. Go visit their websites for more information. For Clarks I would recommend their oxford shoes, while Bass of course their weejuns/penny loafers. Same here that if anyone can fill in more info it would be really appreciated.
In summary, sales is always your good friend if you want to go on a budget, so if you find a brand carrying a style you really like, make sure to watch out for its sales throughout the year. When you find something you really like and would need for your wardrobe at a good price point, go for it.
Wish everyone good luck hunting and good health during this difficult time