Joined

Apr 2, 2008
Messages

963
Reaction score

3
As some of you may have seen, I recently posted (on WAYWRN) a couple of shots of a new sports coat whose length I'm concerned about. A handful of posters agreed that it looked a little trim -- there were even suggestions of Thom Brownish tendencies.
That got me thinking about our standards for jacket length more generally. I know the usual answers, of course -- it's either the curled-fingers test or the covering-the-buttocks test. I find the latter far more meaningful, since the former obviously depends on factors like arm-length that have little to do with torso measurements (and hence jacket length).
Now, while a lot of the most respected posters on WAYWRN wear their coats fairly long, certainly long enough to follow the curled-fingers standard, more than a few others opt for a significantly shorter coat while steering well clear of Thom Browne territory. What they all seem to have in common is that they're either from continental Europe or appear to prefer Italian brands. And then there's yfyf.
It's a look I also like a lot, and most of my coats are fairly short by American standards. But I wouldn't mind getting a clearer sense of where people on SF see the line between the acceptable and the faddish or silly in terms of jacket length. So here are a few examples of what I'd consider somewhat unconventional looks (again, by American conventions), especially if you pay attention to the relation between where the trouser legs begin and where the coat ends. I should stress that I admire the style of all these posters!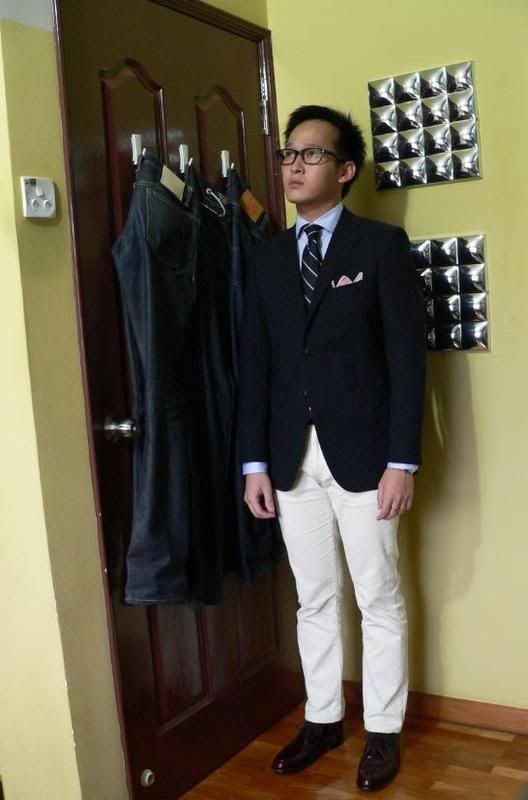 And here, for comparison's sake, is a shot of the (right out of the Yoox box & hence very wrinkled) jacket I'm uncertain about (
please ignore the sleeves -- they can and will be let out
):
So, share some collective wisdom. All too short? All just as short or long as they ought to be, since it's a matter of personal preference? Do any of them look Thom Brownish to you, and if so, why?