Joined

Jul 29, 2004
Messages

8,728
Reaction score

6,883
I'm already having a few issues with the poll. Choose: sleeve type (raglan vs set-in); jacket composition (wool/leather); closure (zip, etc.); trim; pocket trim; embroidery or not (like "made for styleforum" or something); and, probably most importantly, colors.
Most people have probably looked at the
"Skookum Varsity's" thread
, but just in case--there's been some discussion on getting a group buy together for a custom varisty/letterman jacket from
Centralia Knitting Mills/Skookum
.
Jo3B pulled some nice examples from rakuten/other sources. There seems to be plenty of interest, but some disagreement on design. I talked with Centralia last week, and although I didn't get a lot of details (sizing/measurements; prices for specific updgrades; specific colors available), it seems a basic jacket will run between $100-$150 excluding shipping. The minimum order for a single spec/design is six.
In order to get some consensus here, let's try a poll. Just pick your preferred choice, not every choice you'd be mildly interested in. Assuming this generates some sort of majority-preferred jacket, we'll get a real interest check and I'll get real prices. I reserve the right to wash my hands of this if you guys pick an ugly jacket.
Design by democracy FTW. Or FTL. Hope we don't end up with a frankenjacket.
Examples below, stolen from the other threads.
All wool, burgundy with gray raglan sleeves (SF colors lol), snaps, striped trim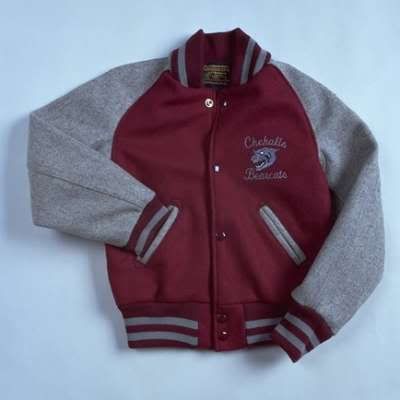 Wool with leather raglan sleeves, all olive (I guess?), buttons, plain trim
Wool with leather raglan sleeves, navy/cream, snaps, navy trim, leather pocket trim, extra zip pockets at chest and sleeve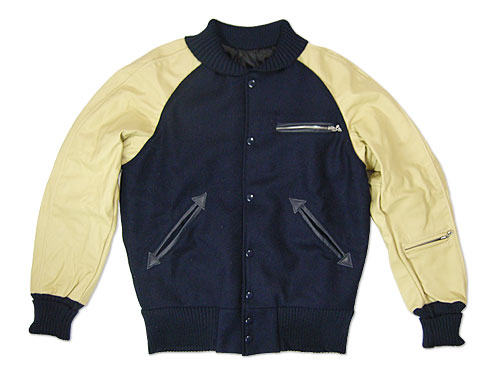 Wool with leather raglan sleeves, burgundy heather wool, zip, zip pockets
Wool with leather raglan sleeves, navy with cream, buttons, cream pocket trim, burgundy trim
APC and Visvim versions (not skookum) with set-in sleeves, note zip closure on visvim
GAP denim varsity from the early 90s.