Joined

Aug 6, 2010
Messages

731
Reaction score

1,039
Lots of stuff for sale here. plus $10 for shipping within USA. add 4% for paypal fees,
I WILL ACCEPT MULTI-ITEM DISCOUNTS AND REASONABLE OFFERS SO PLEASE INQUIRE
. PM with questions.
1. Woolrich Woolen Mills Flannel. Raglan sleeves and lots of cool details size
XS
. worn a few times never washed
SSSOOOOOOOOOLLLLLLLLLDDDDDDDDDD
2. Woolrich Woolen Mills Flannel. size
XS
. never washed
$30.......>
$20
3. Wings and Horns OCBD. worn often and washed a few times,
SOOOOOLLLLLLLLLLDDDDDDDDD
4. IRO Hidden Placket button down with contrast cuffs and collar. awesome quality with MOP buttons. worn once never washed size 0
(XS-S) $50.......>
$40...........>$30
5. Gitman Brothers Vintage madras. worn a couple times and washed once. size
XS $50.....>
$40
6. Woolrich Woolen Mills "tuxedo shirt" such a cool shirt with awesome details. never worn or washed size
XS $30.......> $20
7. Gitman Brothers Vintage OCBD by Opening Ceremony. extremely nice quality. worn once, never washed size
XS $60........>
$40
8. Silent by Damir Doma "tiffin" shirt. raw edges and other cool details. size
SOOOOOOLLLLLLLDDDDDDDDDDDDD
9. Isaora Technical Street Pants. slight drop crotch. extremely well made. super comfy. worn once. size
XS
(will fit 28-32. i'm a true 28 and they're a lil big)
SOOOOOOOOOOOOOOOLLLLLLLLLLLLLDDDDDDDD
10. Nike frees 5.0. worn outside once, basically brand new. size
8 $40.......>
$25
11. Company of We. 100% wool slim fit sweater blazer. awesome quality, tailored slim fit. size
SOOOOOOOOOOLLLLLLLLLLLLLLLLLLLDDDDDDDDDDDDDDDDDD
12. Wings and Horns french terry hoodie. one of the older models, so its got 2 way zips and better construction/quaility. almost new. size
SOOOOOOOOOLLLLLLLLLLLLLLLLLLLDDDDDDDDDDDDDD
13. Nike Sportswear Destroyer Varsity. wool body with windbreaker sleeves. its black and grey, not sure why it looks kind of discolored. two way zips, taped zippers. really good quality. size
SSSOOOOOOOOOLLLLLLLLDDDDDDDD
14. Naked and Famous waxed weird guys. dark grey with greenish hues. selvedge. size
SOOOOOOOLLLLLLLLLLDDDDDDDD
15. New Balance 574s, worn outside only a few times size
US 8 $50.........>
$35......> $30
16. Clarks weavers. made in UK. leather laces, crepe soles. size
7.5 $40.........>
$30
17. Yoko Devereaux cargo drop-crotch sweats. 100% cotton. size
SOOOOOOOOOOOLLLLLLLLLLLLLLLLLDDDDDDDDDDD
18. Beautifully faded raw slim-fit wranglers. no idea how these ended up fading so nice, but they did... size 28-30 waist and 7" cuffs.
$25
19. Ebbets Field Flannels. short brimmed fitted hat. size
7 1/4 $15
20. Stussy snap-backs.
$10 each or $15 for both
21. Obey double feather necklace.
SOOOOLLLLLLLLLLLLLLLLDDDDDDD
Heres a fit-pic with me wearing the Isaora Pants and the SILENT sweater.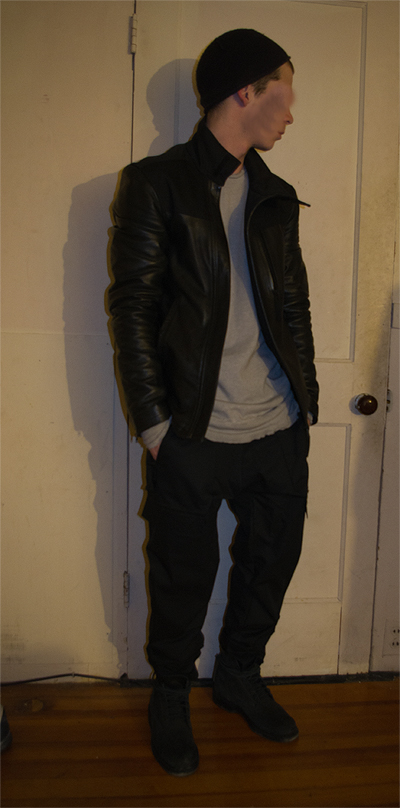 Last edited: