Joined

Jan 1, 2009
Messages

119
Reaction score

2
Hey guys,
I saw another guy on this forum post a similar thread asking the community to rate his ties and found the feedback very interesting. So, I thought I'd do the same thing.
This summer I'll be working at a law firm and I'm trying to select my best ties from the ones that I probably shouldn't be wearing anymore. I'd also like to buy a few more ties to fill in the holes in my collection.
I've posted below the ties that I own, divided into three categories. My "front bench" ties are the ones that I think are the best that I own and suitable for business wear. My "mid bench ties" are my louder ones that I save for wearing to church or parties (most of them seem to be spring/summer pinks). My "back bench" ties are the ones that I've owned since college, don't see much wear, but I haven't brought myself to donate.
Lighting wasn't great in my apartment so for the colors to be accurate in the photos I had to use my camera's flash. This made all the ties appear a bit shinier than they actually are.
Could you guys take a look at them and rate them on a "keep" or "donate" scale? Can think of any particular colors or designs that I should add to my collection?
Front Bench (left-to-right):
1. Thomas Pink, purple
2. J Press, black grenadine
3. Brooks Brothers, navy with white polka dots
4. Turnbull & Asser, blue geometric design
5. Brooks Brothers, red geometric
6. J Press, navy with gold fleur de lis
Mid Bench (left-to-right):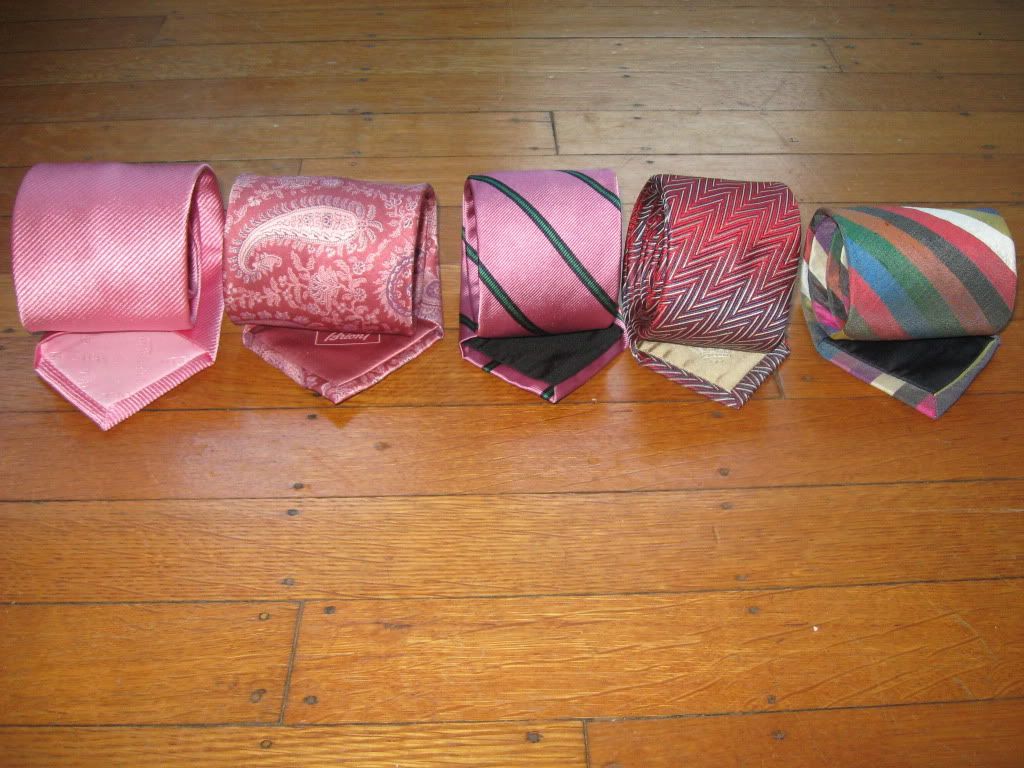 1. TM Lewin, pink
2. Brioni, Pink paisley
3. J Crew, pink with green repp
4. Gieves & Hawkes, red with white zig zags
5. J Press, raw silk rainbow striped
Back Bench (left-to-right):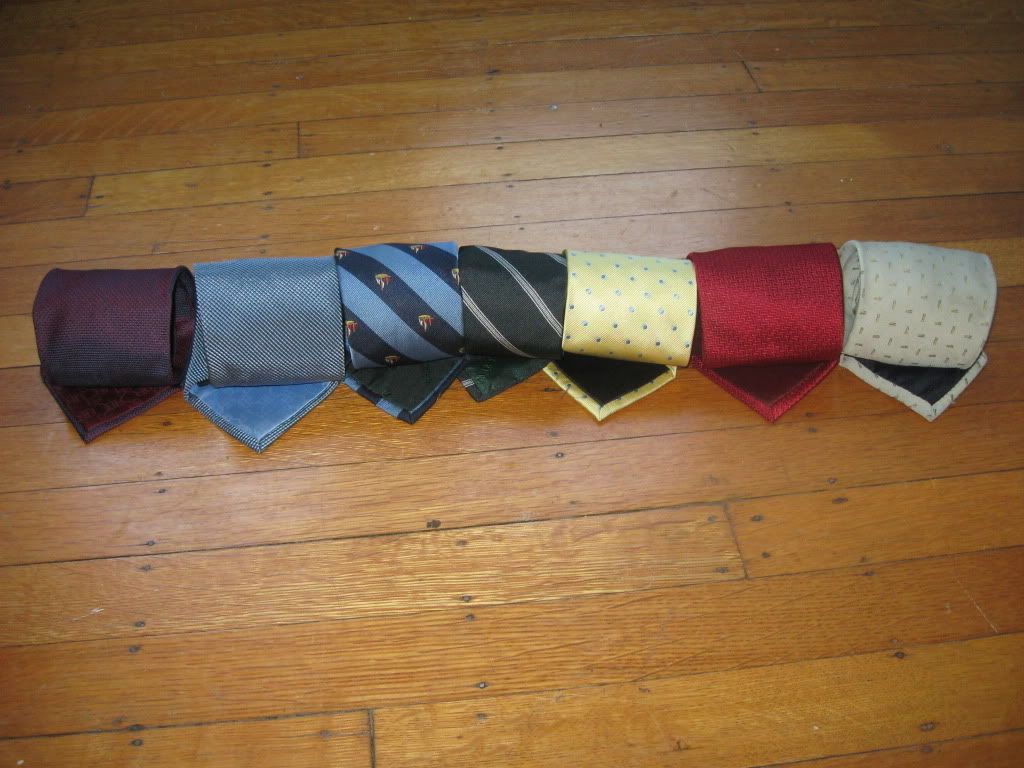 1. Banana Republic, maroon
2. Banana Republic, light blue
3. J Crew, blue regimental with sailboats
4. J Crew, black with grey repp
5. J Crew, yellow with light blue polkas
6. Banana Republic, red with chevrons
7. unknown make, beige with geometrics
Thanks for the feedback.
(note: I also posted this thread over on AAAC, but I feel like the members are different enough that I might get good advice from both sources).