So i bought a few ralph lauren v neck t shirts a few years ago on ebay from a reputable seller as they had pretty much perfect feedback and thousands of shirts sold and I know it was real. I have to get a few new ones because they been stained and can't wear them
Im in NYC at the moment. Now these shirts, can you ever find them on sale in an outlet or anywhere like that in nyc? I seen them at the offical ralph lauren stores but they are retail price like 45 dollars. Online on ebay, the legit sellers they seem to charge around
$30 for it but I could find it on ebay around that price or 20 dollars or more less from other sellers with pretty good feedback
I have this exact elite blue t shirt bought years ago but can't wear it anymore due to it stained... that is being sold by an ebay seller right now... but the issue is in the inside back of the shirt, you don't see the same thing so to speak like the one I have. You see how it says its made in indoneisia and you see how the back of the inside is? It looks legit but why is it different than the one I have?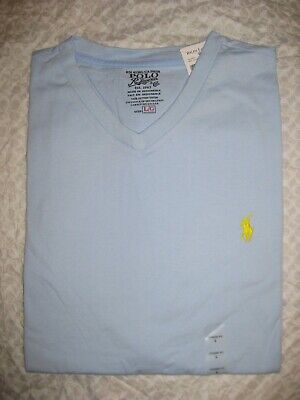 Yellow Polo Ralph Lauren Pony Logo embroidered on chest. RALPH LAUREN COLOR: ELITE BLUE.
The one i bought years ago the tag of the inside of the shirt look more like this... well not tag but like the printed part inside. You see how its much different but same color t shirt? Well they have other colors but you know what I mean.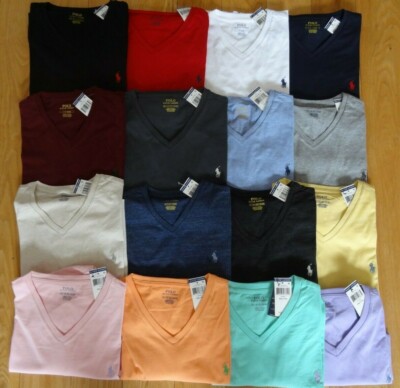 Find many great new & used options and get the best deals for Polo Ralph Lauren Mens V NECK T Tee Shirt Brand New With Tag Size S M L XL XXL at the best online prices at eBay! Free shipping for many products!
The second link, you can clearly see that seller sells legit ralph lauren v neck t shirts since look at their feedback and how much they sold. But why are they selling these shirts for this high of a price? Yes its a bit less than retail, but that is pretty high. I do like these t shirts because i like that pony in the shirt... so I don't mind paying extra for it as oppose to a regular v neck t shirt with nothing printed on it. But is that first link with elite blue color authentic? That seller does have perfect feedback, the price is a bit lower than most t shirts. Thoughts?