Joined

Mar 13, 2006
Messages

860
Reaction score

6
On some recent online MTM shirts, I have detected a
single
thin
horizontal
ripple/fold of excess fabric just between the bottom of the collar and the top of the yoke. Basically, like this...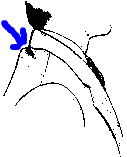 ...but on a shirt, so the ripple is thinner and sharper.
So,
1. What is causing this?
2. Is this an easy or hard fix for my existing shirts with this issue?
3. How do I prevent this on future shirts?
Thanks in advance for the assist.