Joined

Jul 5, 2010
Messages

19
Reaction score

0
Hey all, here's a story that is probably too long.
I work at a jewellers, and I was recently sifting through some bags of old shite in the store room, when I came across a box of old watch movements. This isn't normally a big deal, we have boxes and boxes of the things out the back. Some with cases, some not, but all of them broken to some extent.
Most of them are nameless brands or occasionally a semi-decent brand but so completely knackered they're uneconomical to repair. When you've been in business for over a century, you seem to hoard this crap. I've seen hundreds, if not thousands of these watches, all of them low brand and discardable.
But this one was different.
I opened the box, and my eyes gazed down upon an Omega. A quartz De Ville, gold plated with a 1332 movement. I'm guessing 1979, maybe early 80's. It looked in pretty good condition. Case intact, a small bit of damage to the crystal, but a lot better then anything else in the box.
I'd always wanted to do a watch restoration, but hadn't actively sought anything out, and even if I did, I would never have found the time between uni/work/going out. It'd just be another project I started and never finished.
But I figured what the hell, asked some questions, and was told by the powers that be that if I was stupid enough to waste my own time trying to get it to work, I could have it. After all, it was collecting dust and no one else was going to attempt it.
So, long story short, I cracked it open, and found something that instantly made my heart sink. The battery was still in it. Now let's bear in mind this watch has sat undiscovered for years in the stock room, which can have wildly fluctuating temperatures, and had probably been sitting there for at least a couple of decades. I was pretty boned. I was sure the battery had ruptured or leaked...
...And I was right.
The battery acid had really gone to town on the battery itself, and the metal contacts in the bay were covered in the stuff. To anyone who hasn't really dealt with watches, if the acid is left on the contacts, it will eventually erode them, but chances are they will only fall apart/off when you try to change the battery, or touch the contacts.
Another long story short... I managed to scratch off the layer of corrosion, leaving a clean, albeit thinner, contact. Amazingly (and due to great amounts of care) the contact never snapped during the process!
After this, I gave it a little bit of a clean-up inside, a new battery, and the thing ran right as rain! Couldn't really believe it myself, I had half expected this to be a mammoth task, but turned out to be fairly straight-forward, which is probably for the best considering it was my first shot at it.
The thing keeps time perfectly, but still needs a little bit of sprucing up (a new crystal is on the horizon). Sorry for poor photos, didn't have a camera handy. Better quality on request.
Reads: Omega, De Ville, Quartz.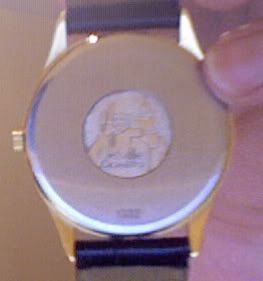 Deville logo in centre, Bottom reads: 1332 (movement no. I assume).
Now, anyone care to help with giving some more info about the watch itself? I haven't really had any experience with Omega, and was wondering if anyone could confirm my thoughts on the timeframe. Haven't been able to find this model online anywhere either. Also, any idea of what this would have retailed for back in the day? Maybe even a rough guess as to what it might be worth now (Although this is for curiosity, I have no intention of selling). Any info/ links/ whatever will be appreciated.
Tl:dr
- Watch broken, now fixed.
Thanks,
Mike