Joined

Jun 13, 2008
Messages

2,664
Reaction score

9
OK, so by now, most of you have read my ramblings re: my neverending quest for the perfect slim OCBD (still haven't found it). I know a few other posters who are in a similar situation, so I thought it might be helpful to compile all this stuff in one place. Feel free to post your own experiences with other brands.
H&M:
$20~$50
Usually not actual oxford cloth, but buttondown collars tend to be available. Fits slim and reasonably long, but often have weird details like black/bright colored buttons, and seemingly random contrast stitching. Decently tapered, despite lack of darts/sewn down back pleat. Collars are small and, in the words of Teger, "eat dick."
RL Rugby: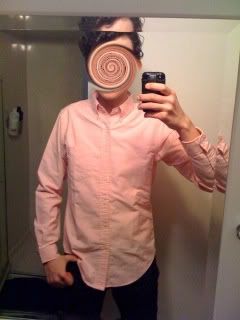 $70
Oxford cloth is soft & lightweight, solid shirts are cut slimmer than striped ones. Collars are decently-sized, but are too flimsy to have a really nice roll. Fit is nothing to write home about; armholes are low. The collars have a third button in the back, which I personally like.
American Apparel:
$55
Pinpoint oxford, has a little sheen and is very flimsy. Drapes badly. The colors are markedly different than your traditional Brooks Brothers variety, but not different enough to make it obvious that the shirts aren't supposed to be classic (e.g., instead of light pink, they have this weird coral color that I'm wearing in the photo). On the plus side, these go down to XXS, which most mall stores don't. FWIW, I'm wearing an XS AA oxford, while I'm wearing smalls in the other brands
Kent Wang x Thick as Thieves:
$105
Thin & lightweight, but high quality, royal oxford cloth. Thicker MoP buttons than I've ever seen before. Fits decently slim, and Kent plans to introduce a size 14.5 version soon (his current smallest is a 15), but seems to work best tucked. Details (no back pleat, mitered cuffs, slight sheen to fabric, no front placket) also make it dressier.
Brooks Brothers Black Fleece
(No picture, since Brooks Brothers' mirrors skew things to make you look taller & slimmer)
$150
Very heavy oxford cloth, nice MoP buttons, awesome collar roll. 3/4 length placket makes it awkward to wear untucked. Fit is decently slim, but not especially tapered. Armholes are very high, but sleeves are comically short.
Band of Outsiders
~$250 retail, easily had for less on sale/Gilt/B&S
Also great fabric, buttons, & collar roll. Perfect for a lot of folks, but a bit too short for a gawky kid like me.
Possibly coming soon: Shipley & Halmos, Thick as Thieves (if/when Jason decides to make some OCBD's), Jump the Gun UK (not oxford cloth, but nice buttondowns nevertheless), Made-to-Measure