Joined

Mar 15, 2008
Messages

1,929
Reaction score

1
So after reading Ron's thread I decided to dive into my own little antiquing project.
I started with a pair of Loake 1880 Kempton Chukkas on the 26 last. Got them as seconds from Herring shoes for $80. Small investment, so I was not worried about ruining the shoes.
I purchased them in Chestnut Calf, and was not fond of the color.
Here is what the looked like originally:
Step 1:
Remove polish and color using Angelus Deglazer. Here is what they looked like after deglazing:
Step 2:
Using Kelly's "Cobler" dye (Medium Brown) I started with the toe since I wanted them to be darker. The key for me was appyling the dye and then immediately afterwards rubbing with a clean cloth to remove excess.
Thin coats are important. I then gave both shoes a thin coat of dye, and continued to rub inot the leather removing excess. The dye dries extremely fast.
After a few light coats on the entire shoe, I used the applicator as a "sponge" and literally applied a coat by "dabbing" spots onto the leather to create variation within the color. Once again make sure to rub immediately after applying.
Lastly, I applied another even coat of dye in order to get the shoes to the darkness desired.
Step 3: Condition leather with lexol
Step 4: Polished using Alden Dark burgandy boot cream. (I swear by Alden creams)
Step 5: Apply Alden color # 8 wax paste.
Step 6: after buffing and polishing, finished off with an old silk tie.
The leather is now more supple and softer then it ever was. I highly recommend deglazer as it did not dry out the leather.
I also dyed the heels to match.
AFTER PICS: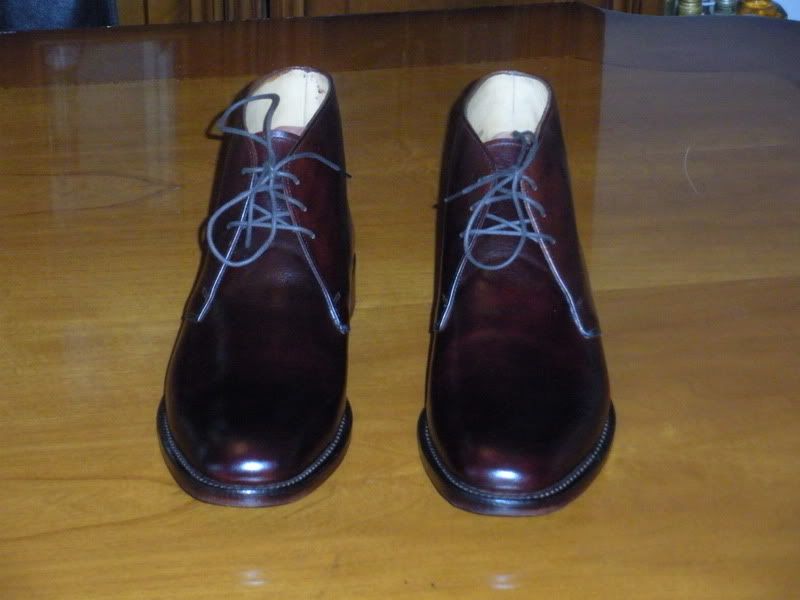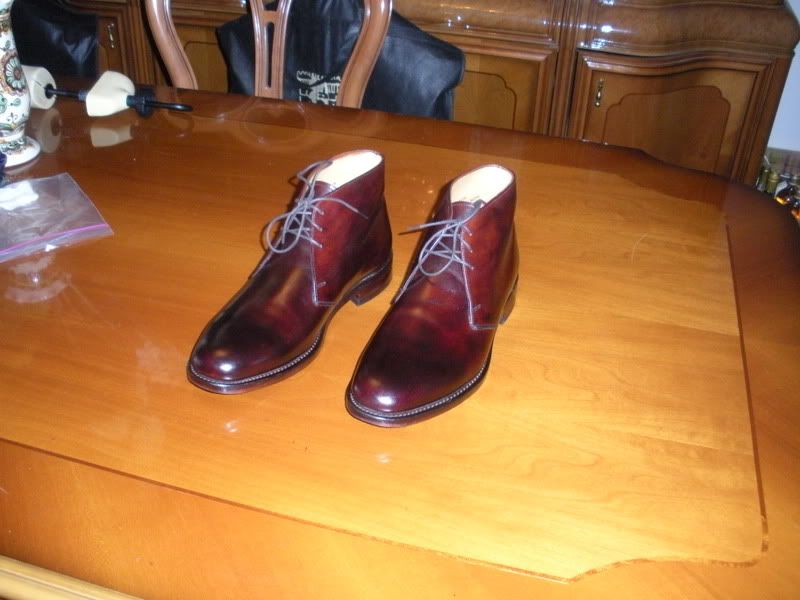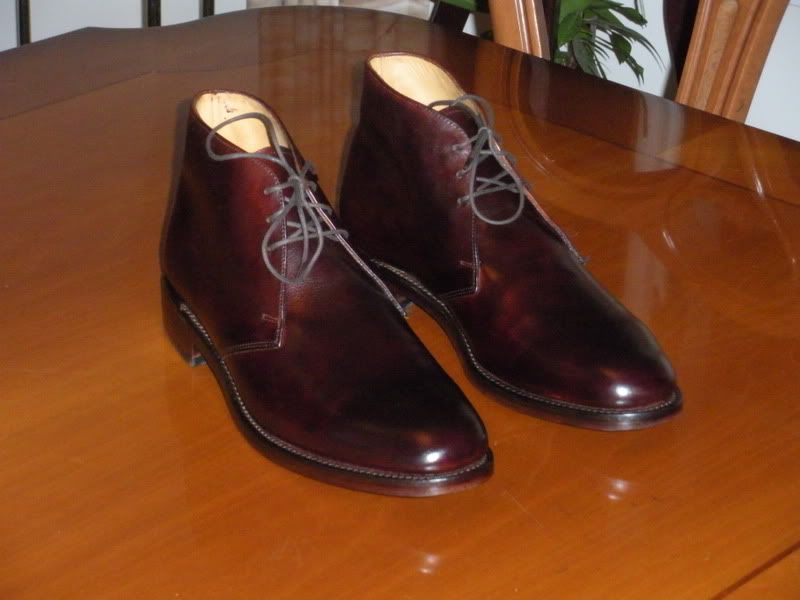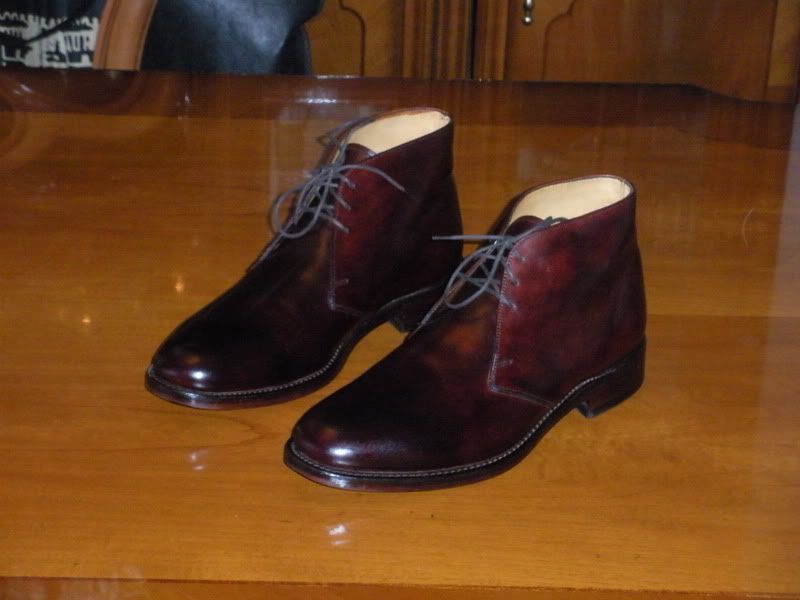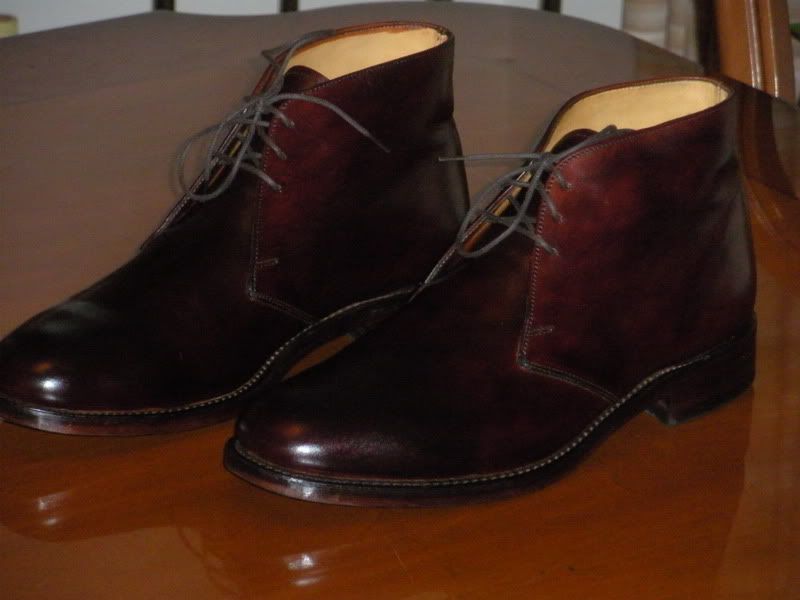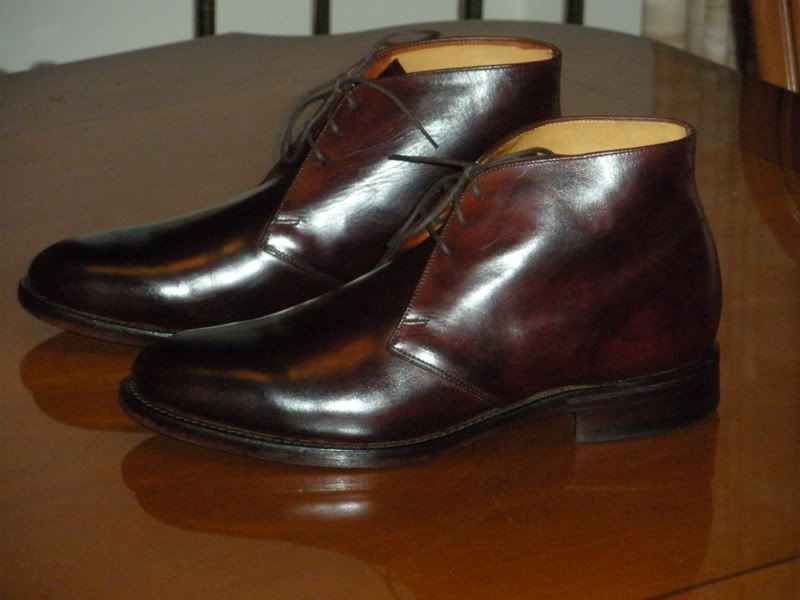 Comments? Opinions? Keep in mind this was my first attempt so imperfections were expected. Hopefully my technique will improve on the next pair. Unfortunately I was limited to one color dye.
Big thanks to Rider and this thread for the tips.