Joined

Jun 9, 2007
Messages

212
Reaction score

4
Greatly inspired by AnGeLiCbOrIs's
thread
, I've been wanting a pair of balmoral boots for myself. Luckily I've found a shoemaker that could make my wishes come true.
Some of you might remember my thread selling Goodyear-welted shoes a while back. The shoes were made by a company in Saigon who owned the only Goodyear welting machine in Vietnam at the time, outsourcing fine (or at least decent) footwear for (mainly) Japan market. Apparently the owner of that company frequented StyleForum, and was not extremely happy to see his sample/exhibited products/models which supposed to be exclusive for Japanese customers were selling on the Internet, which could cause serious trouble to his business in case the Japanese found out. He made his staff (who sold me the shoes) to contact me and asked me to remove the images/info or-she-could-lose-her-job, which I did.
Well I'm not gonna reveal my shoemaker's identity without his consent, but let's just say he has the experience, the expertise, well-equipped and well-staffed to make footwear of similar quality and the great thing is he-takes-custom-orders. Enough with the texts, now if my poor photography skill does not offend you guys, please allow me to showcase some newly taken pictures of my EG Shannon-styled balmoral and my friend (also a fellow forum member)'s G&G Burnham-styled chelsea. Both pairs used the same last and size.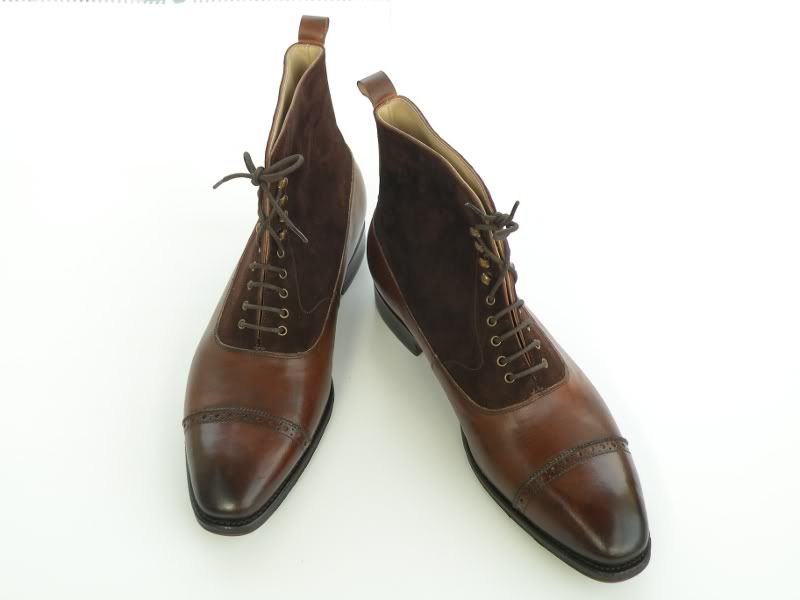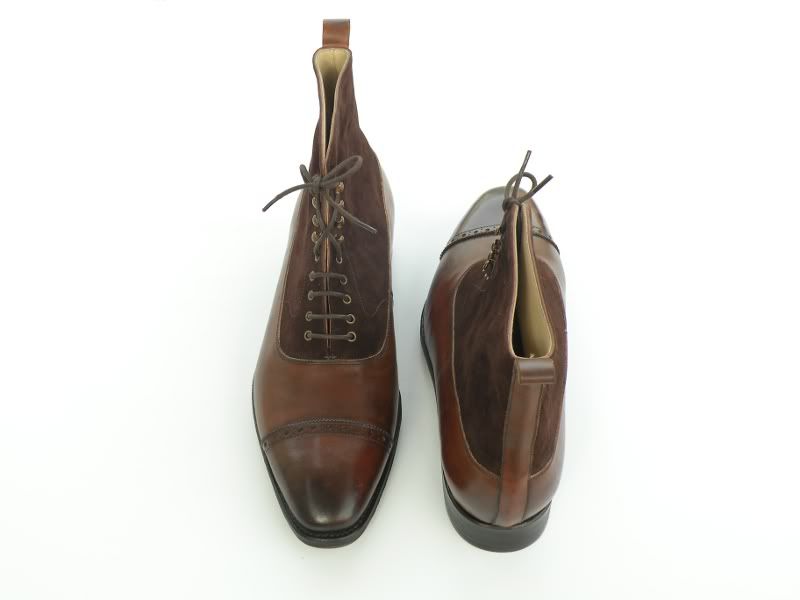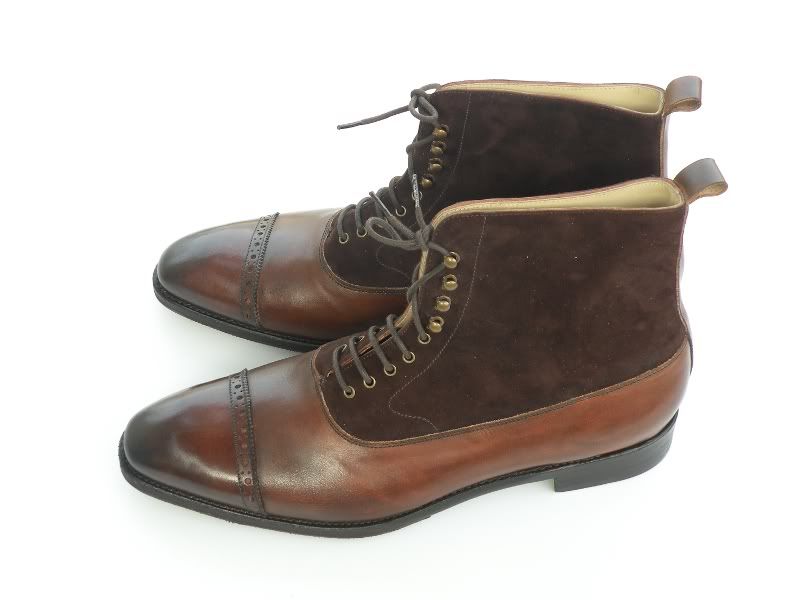 under sunlight (pardon the messy background)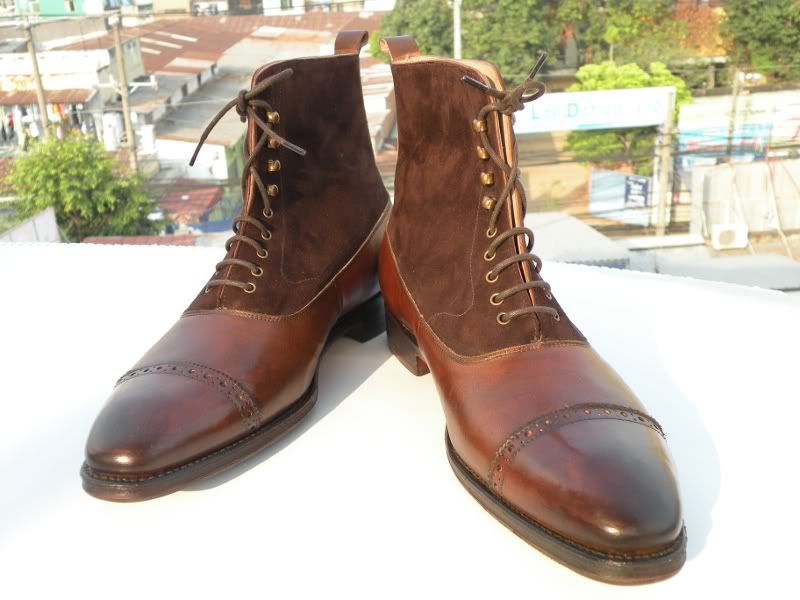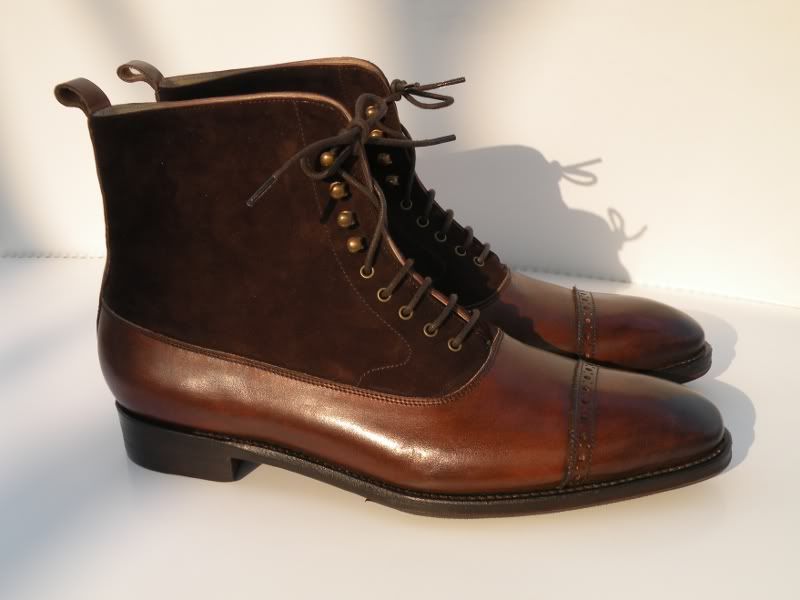 My friend (owner of the chelsea) has better photography skills and cameras than mine, so I will not insult his pride by posting bad quality pictures of his pair. Will borrow some pics of his when they're available, or let him post the pics himself. group shot - without flash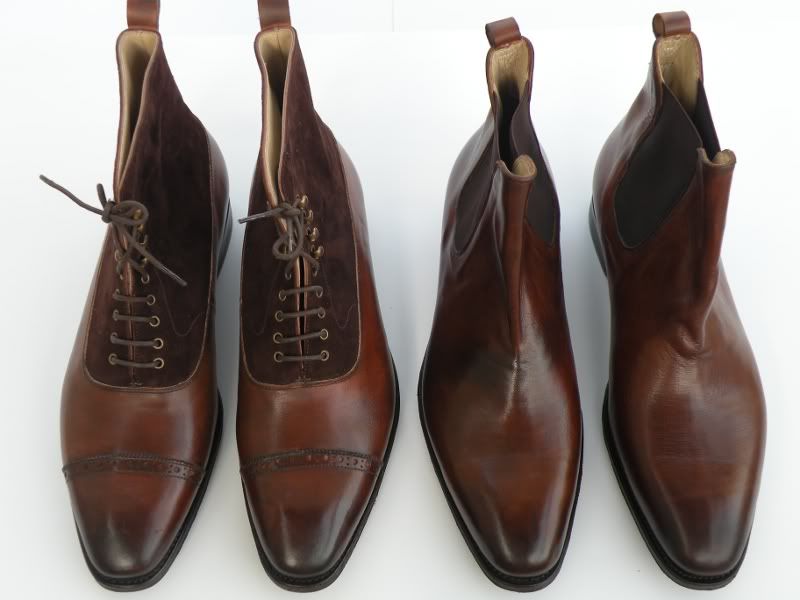 group shot - with flash
- Leather quality: decent-good. Shoemaker has access to better/premium leather, but not sure about the availability for custom orders. - Fit: great. I'm a EU 42/US 9/UK 8 in medium width, and these pairs - stamped 43 - fitted me nicely. Comfy (in the toes) but not big, sleek but not too snug. My pair is 309mm x 104mm. - Finish: we could all see in the pictures. Of course there are rooms for improvements (which I will gladly reveal upon requests), but overall I'm happy with my first order and will return for more. Much appreciate you guys' criticisms and comments.