Stylish Dinosaur
Dubiously Honored
Joined

Apr 21, 2005
Messages

16,118
Reaction score

1,110
I mentioned in the thrift thread that I had found two pairs of vintage, U.S.-made shoes still in box for $4 each. Well, I went back and found six more pairs. Judging from the boxes and a bit of research, I would guess most of these date from the early to mid-1960s, and some could go back even before that. I figured some other folks would find these interesting, so I thought I'd share some pics. (Also, it might be the only time I can rival Aportnoy in bulk shoe purchases.)
Here's the haul:
Found these in storage at a former men's clothing store that opened in 1952. There were many pairs of shoes left, and it made for an interesting trip through time. Going through the boxes was like watching the downfall of the American shoemaking industry. The best stuff tended to be the oldest, and the newest (late '70s) tended to be terrible. One pair made of "all manmade materials" had literally started to melt. The heel had peeled off and the shoes left a black oil all over my hands.
Curiously, all the decent shoes were in my size, or close enough to it. I don't think I left a single pair of nice shoes, except maybe for a pair of loafers in an 11. Not sure if others had been there before me or what.
Here's a pic of what the better-quality shoes looked like after several decades in storage. Cleanup took several hours and a bottle of leather conditioner.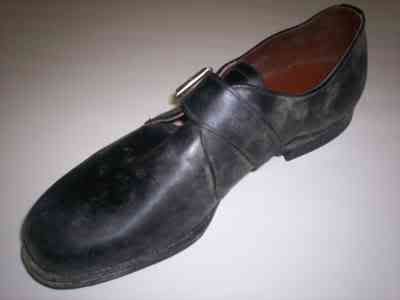 As I was sorting at the store, it became increasingly difficult to differentiate good from bad. Mold, mildew and age made it hard to judge the leather. (I had one bit of help: The plastic shoes didn't have fuzz growing on them.) But eventually I unearthed three black captoe bals, a brown pebble grain blucher, two black monkstraps, an oxblood blucher and an old-school wingtip gunboat. It was quite the excavation.
My favorite of the captoes has an unusual stitching design: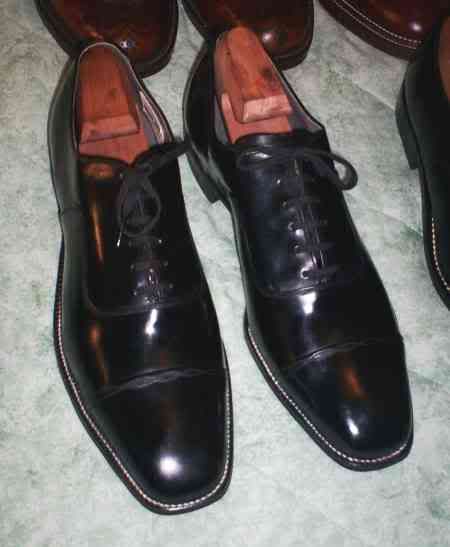 The captoe also has contrast stitching, as do three of the other pairs, including the pebble-grain bluchers. Was this a big fad at some point? If so, when?
Thought the Florsheim fans might like the longwing, though it's not Florsheim. It's built like a brick and was priced at $99.99 at one point: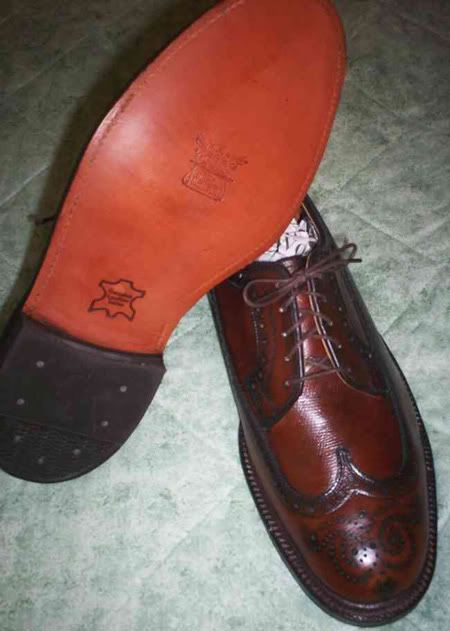 Finally, the pair of monkstraps pictured above, after being cleaned up:
Many of the shoes in storage were made by Endicott-Johnson, which was once one of the world's largest shoe manufacturers. It was one of the top four U.S. shoemakers in the 1950s; together the four firms were responsible for roughly a quarter of domestic shoe production. Amazingly, the top 24 makers produced only 35 percent of the country's shoes. Just think of how many domestic shoemakers there must have been. It seems almost boggling today.
Here's a link to some interesting photos and info on Endicott-Johnson:
http://iarchives.nysed.gov/Gallery/gallery.jsp?id=43
Wikipedia says the demise of the company started in the 1950s, and that matches up with my experience digging through three decades of E-J's shoes. The company closed its tannery in 1968, which might help explain why there were so many plastic monstrosties from the '70s. Endicott limped along for years, and only announced plans to close its last plant in 1998. A sad end for one of the U.S. shoemaking giants. But at least some of their wares have found a home at last. Now if only I can bring myself to wear them!
I'd love to hear any thoughts on these shoes, or recollections from forum members who can recall the heyday of the American shoe industry.