Joined

Sep 10, 2006
Messages

230
Reaction score

0
Back a while in the Recent Purchases thread I mentioned that I'd picked up a couple of pairs of OK jeans at Bluenotes on sale for $30 and $10 (
), and someone asked me to post about 'em, so here they are. My favorite of the two were the $10 pair. They look a bit loose on the ground but that's just because "slim" on me is "loose" on most of you
It's more of a classic straight-leg fit. The denim's washed but is still pretty dark, other than the second pair below they're the darkest jeans I have. They're no APCs but they're turning into one of my favorite pairs. Click thumbnails for detail: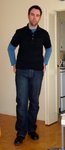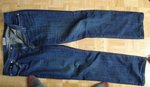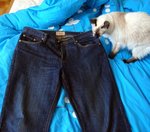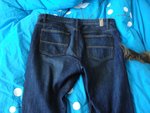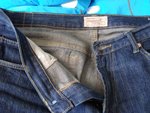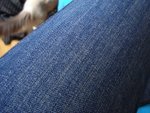 I'm pretty sure the $30 pair are raw or one-wash denim. There's definitely no distressing at all. The denim's a bit on the light side. They're ostensibly the same fit as the first pair, but I'm a 35" waist, and while the 34s in the first pair fit the 34s in these seemed too tight so I grabbed the 36. Now that I've worn them a bit I wish I'd grabbed the 34s in both, they've stretched out a bit and are a bit looser than I'd have liked now. Ah well. I don't expect these to wear in amazingly since they're so light, but they're great for kicking around in when I want that clean raw look.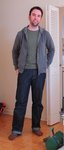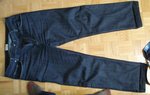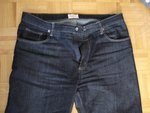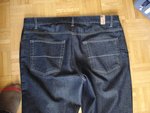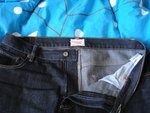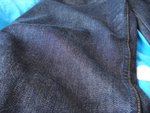 All in all not bad for $40 Canadian total, especially in a town where there's really no sweet spot for dark, un(der)-distressed denim between 501s and Nudies.