Joined

Nov 23, 2012
Messages

385
Reaction score

160
UPDATE: have been wearing the 701's daily for a week (even slept in them twice). After the first day, I washed and dried them on hot to get a little extra shrink (waist shrank about 1"). After a week they've pretty much stretched back to where they were new and are a little softer.

Happy to report there are no quality issues with this pair and it has not started to fall apart. As frustrating as it was to deal with, I think the first pair they sent must have been a factory defect, compounded by them half-assing the repair which also failed. Based on this pair, I'd buy them again.

My one regret going forward is that this size 33 now fits like my regular worn-in levi's in size 31. i.e. comfortable from new and suitable for smart casual with belt and tucked in shirt. But that means it's about an inch bigger than ideal to wear sans belt with shirt untucked (how I wear jeans 99% of the time) and slides down. While the size 32 (what I wanted) was hip-bruisingly tight out of the bag, after 1 week it had almost stretched to a perfect beltless fit.

Since this is my first raw denim and a bit of an experiment, I'm considering submerging these in a lobster pot of boiling water for 10 min as part of the next wash. I've had success shrinking down cotton BJJ gi jackets in this manner.
i learned about correct sizing while purchasing a pair of momo at their flagship store in tokyo for my wife. they measured her and picked out a pair. the hips and thighs fit well but the waist was so tight that they had to use a large paperclip to bring the top button to the buttonhole to close. it was agonizing to watch but the salesperson insisted it's the right size. my wife had to carry that damn paperclip with her for the next week while traveling in japan so every time she used the bathroom she would be able to button her jeans. a week later, the jeans fit perfectly.
when i buy jeans now, i just make sure the thighs and hips fit well and i intentionally make sure the waist is really tight knowing it'll stretch even if it's uncomfortable for a few weeks. people tend end up getting their jeans too big after a few months of wear.
on the side note some of you may find this article entertaining/informative. i learned a lot and my respect for japanese denim just went up a notch (if that's even possible).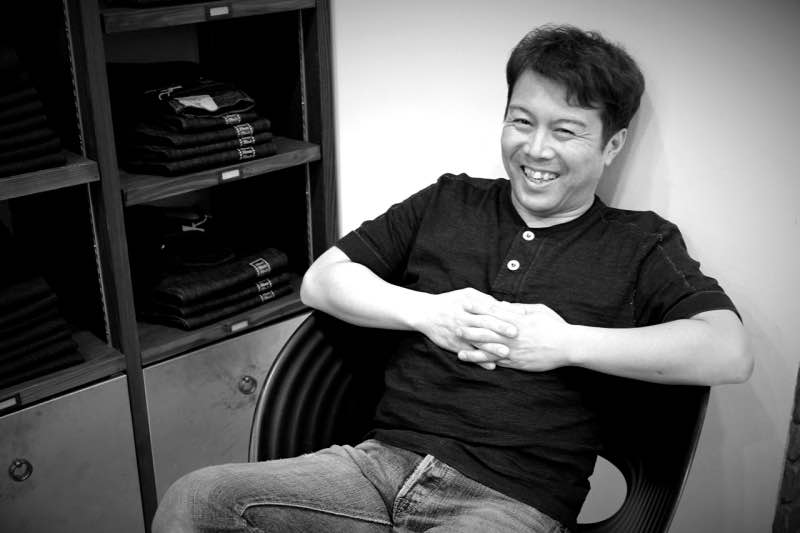 An in-depth conversation with Pure Blue Japan's Kenichi Iwaya. Slub fans this is not something you're going to want to miss!

www.japanalogue.com
when an american company has good products, they expand, and scale up to maximize profits (think forever 21). when a japanese company has good products, they continue their pursuit of the dubious concept of perfection (think PBJ).