Joined

Apr 21, 2011
Messages

10
Reaction score

0
So I went to Jermyn St yesterday in search for some nice fitting (read slim), easy on the wallet shirts for my formal wardrobe. I have read a lot of info on this board before going and so decided to do a little write-up, that will maybe help somebody. Maybe not, i feel like sharing anyway
My frame is 6 feet, 185, 42 chest, 32 waist, no gut, but no gym either.
It seems the affordable choice on Jermyn falls to TM Lewin, Charles Tyrwhitt, Hawes and Curtis and Harvie and Hudson. Shirts cost between 25 and 40 GBP.
I went to H&C first, shirts are 90GBP per 3. The stores are pretty huge, they have a pretty complicated range based on formal/casual, regular/slim and collar types. Customer service was not the best, neither of sales reps wanted anything to do with me, and i didnt like the store's layout much. Mall-y type. I tried their slim fit York and Hurst casual shirts and one of the formal slim fits. Quality of the shirts they let you try on was pretty bad "" threads are coming apart, not very well constructed. Their slim fit is the slimmest one they do and it fit me a bit like a parachute in their Medium/Regular and 16/35.
Next up was H&H, their shops are very nice, small and family type, guys who work there are very helpful, so a pretty cozy experience. Their slimmest cut is slim fit and they have a limited number of colorways in this line. The quality was nice, but in 16.5/35 the shirt was quite wide. I'd classify their slim fit as regular fit. They offer addition of darts, but that runs 15GBP per shirt and their shirts are 3 for 120GBP as it is. So that was a no for me. I believe they make them right there on Jermyn St.
Next up was CT. I like their new shop the best, very cosy with some armchairs here and there, magazines, lower ceiling, helpful staff. They have pretty good looking summer madras shirts, shop reminded me a bit of J Crew. Their slim cuts are Slim Fit and Tailored Fit with Tailored being the slimmest. Slim and Tailored fit very similar, the only difference is darts added to Tailored cut, which makes it a bit narrower, maybe 1-2 inches in the midsection. Shirts are of pretty nice quality. The only gripe is that the Tailored line only has 5 colorways. But a plus is that each is available in your choice of single or double cuff. They are also the best deal at 100GBP per 4. Made in Turkey.
Onto pics then:
Tailored fit in 16/35
Slim fit 16/35
Slim fit 16.5/35
Tailored fit 16.5/35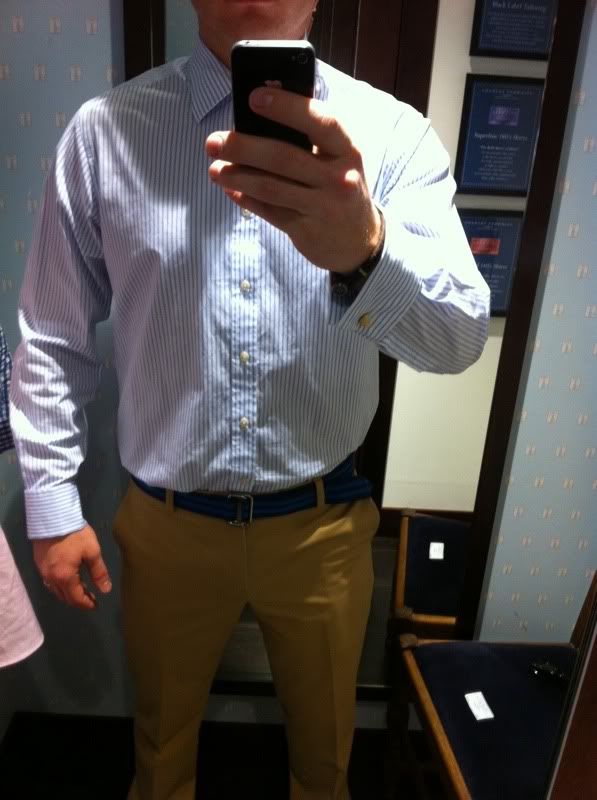 Same shirt 16.5/35 tailored, tucked in a bit more behind..
Last one was TML and they have the real deal when it comes to slim fit. Their regular slim fit fits similar to Tailored fit from CT, but their slimmest cut is Fully Fitted, also called John Francomb Fully Fitted. The shirts are of nice quality, made somewhere in the middle east. Fit is what a slim fitting shirt should be in my opinion, but unfortunately while it fit me great in the midsection it was way too tight in the shoulders for me in 16/35 and turns out they do not make those in 16.5/35, only 16.5/34.5, which is too short in sleeves. And next one up 17/35 fit more like a gown.
Here's a Fully Fitted John Francomb in 16/35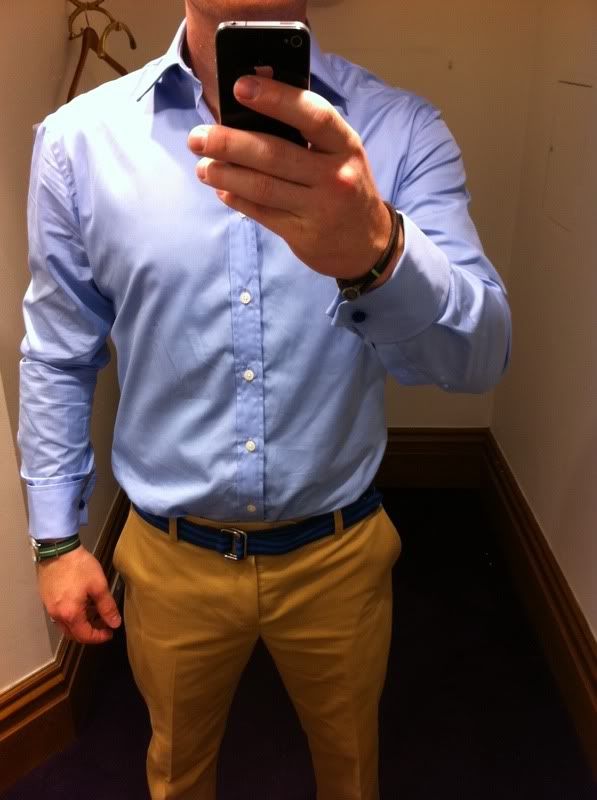 I wouldnt be able to drive or hug my wife with this shoulder fit. So as much as I wanted to get these ones, the absence of my 16.5/35 size, made me go to my second choice "" CT Tailored Fit.
Otherwise TML have a pretty good choice of colors and subtle patterns that I like and are actually cut slim. TML Francomb are 128GBP per 4. So if they have your size, give it a shot if you're looking for a sharp cut affordable shirt.
Sorry for being TLDR