David (distinctive) and I (Logan, a.k.a. rebel222) are proud to introduce D. C. Lewis Footwear. We have been working diligently on this project for several months now, and we want to take a moment to talk about our new line of men's footwear. Our goal is to offer top-notch quality, sleek yet classical designs, and comfort at an affordable price.
Our goodyear-welted shoes are extremely well crafted, with great attention to detail and lots of handwork. We have gone to great lengths to insure the highest quality and greatest comfort, while equally focusing on design and balance.
We intend for the style and quality of D. C. Lewis to compete with some of the well-established elite brands in high-end footwear, but priced similarly to the middle-tier brands. Our goal is to offer a level of quality, detail, and style that are not typically available in this price range. We do not believe that there is a better value available.
We hope that the shoe design and quality will speak for itself. We have also asked a few well-respected and extremely knowledgeable Styleforum members to give you a non-biased review of our first model, named "Clayton". These members will hopefully add some guidance to the fit as well. We encourage you to try out our shoes as we are confident that you will be overwhelmed by the value of these shoes.
We will also provide our guidance on fit below this post.
Models
Clayton
We are proud to introduce our first model, "Clayton." It is a sleek, single monkstrap. It is on a classic, yet sophisticated, round toe last, called the 102. Made from fine French box calfskin in a color called "mottled sienna". The shoes are goodyear-welted with a single sole. The waist of the shoes are aggressively beveled. Sizing is written in both in US and UK sizing on the shoe itself; however, for ease of purchase, all sizes will be listed according to the US size. Currently, only standard widths are available. The B&S thread will contain an updated list of available sizes:
Link
. Quantities are limited. If an item has sold out or if you would like to order these in a wide size, we would be happy to accommodate you. Our introductory price for this model is only $424.99 + S&H. However, we will be waiving the price of S&H to Styleforum members located in the US and discounting S&H to our international members. Our B&S thread, here, is the place to purchase in stock models. If you have any questions or special requests, email us.
Note: Future models will have a fiddleback waist but will be priced only slightly higher. An example of the fiddleback is included with the Porter pictures.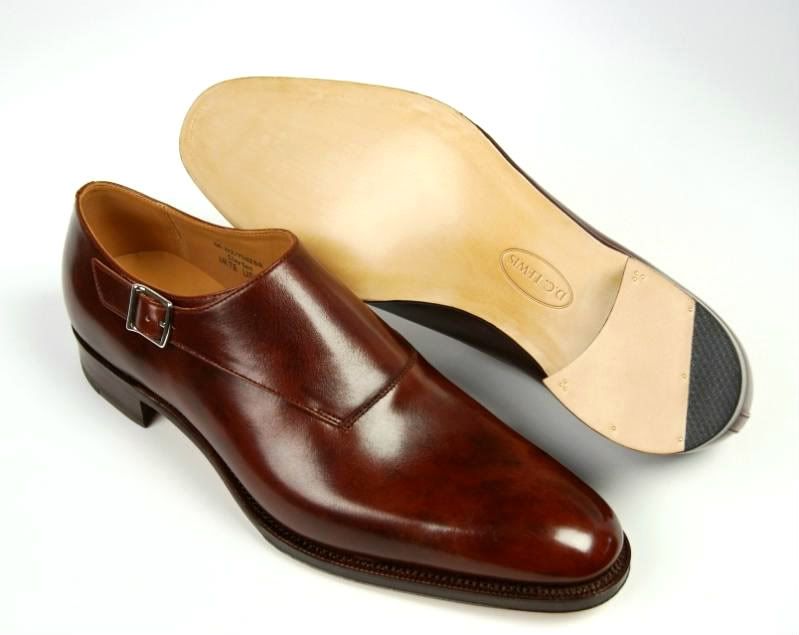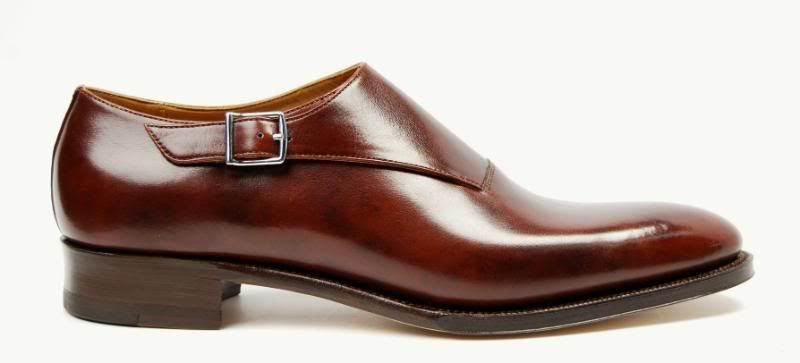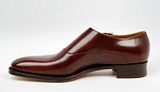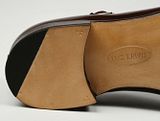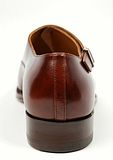 Porter
The "Porter" will be our second model. We are taking pre-orders for this model. It is a half-brogue oxford. It is on a chiseled and sleek last, called the 101. Made from fine Italian box calfskin in a color we call "sienna antique." This model can also be pre-ordered in the mottled sienna shown above as well as tan, medium brown, burgundy, navy, and black (suedes also available). This model (and all subsequent models) will be offered with a beautiful fiddleback waist (seen below) at a cost of $459.99 + S&H. Please note that pre-orders will require a deposit $125. See terms below for detailed information regarding pre-orders.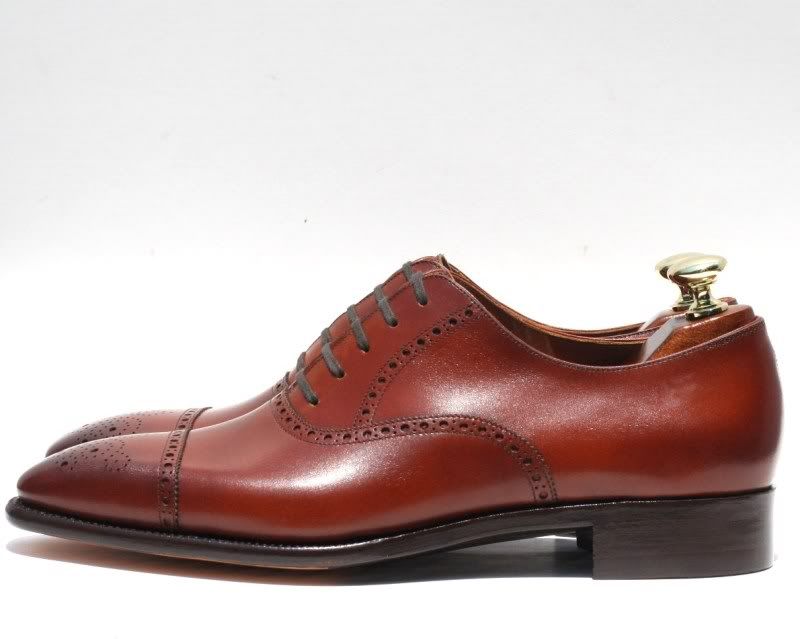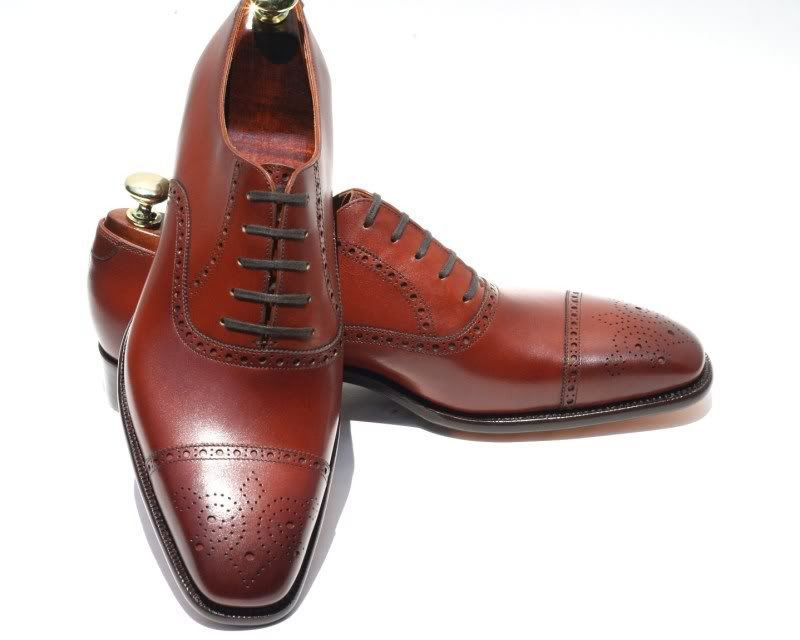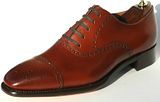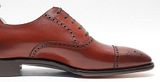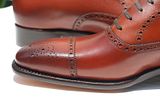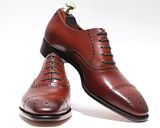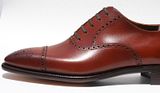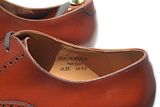 Available Leathers
Future Models
Continue to check back regularly because we will be updating this thread with our future models.
Terms
Payment
For now, we are only accepting Paypal, postal money orders, and certified U.S. bank checks. Paypal payments are processed by invoice. Please email us at
[email protected]
if you want to purchase a pair or need directions for the other methods of payment.
Pre-orders
We require a non-refundable deposit of $125 on all pre-orders. Please allow approximately 8 weeks for delivery. The deposit is due at the time of order. The remaining balance is due within 15 days of notification that the shoes have been delivered to us. If payment is not made within this time period, we reserve the right to sell the shoes to someone else.
Shipping
Standard shipping method will be via USPS Priority Mail. We would be happy to ship via USPS Express Mail for an additional charge. International buyers are welcome. Please email us for a quote.
Returns
Since we are new and you may have doubts as to sizing, we will allow returns on these shoes. We must be notified of your intent to return the shoes within 7 days of you receiving the shoes. We must receive the shoes back within 7 days after you have notified us of a return (14 days for international orders). The shoes must not show any signs of wear (creasing, marking of soles, etc.). Make sure to try the shoes out on carpet.
If the shoes are not returned in the original condition, we reserve the right to offer only a partial refund, or no refund in cases of excessive wear.
What constitutes sufficient wear to reject a refund is within D.C. Lewis's sole discretion. Please note that shipping charges are non-refundable both ways, so if you qualify for a return we will deduct the initial shipping expense from your refund. We think this is a fair way for us to allow you to try on the shoes without having the risk of being stuck with a pair that does not fit well.
Again, if you have any questions, concerns, or requests, please contact us at
[email protected]
Thank you for your time and please let us know how we can serve you.
Last edited: