Internet Bigtimer and Most Popular Man on Campus
Affiliate Vendor
Dubiously Honored
Joined

Oct 11, 2009
Messages

43,885
Reaction score

73,284
in stitches :

Originally Posted by

in stitches
FRIDAY CHALLENGE

This one's for you Mr. Spoo. But first a few disclaimers. 1. I'm a rookie so my "A" game may be more of a "C-" game, please don't hold it against me. It's my first MTM so I think it fits best of all the suits I have. 2. Manton, before you even start, I do not own any decent shoes with laces. I blew my load on these Zegna Couture loafers before I knew enough about shoes. Untill I can afford another pair this is what I am working with. 3. Whnay, I'm not a big photo guy my only camera that can upload is my phone. Too add, my wife can only handle taking so many photos that all look the same to her, she is still getting used to my affair with SF. Please therefore forgive the photo quality. 4. For some reason, maybe the way I'm standing the jacket sleeves seem to look a tad longer than they are IRL. 5. I am including some fit pics and some close ups that better represent the true colors of the items. Per the advise of a certain member here I did not wear a PS, but I put some pics of it in as I would like to know if you guys think it's a good look with this outfit. So, Mr. Spoo if you think these are up to snuff please include them in the challenge, if not hopefully it will be worth the post for the feedback. Cheers.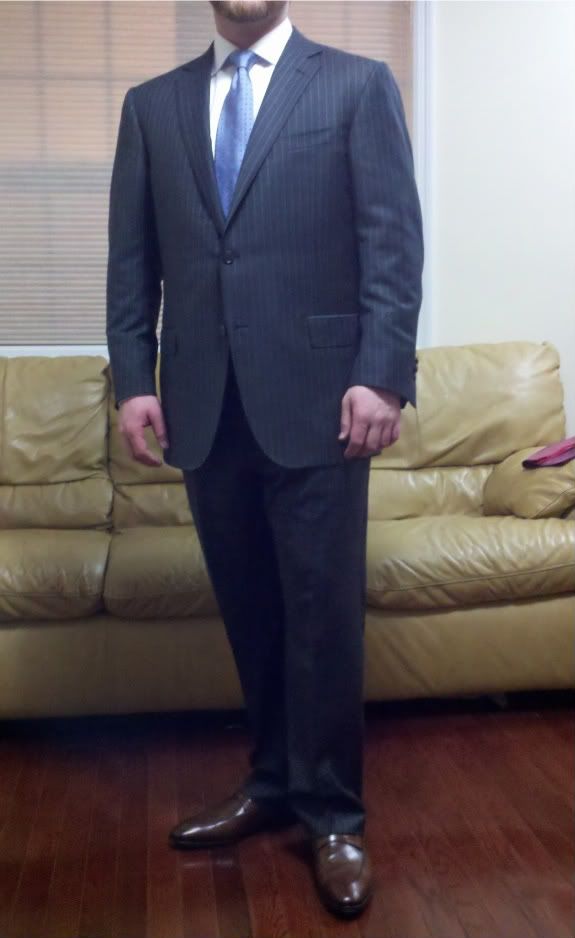 [/SPOILER]
[/SPOILER] Navi:

Originally Posted by

Navi
FRIDAY CHALLENGE
I don't have any good green ties or I would have worn one of em.
Also Spoo, I'll throw in that I actually like the outfit everyone was calling too busy. Love the pattern on those trousers, and deets on the tie? edit: Opinions on my new tie above? Got it today, not sure if it's too busy but I like the pattern. From afar it looks pretty cool, imo.
[/SPOILER] upr_crust:

Originally Posted by

upr_crust
As I post today's attire, I note that, in architectural terms, the prevailing style on WAYWRN is like that of the Seagrams building in New York - tall and thin, the bronze skin of the exterior of the building stretched tightly over the building's frame, simple lines, almost no ornamentation of any sort, but made with the most luxurious of materials. I think most of you strive for a style like that. Whereas you're all trying to be the Seagrams building, I'm more naturally striving for Blenheim Palace. Let us hope that my cornices, architraves, and pilasters are in good order today. I can well imagine that my "fit" today will not be popular. With tongue planted firmly in cheek, let me predict people's reactions. Mbreinin will hate the fact that I'm wearing purple. Spoopoker will hate the fact that I'm not wearing ENOUGH purple. Acridsheep will dislike the amount of bling. Spoozy will not understand why all three pieces of my suit match. Orgetorix will be horrified that I thrifted nothing that I was wearing (though, in my own defense, I bought nothing a full retail - I have SOME principles, after all). Threadbearer will not understand why I'm not wearing argyles Holdfast will wonder what deep-seated psychological problems drive me to dress as I do UrbanComposition will whizz past my posting in his need for speed scrolling NORE/Forex/Bigbris (I posit that they are one in the same) will be too busy reaching for an anti-regurgitant upon seeing my face to notice what I'm wearing and Oldog/Oldtrix will say nothing, as the Buddha of Pattern Matching instructs best by example, showing the true path towards sartorial nirvana (possibly leading to various spots on upper Madison Avenue, Jermyn St., and Savile Row on the way).

[/SPOILER] Holdfast:

Originally Posted by

Holdfast
I already did. And he looks awesome.
The whole look gives off an late-80s vibe to me (colours & textures especially). Personally, I loved the clothes in that era, so rock on. I suspect that you will find that it is not SF's preferred time-period, however. In that case - as I look out the window into overcast skies and steady drizzle - lucky you! I loved the preamble. I like today's look too, esp. the shirt/tie combo. FRIDAY CHALLENGE I'm most at home in suits rather than odd jackets, so I had to pick a suit to wear. And I love bold looks, so navy pinstripe was the way to go. This new shirt is, I think, going to become a favourite of mine, so I wanted to use it too. The tie is perhaps a little subdued for me, but very much in the colour spectrum I like to use with navy suits, and the contrasting pocket square and the hidden maroon socks are examples of the little eccentric/non-SF touches that I enjoy using. And of course, the trouser leg is a trifle wider than most here prefer. So, yes, this is very much how I like to see myself, which is how I interpreted the challenge. My only regret is the lack of natural light, affecting photo quality. I might try again shortly as the sun seems to be poking out a little from behind the clouds...
[/SPOILER] Orgetorix:

Originally Posted by

Orgetorix
The weather decided to get warm all of a sudden, making the fit I was going to do unwearable. So I decided to enlist Fred's help again, since he brought good luck last time. Despite the celebrity DTO nature of the fit, it actually fits my style to a tee and is probably the best example of my warm-weather fits.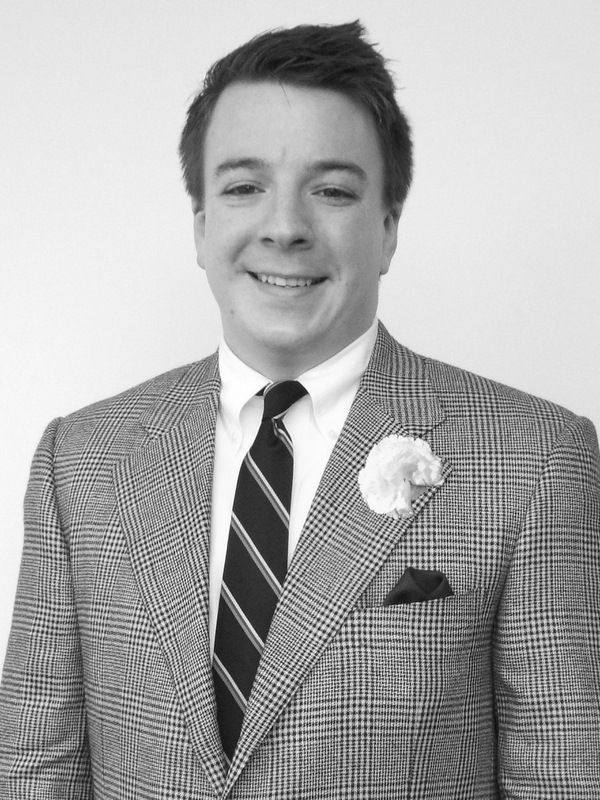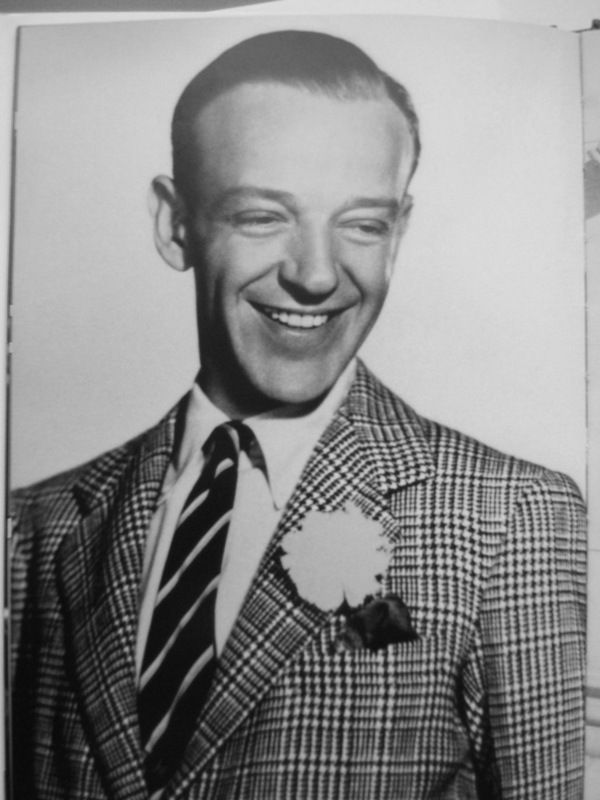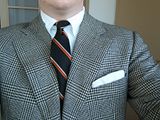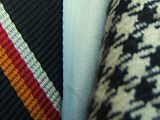 [/SPOILER] J.Cogburn:

Originally Posted by

J. Cogburn
Appologies for the somewhat blury images - still trying to figure out this new digital camera of mine. Anyway, today's rig features the third wearing of my bespoke William Field DB with light blue shirt and silver/grey ribbled Ben Silver tie.
Bonus - a couple of "fit" shots;

[/SPOILER] aeglus: