Internet Bigtimer and Most Popular Man on Campus
Affiliate Vendor
Dubiously Honored
Joined

Oct 11, 2009
Messages

43,871
Reaction score

73,151
Threadbearer:
Originally Posted by

Threadbearer
Friday Challenge! These muted colors aren't going to win me the golden PM, but they abide by the rules and I think I look pretty damned good.
1. Navy blazer 2. White herringbone shirt 3. Green cashmere tie 4. Mauve silk PS 5. Tan linen slacks 6. Caramel shoes and belt
NewYorkRanger:
Originally Posted by

NewYorkRanger
Sorry for the crappy pix, but here's my COLORFU

L

CHALLENGE ENTRY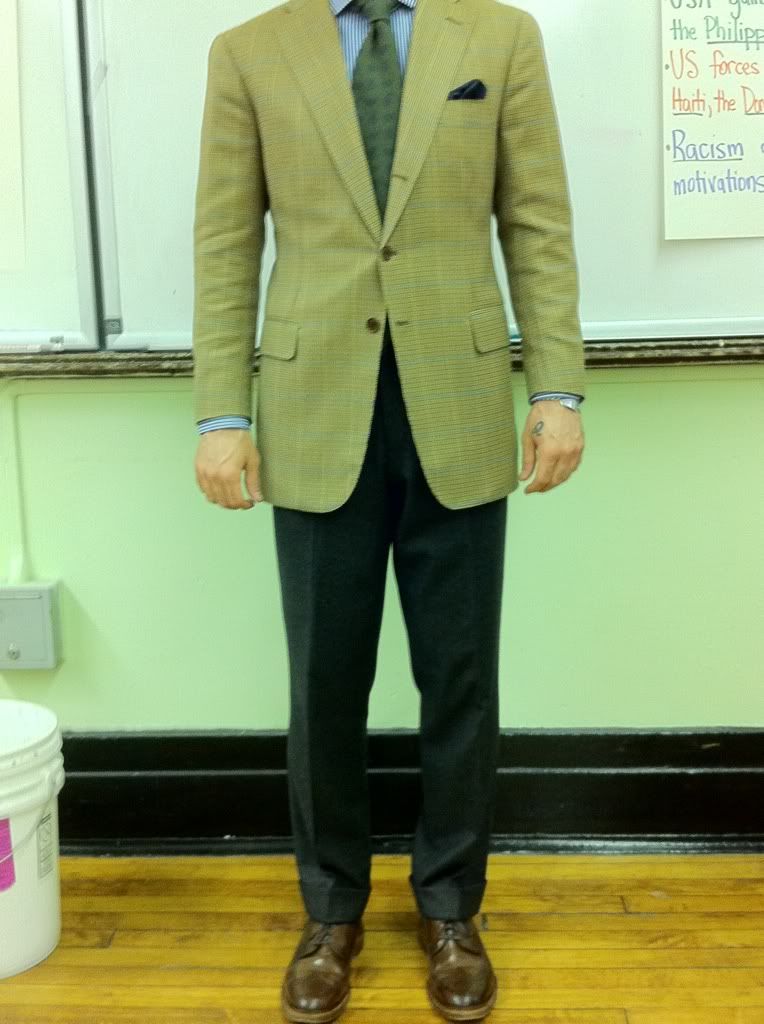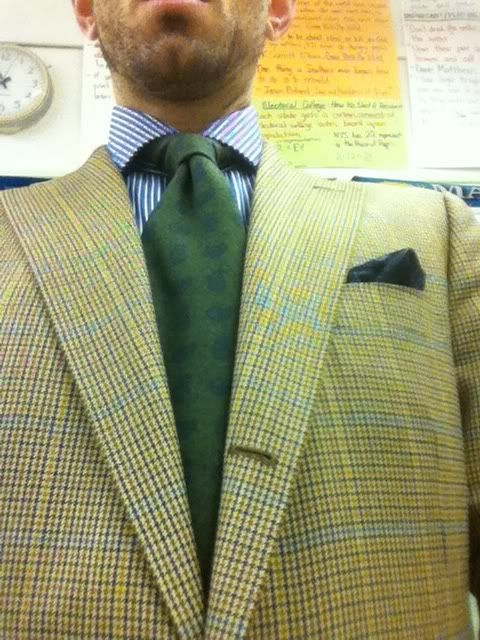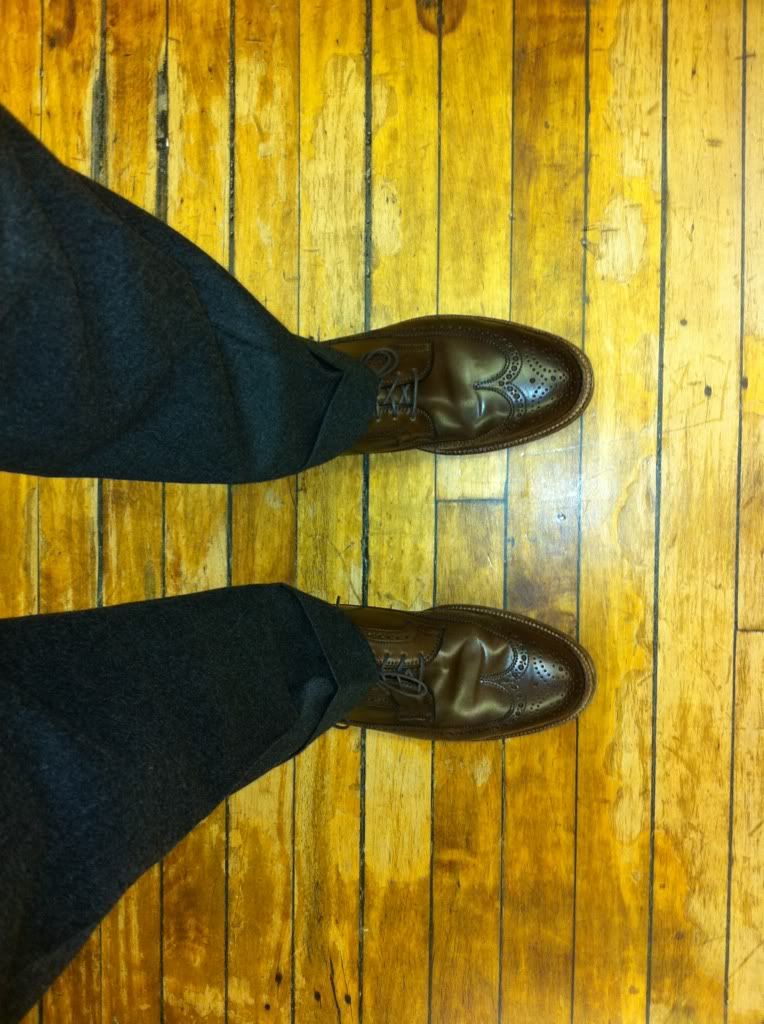 Jacket- Fawn and Blue Shirt- Blue and White Tie- Green and Blue Square- Navy Slacks- Grey Shoes- Cigar Brown What I wore yesterday, but today I'm in jeans, as its pouring and its Friday (I walk the mile and a half to work these days)
spoozy:
Originally Posted by

spoozy
Cheers holdfast and wellcome back, lufty! It is whatever you want it to Be
Quoting myself for the friday challenge...can't let that go.
[
upr_crust:
Originally Posted by

upr_crust
Any similarities between my fit and Spoozy's are entirely coincidental - honest! FWIW, CinqueColori (actually, under the rules, SeiColori, but who's counting). Blue Grey White Green Yellow Cordovan One hopes that the fit does not evoke either Ringling Brothers or Fisher-Price (though the inclusion of a red rubber nose or orange fright wig would push the color totals to seven or eight
)

Orgetorix:
Originally Posted by

Orgetorix
C

HA

LL

EN

GE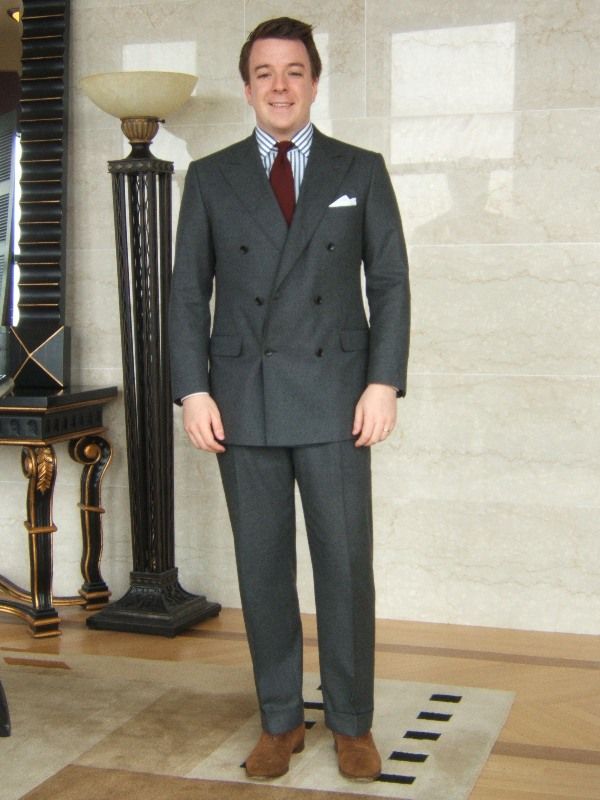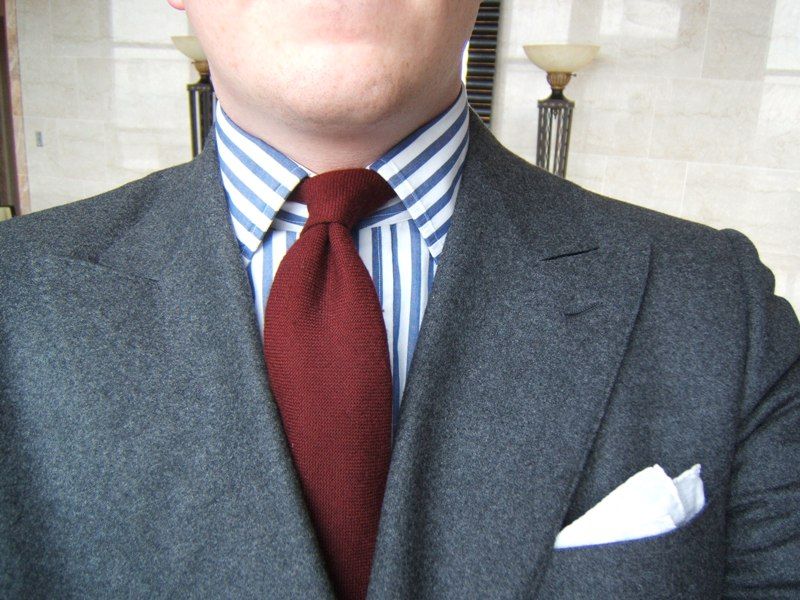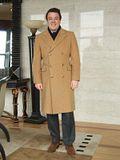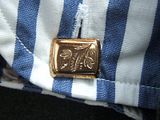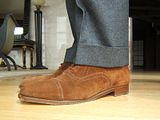 Teh five: Gray suit Blue shirt Burgundy tie White square Brown shoes Bonus: Tan coat Green scarf Gold cufflinks
harvey_birdman:
Originally Posted by

harvey_birdman
Posting for Friday Challenge
IMPORTANT NOTICE: No media files are hosted on these forums. By clicking the link below you agree to view content from an external website. We can not be held responsible for the suitability or legality of this material. If the video does not play, wait a minute or try again later. I AGREE

TIP: to embed Youtube clips, put only the encoded part of the Youtube URL, e.g. eBGIQ7ZuuiU between the tags. Midnight Blue corduroy Jacket Olive Green wool trousers Brown/gold/mixed tie Oxford Blue OCBD Burnt Orange lambskin gloves Music by DJ Shadow
SpooPoker:
Originally Posted by

SpooPoker
CinqueColori: Shirt - white Jacket - black (or grey) Tie - lilac Pants - navy Shoes - red (Bordeaux) Square - pink
Also post 9,000

bleachboy:
Originally Posted by

bleachboy
Hey there! I was on vacation from WAYWRN, but this challenge was just too much fun to pass up!
Lavender shirt Fuchsia/navy bow tie (weirdly tied, it would seem) Brown sportcoat Green pants #8 shoes "Black watch" colored cap So: Lavender, fuchsia, brown, green, burgundy.
MBreinin:
Originally Posted by

MBreinin
What is that I smell?? Oh, yeah...pussies. Cinque Colore?? **** that ****, here is SEIS COLORE.
SC-Sky Blue Sartoria Partenopea Cashhhhhhmere Square-White Linen. Shirt-Pink and white stripe Mastai Ferretti Oxford Tie-Brown Roundtree and Yorke Pants-Grey Maison Martin Margiela Shoes-Black Bass Weejuns Have a good one, Mike

acridsheep:
Originally Posted by

acridsheep
Didn't need the tie. Also, chose to interpret this challenge as a call to for a little boldness: 1) Pink shirt 2) Off white jeans 3) Brown SC 4) Burgundy captoes 5) Blue polka dot square

porcelain monkey:
Originally Posted by

porcelain monkey
The five colors: White shirt and pocket square Blue blazer Green tie Nantucket Red pants Brown shoes and belt Silver buckle and watch (bonus hue) The whole look: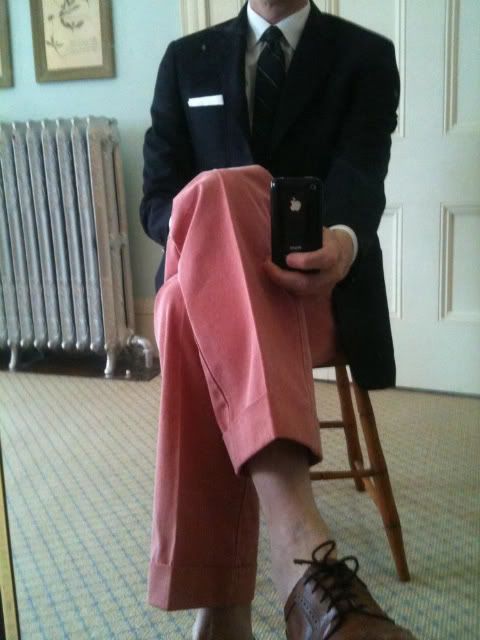 All colors together: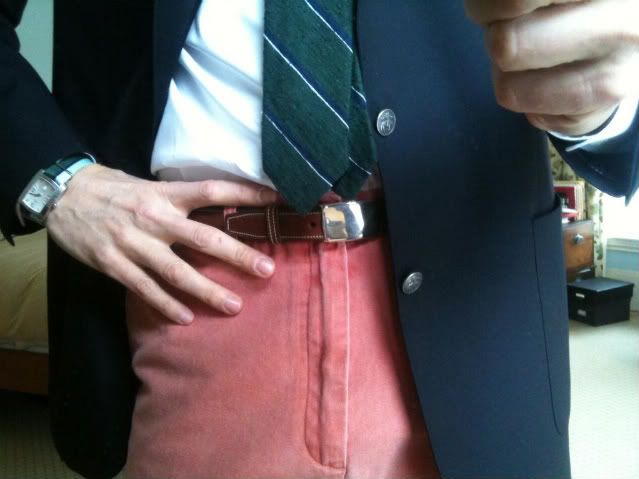 Shoes: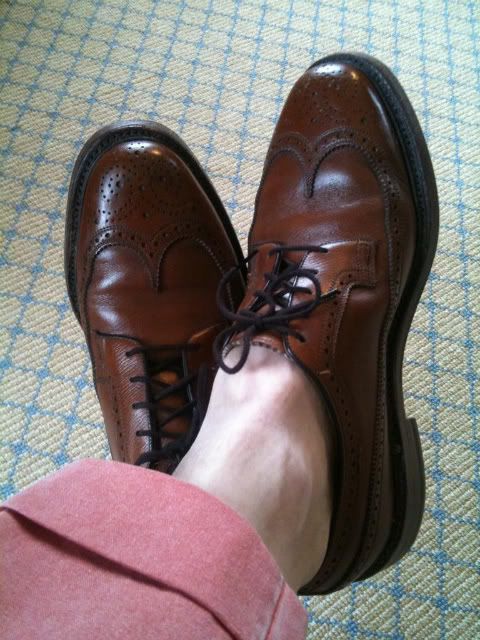 oldog/oldtrix:
Originally Posted by

oldog/oldtrix

Holdfast:
Originally Posted by

Holdfast
Five Colour Challenge Entry (worn yesterday):

Grey plaid suit Blue microcheck shirt Dark Red (Manton, avert your eyes) tie Off-white square Black shoes Still working on figuring out what to wear with this suit, so the challenge came at the right time to experiment a bit. Probably a bit too much, tbh, but hey, what's life without a little jazziness at times!
If it wasn't for the challenge, if I was using the same everything else, I think I'd have gone for a navy tie with some red highlights and something with vaguely similar colours for the square. Looks like the trousers need to be shortened a fraction more too, based on the full-length pic. Funny, I didn't notice that IRL.
Yorsch:
Originally Posted by

Yorsch
My first post on WAYWRN. Here's my "young & fresh" twist on CinqueColori for FRIDAY challenge. The biggest problem I ran into, was taking pictures... I couldn't took a picture of myself with right angle, to show the colours and fit properly. Forgive me, but after countless tries, I gave up and decided to just display the items 1. Navy suit 2. Lavender shirt, with contrast white collar 3. Brown Tie 4. Orange/Yellow/Green (count 1) Pocket square 5. Burgundy oxfords Bonus points: no black, no white, no grey!

LilacCords:
Originally Posted by

LilacCords
5

COLOUR

CHALLENGE

....

Afternoon/Evening Gents - Holdfast is my current favourite, Love that whistle... Anyway...Green Jacket, Pink Shirt, Navy tie, White Hankerchief, Charcoal trousers, Tan shoes.

PTWilliams:
Originally Posted by

PTWilliams
Colors: Pink shirt (RLPL), Yellow jacket (RLPL), Blue tie (Brioni), Beige pants (Brioni), Aqua socks, Black and white shoes (Bally), Hello kitty underwear (Target) ,cream, black & burgundy cap (Bookster). Ties a bit off but no time to reshoot. Enjoy spring gents.

TTO:
Originally Posted by

TTO
Challenge
BLACK Shoes CREAM Trousers GRAY Waistcoat PINK/WHITE Striped Shirt BLUE Coat SILVER/BLUE Checked Tie PURPLE Square -TTO
mktitsworth:
Originally Posted by

mktitsworth
There are too many good things today and too little time for me to compliment everyone at the moment. So for now I will just say that I think everyone killed way better than I. The 3-button thing was the reason for my mention of a back slide initially. As I mentioned at some point it was that or a 2-button 3 piece that I was not happy with the last time I wore. It recently came back from alteration and will make an appearance next week, but I was in a rush to teach class and did not have a ton of time to decide. For better or worse. In anycase though, to take a number of Acecow's suggestions
(either from here or PM) here is my entry: -Charcoal Pants (slimmer I think). - Gray 2 button coat with lower button point, more open quarters and longer lapels (though perhaps not the lapels intended). - Light blue shirt. - Burnt umber pebble grain longwings (which are a kind of wing tip). - White cotton PS. - Gold/Lavender silk knit tie.
Now if ya'll will excuse me, my lapels are needed as an extra runway for an incoming 747.
Navi:
Originally Posted by

Navi
Fairly tame... Friday challenge!
I believe this qualifies.. I hope so! Blue SC Orange Tie White shirt Grey pants Black shoes Pink PS I tried to go more extreme but it failed pretty hard. Hope my entry qualifies. Great entries everyone

Thin White Duke:
Originally Posted by

Thin White Duke
Friday challenge - keeping it simple:
Colours didn't show up correctly in the photo: Olive/taupe jacket Lavendar shirt Navy tie Gray microcheck trousers Burgundy belt and shoes Purple PS
Unregistered:
Originally Posted by

Unregistered
My first foray into the world of WAYWRN... And my first entry into the Friday Challenge! Be nice!
1) Blue shirt 2) Purple sweater 3) Pink tie 4) Brown SC 5) Grey/Blue (GREY for this challenge
) 6) Oxblood wingtips Did it without the shoes! The Spoo: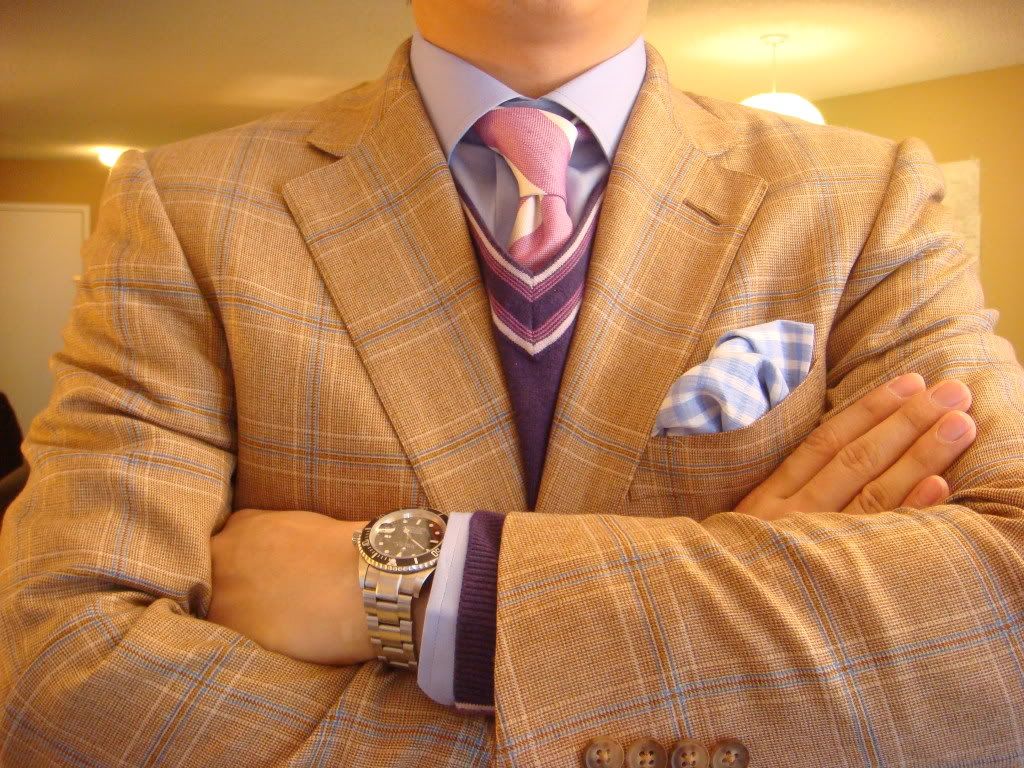 Pardon the blur...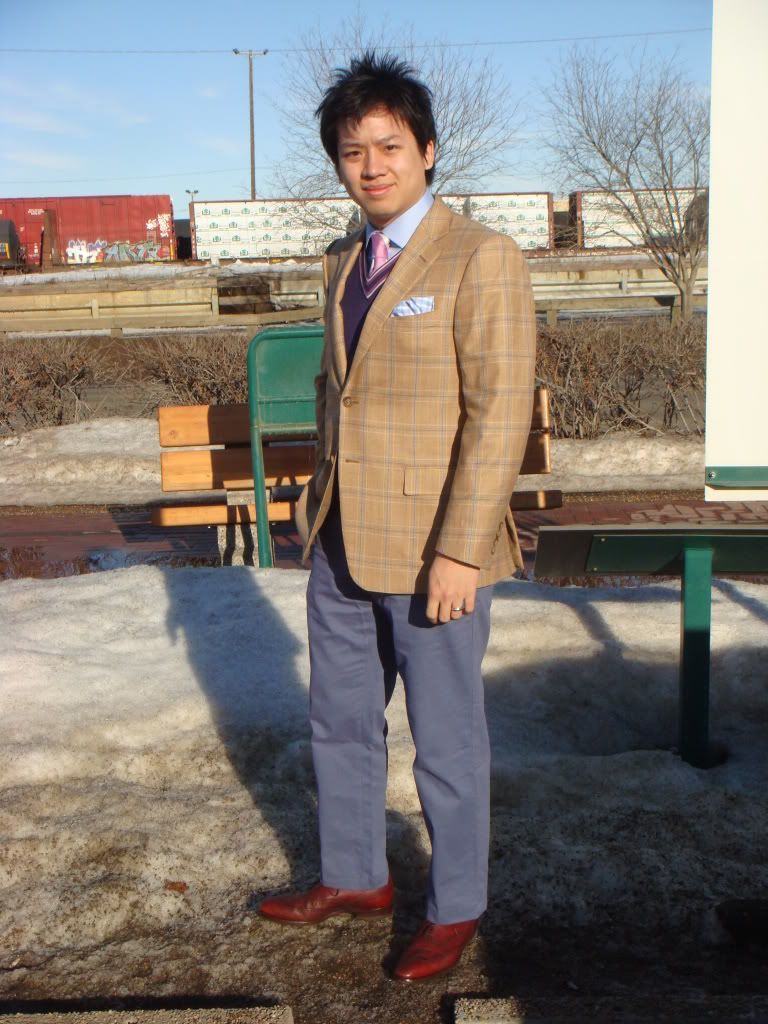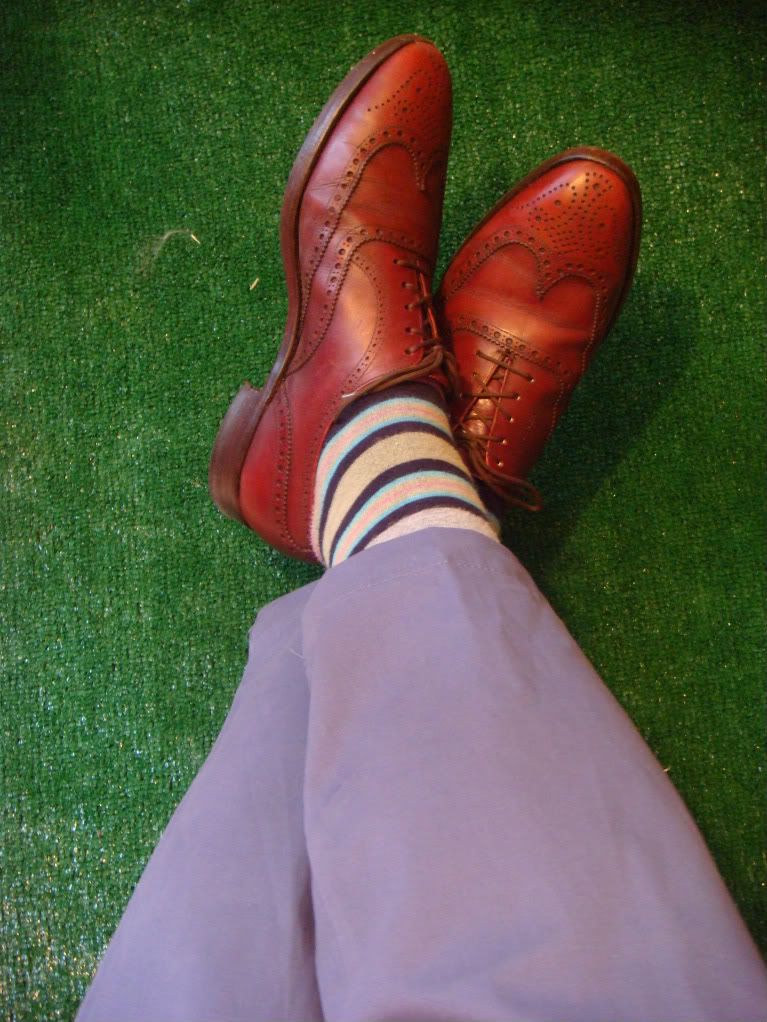 Kitontini:
Originally Posted by

Kitontini
My first WAYWRN Challenge!!! I hope I did this right....
Be kind...
Green Blazer Purple Shirt Navy Blue Tie Beige Pants Burgundy PS