Joined

Apr 15, 2009
Messages

4,121
Reaction score

288
I just got a message from Spoo on the Steezaphone and apparently he is having too much fun with Mrs. Spoo, eating cheese, gambling and drinking wine on some isolated island to handle the poll tonight. So, he enlisted the services of his favorite attorney to administer the task this evening.
Same format. Multiple choice. 3 day duration, poll ends at roughly midnight.
This week's Challenge....best fit on a budget of $500 below (without shoes).
Without further delay, I give you your maters of thrift.......
IronRock:
Shirt - brand new Charles Tyrwhitt, still in plastic wrapper - 7 pounds. Belt RL Polo, bought in Singapore 2 for 1 so guess it was about 25 pounds (+/-). Trousers are Brooks Brothers linen/cotton mix, 10pounds from the same charity shop as above, way too big, waist reduced and legs slimmed which was about 200 HKD. Shoes are some sort of Loake. Picked them up for about 12 quid in a Charity shop when I was at university in the North of England 10 years ago
in stitches:
suit - pal zileri at the rack $340
shirt - bb on-line sale $50
tie - zegna at the rack $40
Aeglus:
Sub-$500 including shoes, and all items brand new when bought.
upr_crst:
Suit - Hickey-Freeman, bought at Syms, originally $1495.00, marked down to $499, then reduced for the semi-annual bash sale to $399, then bought using a coupon worth $100 off any purchase totalling $400 or more - with tax and alterations - $340
Shirt - Lewin - bought as part of a lot of four for 100 GBP (minus VAT, plus shipping) - about $40.
Tie - bought by a friend as a present while on a visit to Australia - cost - $25 AUD - equal (at the time) to $12.50
Pocket Square - Robert Talbott, bought on sale at Century 21 - $8.00
Belt - Polo Ralph Lauren, via Syms - $20.00
Cufflinks - from the Met Museum - on sale - 21.60 (including members' discount of 10%)
Socks - brand name Punto, via Syms - $12.00
Total, for contest purposes - $454.10
Not included in the total:
Alden calfskin split-toe loafers - bought on sale from the Alden Shop in NYC - $115
Camel's hair overcoat - Joseph Abboud, via Syms - $75 (on end-of-season clearance)
Cashmere/wool cap - Brooks Bros. - bought on sale, but cost unremembered ($50, maybe?)
Woven wool uni-style striped scarf - Brooks Bros. - ($40-$50 - I can't remember which)
Blue silk jacquard scarf, lined with navy blue cashmere - New & Lingwood - Not a Bargain, but very handsome.
NewYorkRanger:
Circa 1960's Hardwick Tweed Three-piece with reversible waistcoat. $64 AAAC Trad Thrift Exchange
Hanover Cordovan LWBs $225 srivats B&S
BB Ecru OCBD~$45 3 for $139 sale last X-mas
BB University Stripe Tie from 346 outlet $33 in 3 for $99
Grand total:
$367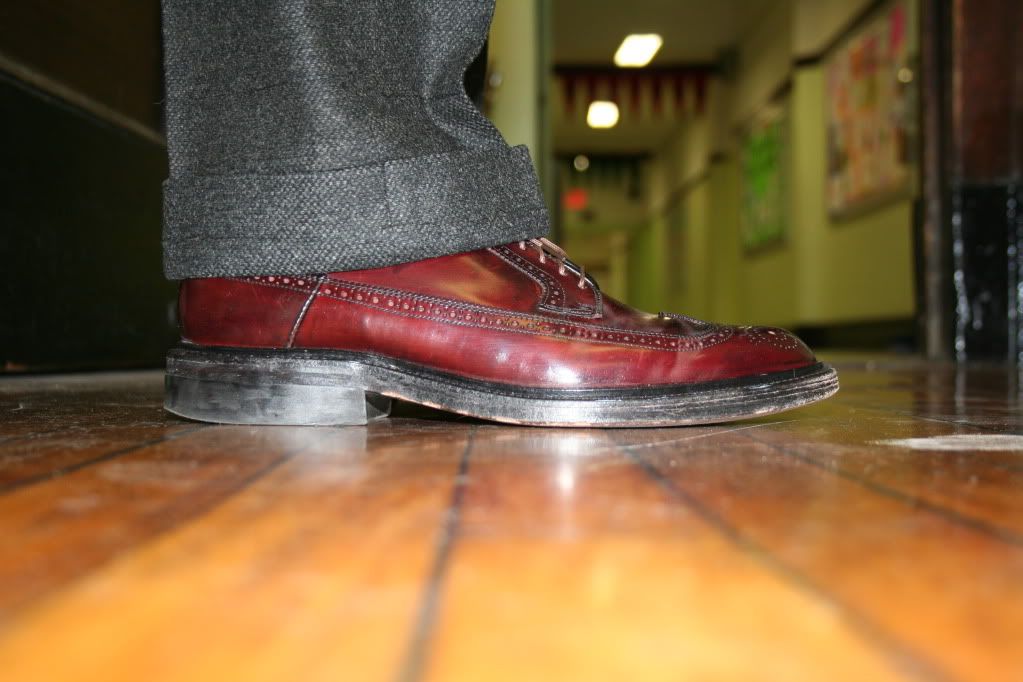 Eustace:
SC-Belvest- $175
BB OCBD- $15
HY Knit- $60
Wang white PS (not visible)- $20
PRL Belt- $50
Riviera Flannel Pant- $60
BB Argyle- $8
Grenson for PS (not included in total)
MBreinin:
Suit: Polo USA, virtually identical to Chester Barrie Purple Label...$125.00 on E-Bay
Shirt: Tommy Hilfiger Ithaca...$29.99 at TJ Maxx
Tie: Barba 7 Fold...$1.50 at local Goodwill
Square: Linen...$12.99 at Steinmart
Shoes: Vintage Wright Cordwainers....$50.00 on E-Bay.
Total: $219.48.
Orgetorix:
Cap: $17
Coat: $20
Shirt: $0 (gift)
Tie: $15
Square: $10
Trou: $30
Socks: $2.50
Total for contest: $94.50
Shoes: $8
Tailoring: $13
Real total: $115.50
JPQ:
Jacket: Tailor made USD 73
Sweater: Zara Cashmere USD 27
Shirt: Tailor Made USD 22
Pocket square: Suit Company USD 11
Belt: Uniqlo USD 23
Pants: Uniqlo USD 22
Total: USD 178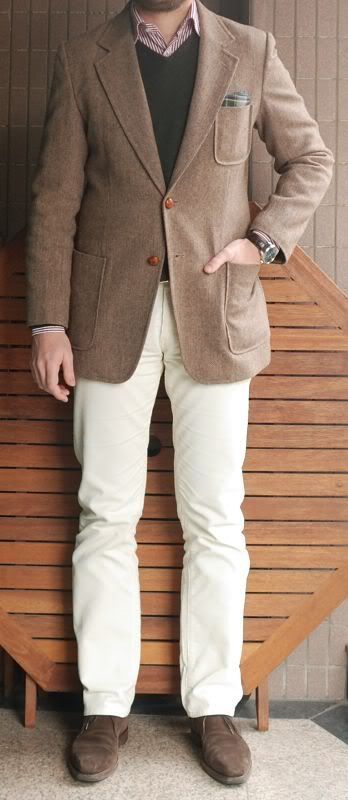 Jan_:
Turtleneck: Andrea Fenzi (Merino) for EUR 6.35
Trousers: Hugo Boss for EUR 5 + EUR 7 tailoring (no good job, need to redo them)
SC: Andrea Conti for 6,50 (didn't know brand before, maker of cheap shoes) + EUR 21 tailoring
PS: Brioni for EUR 12
Scarf: Pashmina from an unknown maker in Whereveristan for EUR 14
Total: EUR 71.85 or USD 97.
(Shoes: Oxford from van Bommel for EUR 269)
Sweater: Gran Sasso (Cashmere) for EUR 110 (Sales)
Trousers: Brax for EUR 69 + EUR 7 tailoring
SC: Regent Handtailored (my favorite maker) for EUR 50 + EUR 120 tailoring
Scarf: Unknow maker for EUR 12 (please note the orange, AFAIK for Merikuns this signals "cheap")
Total: EUR 368 or USD 497.
(Shoes: Sneakers from van Bommel for EUR 229)
spoozy:
Well, my usual cheapness...about 250 € roughly (shoes, socks, jeans, belt, shirt, tie, pullover, vest, coat, ps and flower)...
TTO:
Suit- New with tags 1/2 price from £300, and then for some reason another %50 was taken off at the online checkout ?? so £75 for half canvas British fabric DB!
Shirt- thrifted new with tags, £ 6
Tie- Panta $99 - £70ish
shoes- new, boxed, with shoe bags, spare laces, shoe horn and crappy plastic trees- reduced to £60, buy one get one free!
pocket square- set of two linen handkerchiefs, £8
so all in about £185
inlandisland:
Cord Jacket: $30 (new - clearance)
Abboud Shirt: $0 (new - store credit)
Wool Tie: $15 (ebay from idfnl)
Wool Sweater: $15 (new - clearance)
Chinos: $30 (new)
PS: $4 (made by a friend)
Total: $94
Suede Wingtips: $50 (new - clearance)
Tailoring: $8 for shirt, most I do on my own.
Actual: $154
Slewfoot:
sweater - LL Bean shetland shawl collar with suede elbow patches - $35
long sleeve navy tee shirt - LL Bean - $20
short sleeve white tee shirt - Fruit of the Loom - $6
belt - LL Bean - $30
jeans - Levi's raw denim 501 - $35
socks - Gold Toe - $6
shoes - vintage Hanover - $100
Newstyle:
I got this Harris tweed jacket at goodwill for $5 had the sides taken in $20
PTWilliams:
Brioni Jacket $110
Hermes shirt $75
Loro Piana pants (raspberry) $80
Brioni tie $135
Bowler $75
Not included
Edward Green for Paul Stewart shoes $120
Jaguar watch $160
My first entry.
pvrhye:
Shirt 50 bucks tailored in Itaewon.
Hat 150? bucks from the local men's store in Merilville Indiana.
EDIT: Jacket (how did I forget this) 150ish at uniqlo
Scarf ??? gift from mom.
Tie 40 bucks from some hole in the wall between city hall station and myeongdong.
Sweater ??? gift from mom. Doubt it's that expensive.
Chinos from Uniqlo 50 bucks
Raoul Duke:
Shirt - Hemrajani Brothers -- $79 (New)
Sport Coat - Ralph Lauren Polo -- $50 (eBay)
Tie - Crombie -- $2 (Goodwill)
Sweater - GAP -- $20 (Sale)
Belt - Tommy Hilfiger - $15 (Winners)
Trousers - Mabitex - $100 (B&S)
Shoes - Florsheim Royal Imperial Shell Cordovan - $60 (eBay)
Total Cost -- $326 CAD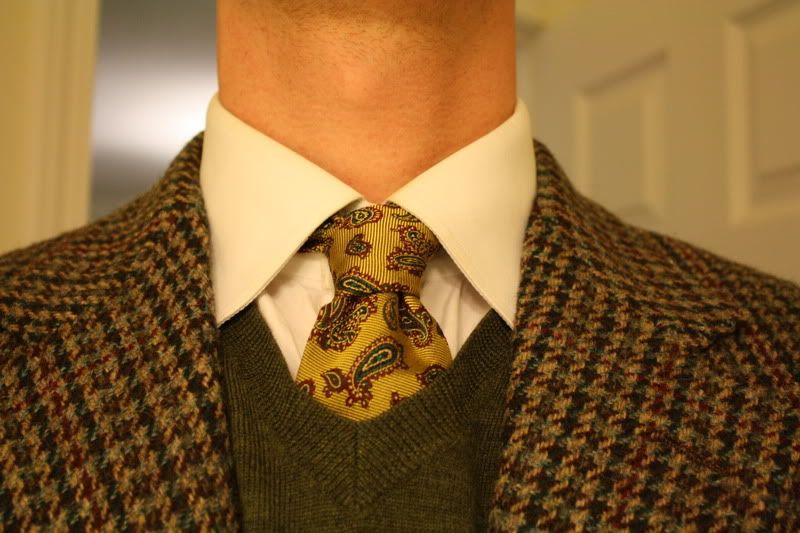 Vote for your favorite. Vote early, and vote often!!!!
Mike