Internet Bigtimer and Most Popular Man on Campus
Affiliate Vendor
Dubiously Honored
Joined

Oct 11, 2009
Messages

41,659
Reaction score

64,252
Ich_Dien:



Originally Posted by

Ich_Dien
Blue Challenge





Jan_ :




Originally Posted by

Jan_
Read your post just in time. So, gentlemen, my contribution (that will catch no vote). Unfortunately today is rainy weather so I had to use the flash. Sorry about the missing lower part... Not a pic I'm proud of, OTOH it's for the Friday challenge.




Blazer: Night blue, wonderful cashmere.
Shirt: Blue
PS: Blue
Tie: Blue with gold and green
Cup: Blue with golden stars.

Eyes: Blue (not the flashy red you see)


LilacCords:



Originally Posted by

LilacCords
BLUE CHALLENGE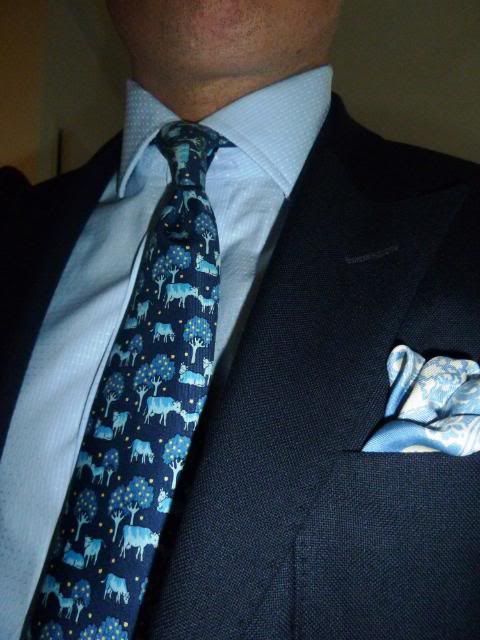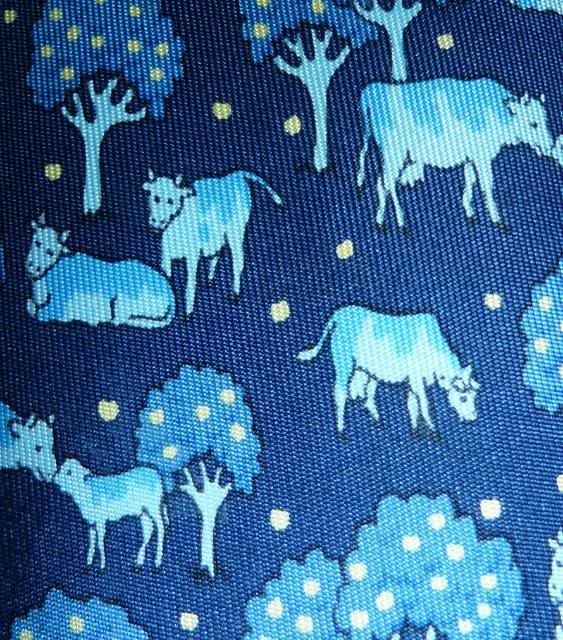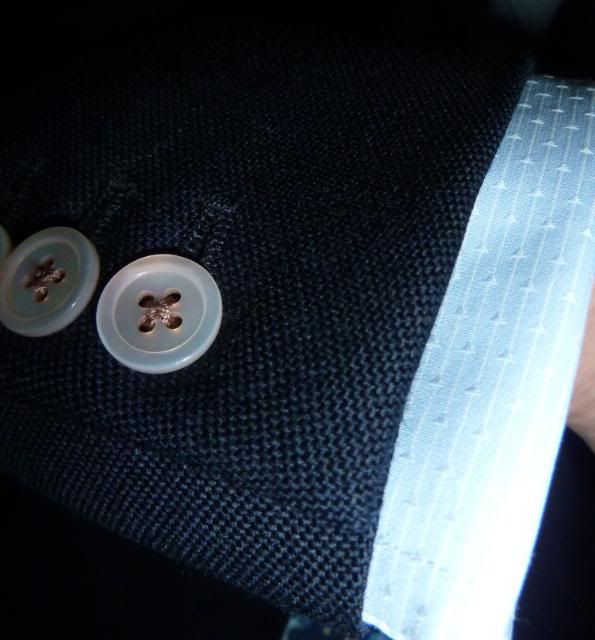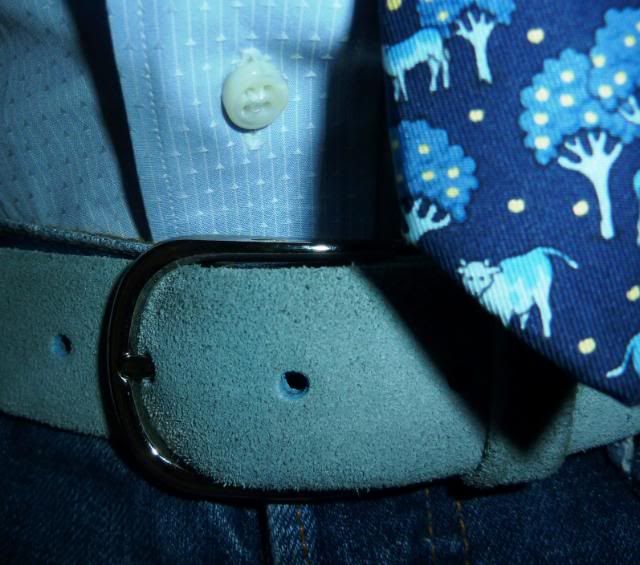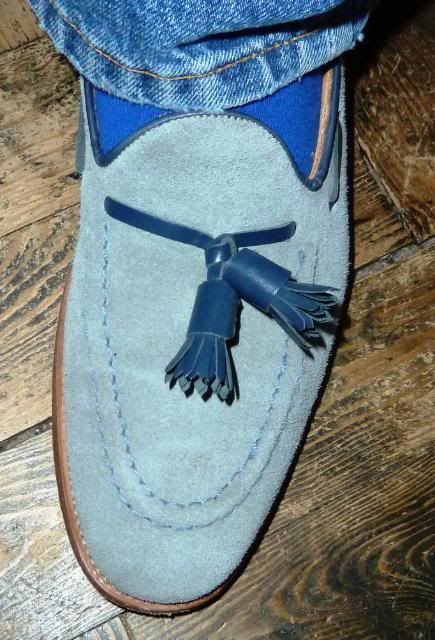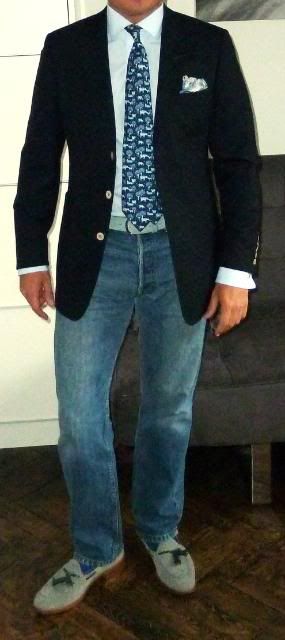 Enjoy your weekend.




NOBD:




Originally Posted by

NOBD
Back to boring. And blue.





upr_crust:




Originally Posted by

upr_crust
Friday Challenge (see, I read your instructions, oh, Spoo-meister . . .)

It occured to me not long ago that one of the great sources of pleasure in popular entertainments these days is invocation of the sense of moral superiority in the viewer, i.e., to put on TV, as entertainment, a person or persons so reprehensible as to please the public that they are not him or her. (it is my only explanation for the popularity of "The Jersey Shore", which does rather take the prize for reprehensible behaviour in creatures otherwise believed to be homo sapiens.)

On the Internet as well, there are few pleasures as acute as the venting of righteous anger in response to the posting of a troll, in an attempt to silence said troll with logic and persuasive arguments. The only problem with such a pleasure is that is usually the desired response of the original poster, looking to incite flame wars wherever possible.

That would never be my intent in posting here. However, as my personal style is often at odds with the local aesthetic, if I let out all of the sartorial stops (an unfortunate habit of mine), I will most certainly be the object of criticism, which will invoke that sense of, if not moral, then sartorial superiority that brings so much pleasure to so many.

So it will be, I sense, with today's posting - a complex set of attire accessorized heavily, with more than a whiff of costume about it, but, it does qualify for today's competition - blue is the dominant color.

For your viewing pleasure (one way or another), then . . .





acridsheep:




Originally Posted by

acridsheep
Does the umbrella count?

Friday challenge:





Eustace:




Originally Posted by

Eustace
Rainy and blue. BB pictures aren't exactly up to snuff here but use your imagination. Note the extra blue sprezz in the lapel.



SC: HF
Shirt: BB
Tie: FIH
PS: Wang
Pants: Mabs
Belt: RL
Boots: AS for BB
Socks: BB


Holdfast:



Originally Posted by

Holdfast
RL put out a load of items a few years back with this feature, and I got a handful at the time. It's a detail that always splits the crowd on SF, with the majority being unfavourable. Still, I think it makes for a fun change occasionally.



Dig this.



Great tie.



The mustard gloves are the highlight for me. Lovely.



Even for a blue challenge, this is too blue for me!




There's something so delightfully StyleForum about this photo.







Blue challenge. Managed to incorporate a few recent purchases from earlier in the week into today's look too... must have subconsciously had blue on my mind.
Got the crepe-sole suede chukkas from Zegna, and the navy wool bow-tie and the cotton cornflower-blue sweater from RL. All at decent prices, but the bow-tie was the best deal at under a fiver.




SpooPoker:



Originally Posted by

SpooPoker
Sorry for the crappy pix, but Mrs. Spoo bounced on me. Anyway, all blue everything.




MBreinin:



Originally Posted by

MBreinin
Miserable, awful rainy day in New Orleans. As such, I was forced onto the porch. Sorry about the pics, I did the best I could in the lighting and short distance conditions.


BLUE CHALLENGE!!!

I think I had some sprezz left over from last week that snuck out. My collar pin/tie bar is only Sterling Silver though....I don't roll as deep as Graeme.


Anyway, have a great day and try to stay dry/warm.

Mike




End of day all wrinkled shot with alternative shoes for teh haterz.........





Orgetorix:



Originally Posted by

Orgetorix
Blue challenge, da ba dee da ba dai...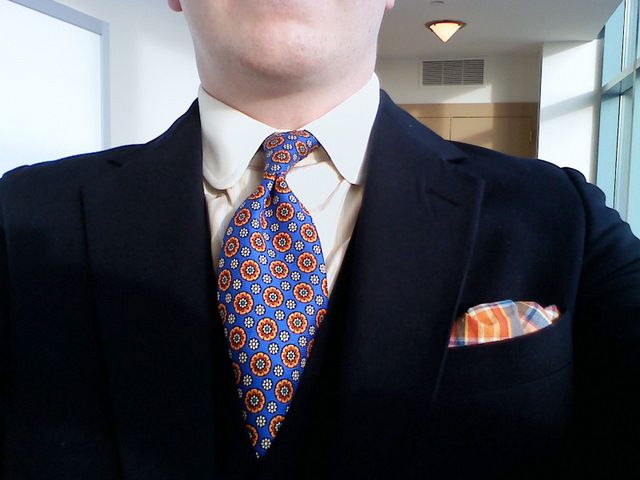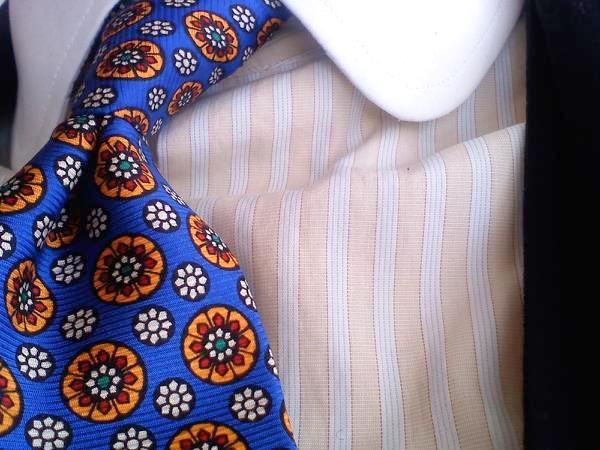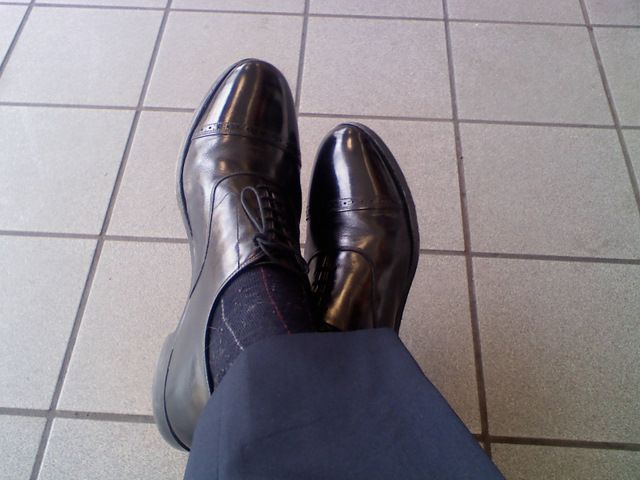 Full disclosure: this is yesterday's fit, held over for the challenge. Fridays are difficult days for me to wear challenge-worthy fits because my office is so casual.




HappyCamper:



Originally Posted by

HappyCamper
First post in while and i thought i why not enter the competition.

Pretty crappy picture to show of the fit. No natural light as im wearing this suit for the evening.





Details:




Extra blue picture:





PandArts:



Originally Posted by

PandArts
I'm in a Blue Jay Way for the Friday Challenge today.

and the debut of the new suit...



Deets:




Achilles_:



Originally Posted by

Achilles_
Blue Challenge/First pictures on this board ever. I will have to have my wife take pics for me when I get home, I really underestimated how hard it is to take good pictures!

Be gentle!

So after the fact I realized that my PC is messed up


Suit is BB custom (not for me)
Tie is LaSalles (bluish gray, I hope the picture captures it)
Shirt is BB extra slim fit w/ Ainsley collar
PC is random
Shoes are Luigi Borrelli (made by Sutor)







So after the fact I realized that my PC is messed up


Suit is BB custom (not for me)
Tie is LaSalles (bluish gray, I hope the picture captures it)
Shirt is BB extra slim fit w/ Ainsley collar
PC is random
Shoes are Luigi Borrelli (made by Sutor)


Doral:




Originally Posted by

Doral
Hello all. I have not posted in about a month due to the fact that my organization had a reduction in force (RIF) and I was one of the 42 people that got released. All is not lost though. I got my separation package January 18 at 9:00 am. Had a job interview that same day at 11:00 am and I just got notified today that I was hired and I will be heading to Abu Dhabi in the U.A.E. the first week in March. I am excited and can not wait to leave. Anyone here ever lived/worked in Abu Dhabi?

Now my input for the blue challenge.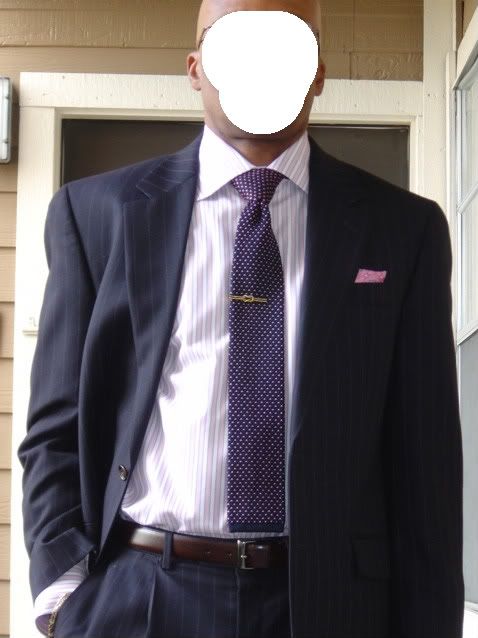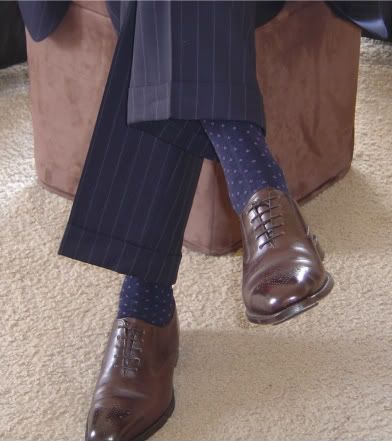 blofeld:



Originally Posted by

blofeld
last day before the office remodel, and oh shit I wore lots of blue, so it's SW&D style Friday Challenge




bespoke shirt / uniqlo hoodie / RB11 denim / pam164 / c&j bremner in taupe / nex-5 on a&a blue silk cord


TTO:




Originally Posted by

TTO
CHALLENGE


Vintage Thresher & Glenny Bespoke from the 70's
a brighter, more vibrant blue than it shows in the pic's
-TTO


Fred H. :


Originally Posted by

Fred H.
Be gentle boys. WAYWRN virgin. Lots of blue today, but not the sufficient blue suit/jacket:




Details:
Hickey Freeman SC
Agave Jeans
Nordstrom Smartcare Shirt
Brooks Bros. Knit Tie
RLPL Black Watch PS
Marcoliani Argyle Socks
Brooks Bros. Peal Suede Bluchers

Vintage Tweed Overcoat (1955)
Brooks Bros. Gloves
Wool/Cashmere Scottish Scarf


Thin White Duke:



Originally Posted by

Thin White Duke
Friday challenge:



Midnight blue Crombie overcoat was my Dad's, considering slimming it but I'm a bit gun shy. What do you think?



Thrifted slate blue herringbone silk sportcoat



Electric blue CT grenadine



Stying with the blue theme - Parnis





PTWilliams:



Originally Posted by

PTWilliams
Hermes silk Sportjacket, shirt, belt, Polo pants, Bally shoes.
Stare at the tie for a while.




Uploaded with ImageShack.us
Originally Posted by

NewYorkRanger
Blue moon, you saw me standing alone, without a dream in my heart, without a love of my own.

This morning: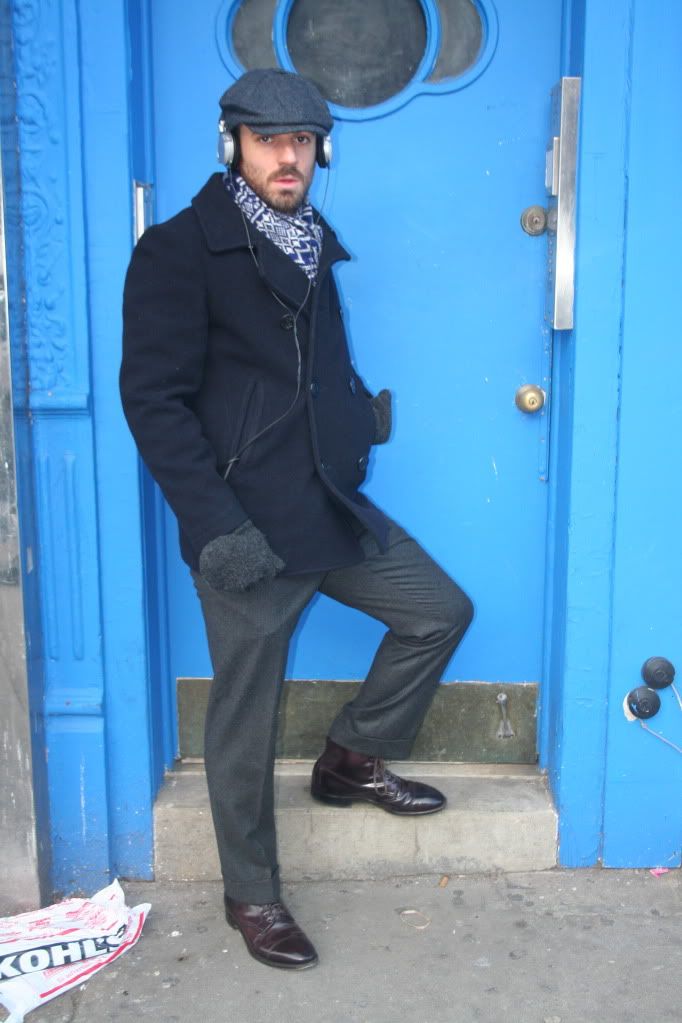 This afternoon: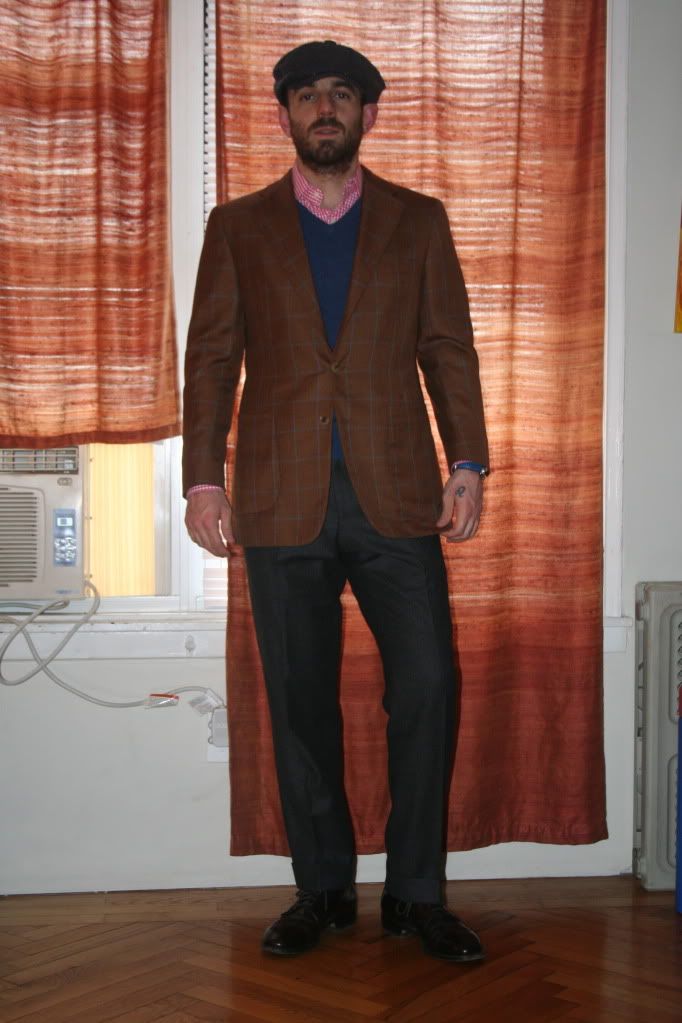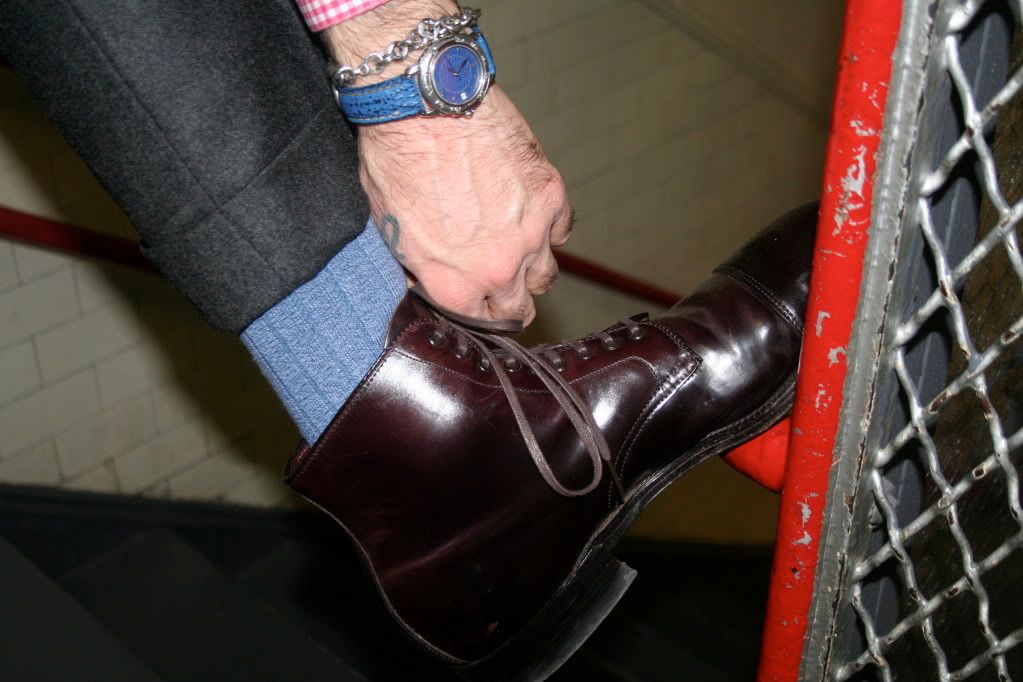 Red was for National Heart Health Awareness Day...


pocketsquareguy:



Originally Posted by

pocketsquareguy
"Shacket" cashmere by Luciano Barbera. Note the eyeglass breast pocket.
Kiton oxford cloth shirt
Levis 501XX 1947
Santoni shoes
Rolex Sub
Tod's leather bracelet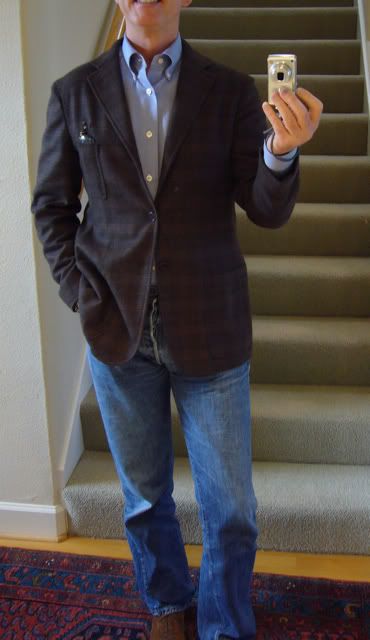 KtownGreg:



Originally Posted by

KtownGreg
Blue? How does this work?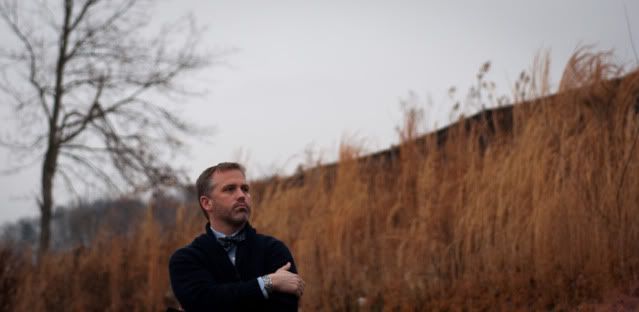 mR. rObOtO Pose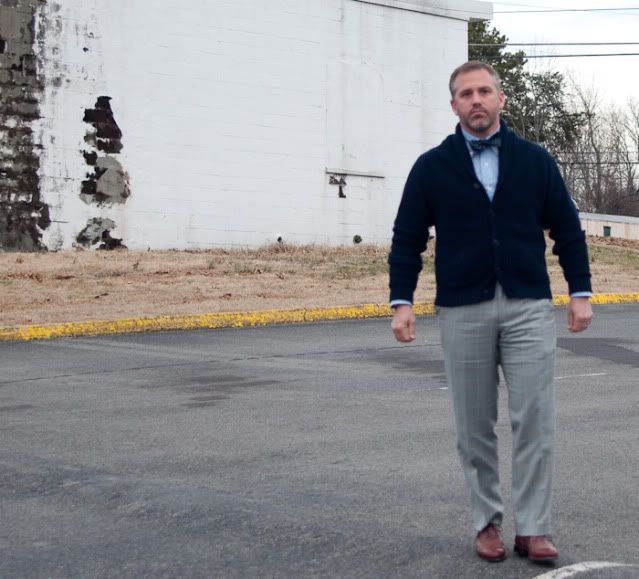 Shoes?




Crazy bow, channeling Churchill.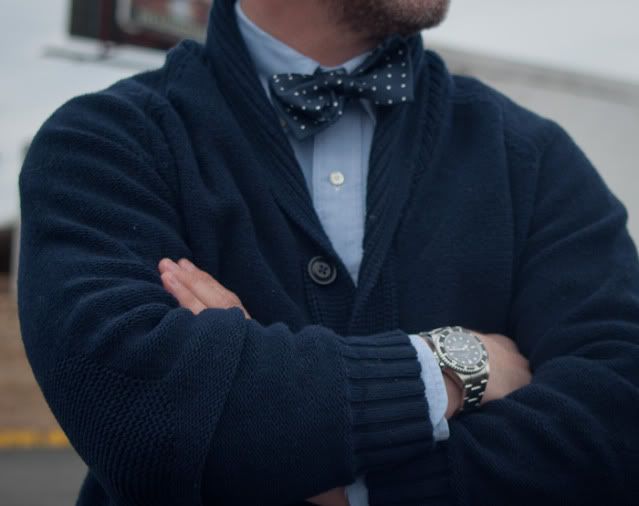 Diver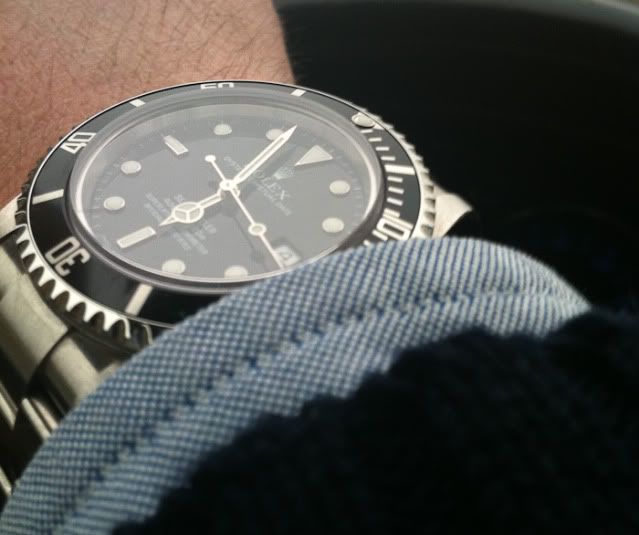 It's been a loooooooooooooooong week. My reward?

A healthy, smiling family and a glass of four roses small batch, two cubes, heavy/leaded glass. No complaints.

Rest up everyone. Or not.

Blue: JCrew sweater, Beau tie Ltd., HY pant, BB shirt, socks?
Non: Carminos, SD


spoozy:



Originally Posted by

spoozy
Hopefully not too late for the BLUE CONTEST...





Drudged:



Originally Posted by

Drudged
Alright first attempt at the WAYWRN, as well as my first go at the Friday Challenge. Please ignore the rumpling in the thigh area, no idea what was happening there.





Threadbearer:



Originally Posted by

Threadbearer
I got 'em bad
Oooo-ooo
I got dem
Casual Friday Blues