Joined

Mar 10, 2006
Messages

1,031
Reaction score

3
You know all of the loose change that you throw into some dish or cup just to get rid of jingle-jangle in your pocket? Well, start counting it out and get ready for next year's auction in Paris by Christie's.
One of only two 1939 Auto-Union D-Type racing cars known to be in existence is going to be sold by Christie's in Paris next year. They hope that the sale will bring the highest price ever for an automobile at auction. That record has stood at $9,950,000 since 1987 when a 1931 Bugatti Royale was sold. Christie's believes that the Auto Union D-Type will fetch somewhere around
$11,700,000
.
Pictured below is one of the D-Type replicas in the paddock garage at the Goodwood Festival of Speed earlier this year.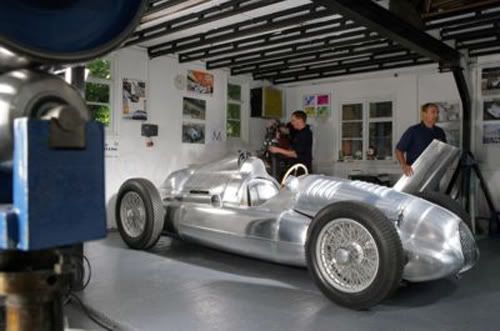 _
Christie's says the car is the one that won the Belgrade Grand Prix in 1939 with Tazio Nuvolari in the driver's seat. The car utilizes a mid-engine design and has a 550hp V12 engine. Christie's is not saying who currently owns the car but if it is one of the two known existing cars, it is likely to be the one owned by Paul Karassik. Mr. Karassik lives here in America and spent ten years tracking down parts in the old Eastern bloc. Then he had two cars (re)built by the British firms Roach Manufacturing and Crosthwaite & Gardiner. He sold one of the cars to Audi in 1996.
Eighteen Auto-Union Grand Prix cars were hidden in a mineshaft at the end of World War II. However, the Russians discovered the cache and sent all the cars to Moscow where they were handed over to engineers involved in the Soviet automobile industry. Most of the cars were likely destroyed. In the 1970s, one of the cars turned up at the ZIL factory in Moscow. This was put into a private museum in Riga, Latvia before being bought by Audi in 1995. That car turned out to be a hybrid car C-D Type that was used in hill climbs. Just about that time, another car appeared in Prague and was sold to a German collector. That car turned out to be only a show car and not one of the missing eighteen racing cars.
Audi has been unable to track down any more cars. So, the board at Audi voted to commission more D-Type replicas to be built for use at exhibitions and demonstrations.
_________________________________