Joined

Mar 13, 2006
Messages

3,459
Reaction score

27
This was bought from David Saxby at Old Hat in London in early May - I had it altered slightly in the seat, and had the trousers shortened significantly and the sleeves just minimally, and the waistcoat lengthened a smidgen. (The sleeves are still a bit long, but as the buttonholes are working, and I can't be arsed to go the long route of having the shoulders unpicked, I'll leave them as is.) It's completely unworn, and presumably never collected by the customer. Otherwise the fit is more or less as perfect as it gets, without going MTM. At a total price of about $500 I'm not complaining.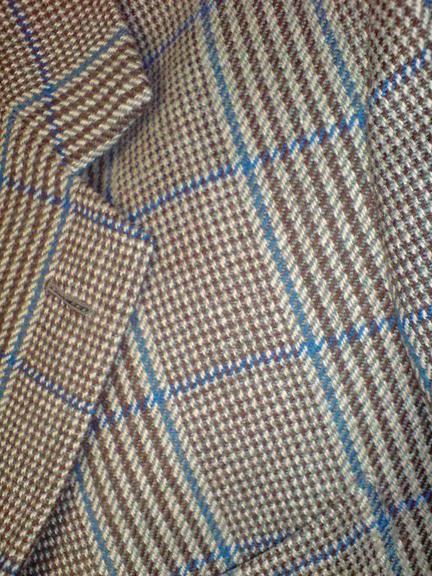 Now, Saxby described it as seventies bespoke, and I trust him after a few very good previous buys. The cut bears this out; it's just slightly seventies in cut - it reminds of the suits John Cleese wore on the Fawlty Towers series. It's certainly got the odd measurements and quirks that bespoke clothes have: There's one inside pocket, there's scrupulous pattern-matching all over the thing, quite extremely slanted hacking pockets, etc. etc. I'm curious about the origins, though; the only markings on it is an embroidered label in the one (!) inside pocket, that says:
Tailored by L. Wallis Bath By appointment 12 Savile Row, London
Now, I know that 12 Savile Row is where Thomas Mahon, among others, has his place of business now, but my theory is that these were provincial tailors, who took measurements and did fittings on the premises of some other tailor's or other shop at no. 12. Or what? Now, please tell me I did well.