Joined

Jan 18, 2008
Messages

181
Reaction score

2
Feel free to PM me w/ reasonable offers or questions. As a caveat, lowball offers will be ignored. Shipping in the continental US: FREE (Easily a $10 value). I ship via USPS Priority Mail w/ tracking to ensure peace of mind. Insurance can be added, but at cost to buyer. Here's the quick list of items I have for sale-- scroll for measurements and details.
1)
Head Porter Plus Varsity Jacket.
Tagged XL, but fits L (see measurements).
$425
(Retail: $900+)
2)
Engineered Garments Wool Camo Bedford Jacket, Navy, size M. $325 (Retail: $500+)
SOLD
3)
Kapital Indigo Egyptian Twill M-65 Jacket, size 4 (M/L). $350 (Retail: $861)
SOLD
4)
Engineered Garments Lafayette Wool Navy/Black Stripe Pants
, Size S (32/33)
$245
(Retail: $384)
5)
Warehouse Peanuts/Snoopy T-Shirt
, Navy, size M (fits S).
$40
(Retail: $60)
6)
Dana Lee Pocket Tee
, Yellow, size S.
$40
(Retail: $55)
1) Head Porter Plus Varsity Jacket. Retailed for $900+. Slick jacket constructed with a wool blend shell, featuring a full stud placket, contrasting leather sleeves and leather-trimmed welt pockets.
90% Wool / 10% Nylon Blend
P2P: 22.5
Back: 26
Shoulder: 18.5
Sleeve (shoulder-to-cuff): 26.5
P2Cuff: 21.5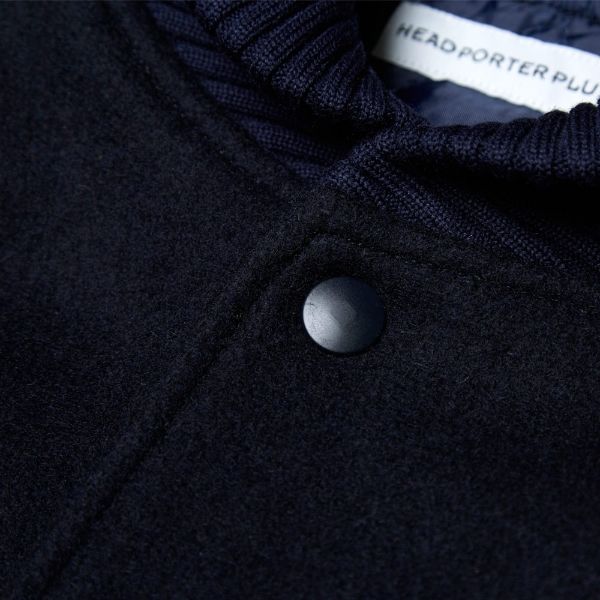 2)
Bedford jacket in a tonal navy and grey patterned camouflage, made w/ 94% custom Woolrich wool and 6% nylon.
SOLD
P2P: 21
Shoulder: 18.5
Length: 27.5
P2Cuff: 18.75
3)
Kapital Indigo Egyptian Twill M-65 Jacket. Worn sparingly and is in excellent condition. I love this jacket, but I've not had many occasions to wear it b/c I have too many jackets in the rotation. Google this jacket for more info and pics. It's a work of art.
SOLD

P2P: 21.5
Shoulder: 19.5
Length: 30.5
P2Cuff: 19.75
3) Heller's Cafe by Warehouse x J.Crew Lion Pant Mastered. Memphis cotton. From Larry McKaughan's personal archive and designed by Warehouse, these are based on a pair of 1920s blues from the now-defunct workwear label Lion brand. Finished with details typical of WWI-era U.S. Army pants, these sport single-needle stitching, two back pockets and a hand-finished master wash.
Waist: 16.5
Inseam: 32.25
Leg Opening: 8.5
4) EG Wool Stripe Lafayette Pants. Excellent condition, like brand new with absolutely no piling or signs of wear. From the FW13 collection. Ordered these directly from Nepenthes for $384. Work exactly 2 times and packed away-- just couldn't fit into them as well as I'd have liked.
Waist: 16.75 (drawstring)
Inseam: 30
Leg Opening: 6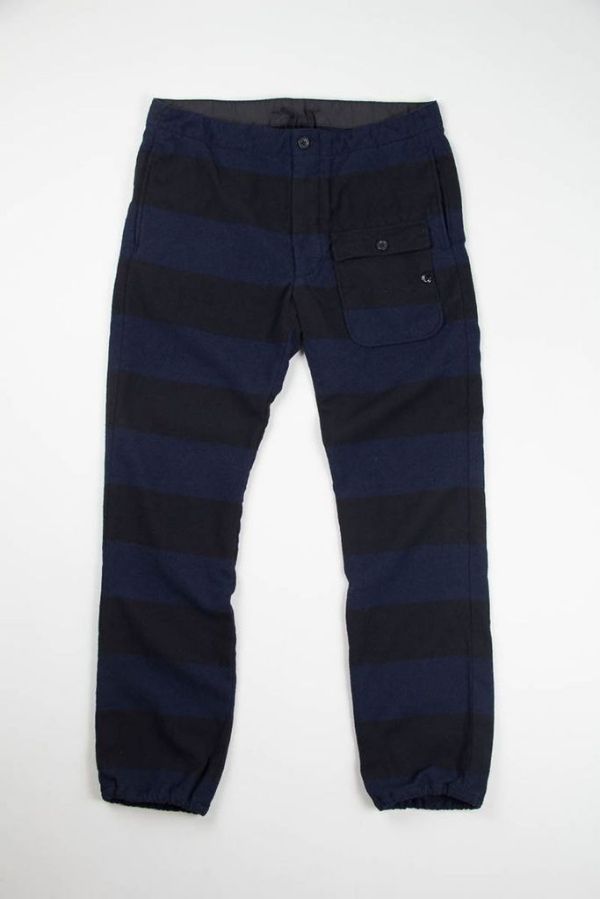 5) Warehouse Peanuts Tee. Great tee, but I sized incorrectly, since it fits small.
P2P: 19.25
Shoulder: 17.5
Length: 23.5
6) Dana Lee Yellow Pocket Tee.
P2P: 20.5
Shoulder: 17
Length: 25.75
Last edited: