Joined

Feb 15, 2010
Messages

2,615
Reaction score

672
Rather than start another thread, I figured I'd just add to my "Vintage Sea Turtle Gunboats" one. Well, I'm 1 for 2. Everyone loved the Turtle 'Boats, but the AE Sharkskin Saddles went down like a 3 dollar whore. Can't win 'em all! Anyway, here's my pair of 1930- 1940's Foot Joy Lizard and Calf Spectator golf shoes. I'm converting them for street wear. All you "norvegese haters" out there will love these. I think that Spade Soles are the "norvegese of the 1930's". Tough looking, and sure to get noticed. These are more extreme spades, my preference. Love 'em or Hate 'em, you WILL Notice 'em!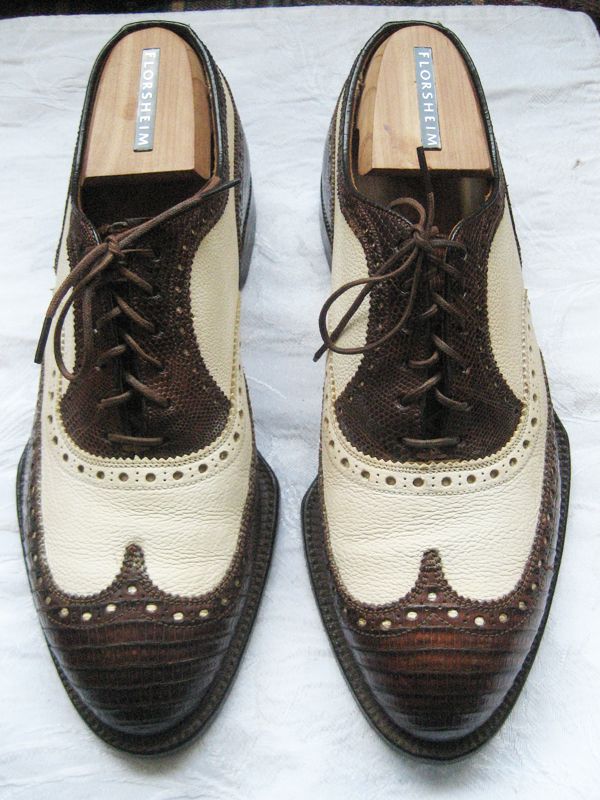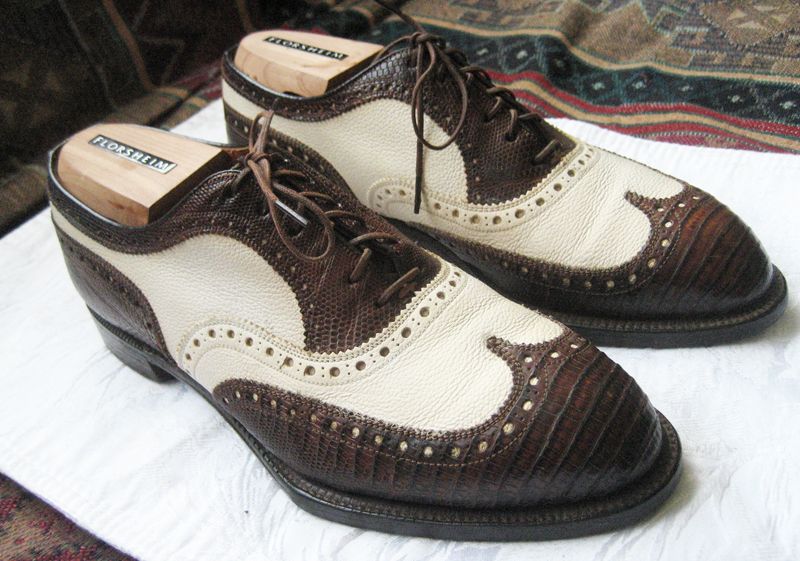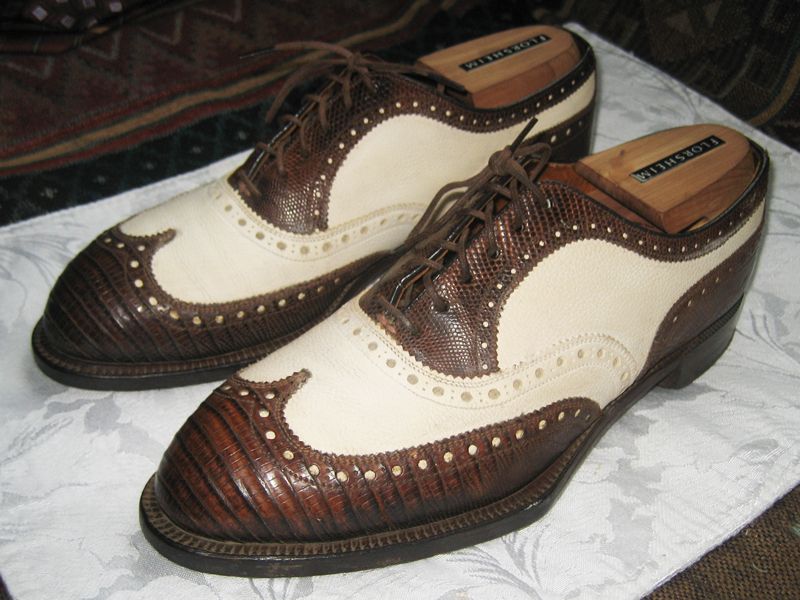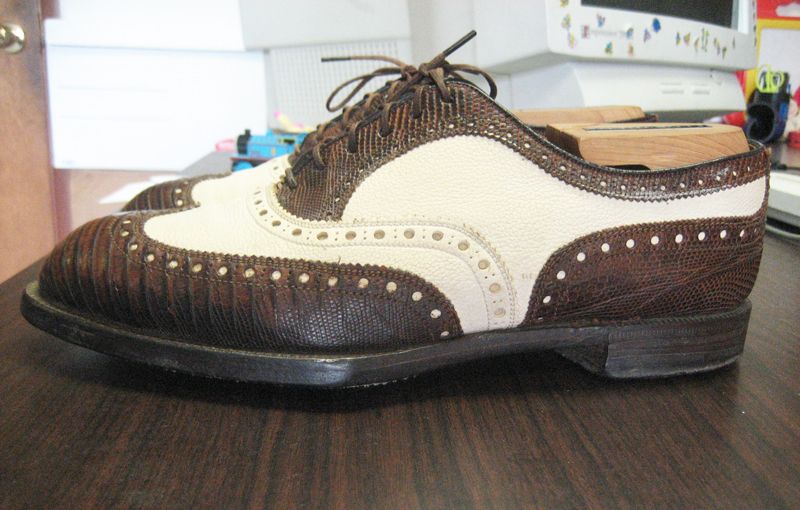 The original "Sea Turtle" thread follows below. WARNING!!! This Thread Is NOT Politically Correct. Please save MOST of the "that's just wrong" commentary, as it's already been beaten to death in other threads. If they weren't so freaking old, I would NOT be wearing them. ALSO, I posted this in the Shoe Appreciation thread, but I felt these were just too good of a find, and deserved their own thread. I JUST got these this afternoon. I had originally expected some nice vintage crocodile wingtips, but I was shocked to find... Vintage SEA TURTLE V-Cleat Wingtip Gunboats. 360 degree welt, double thick sole, and natural color. They are slightly greenish black and there is a "marble-like" textured look. Holy Crap!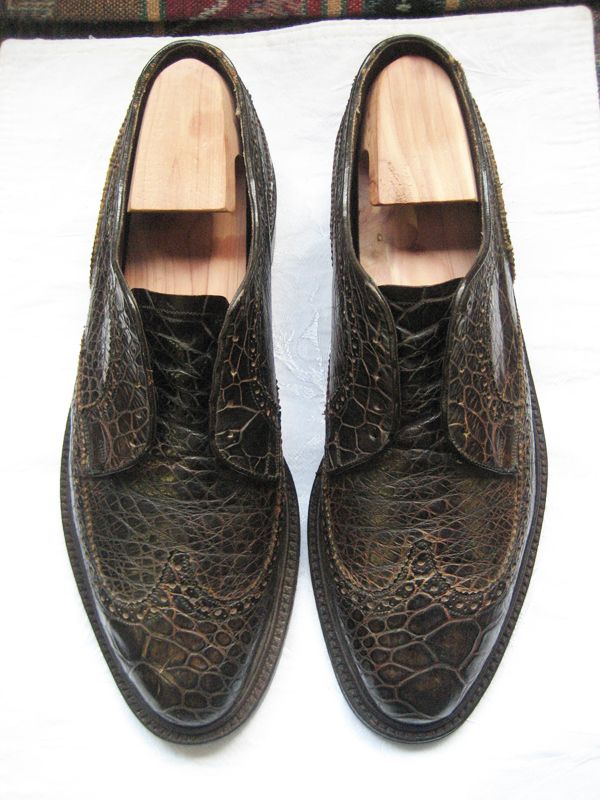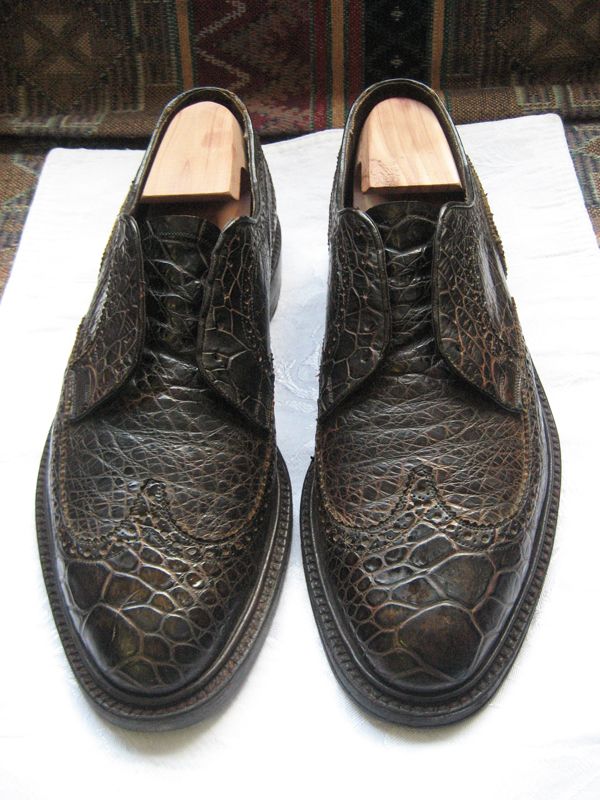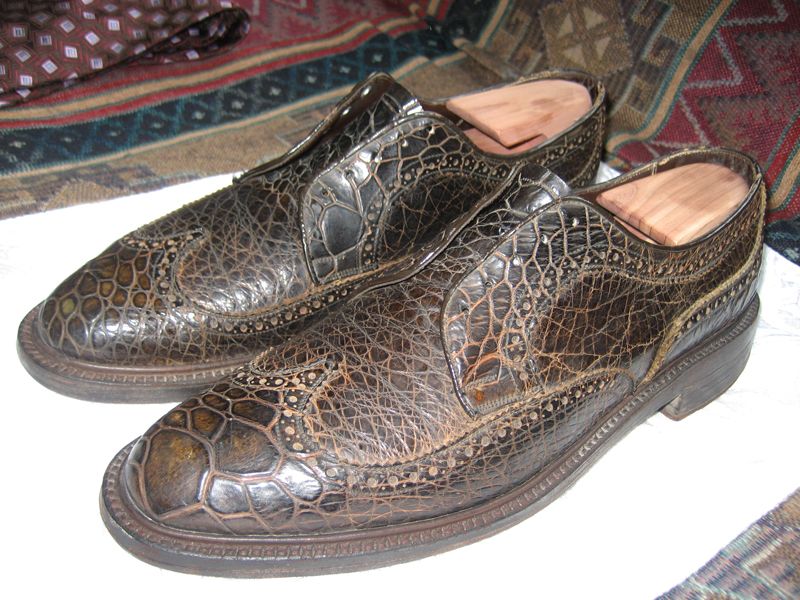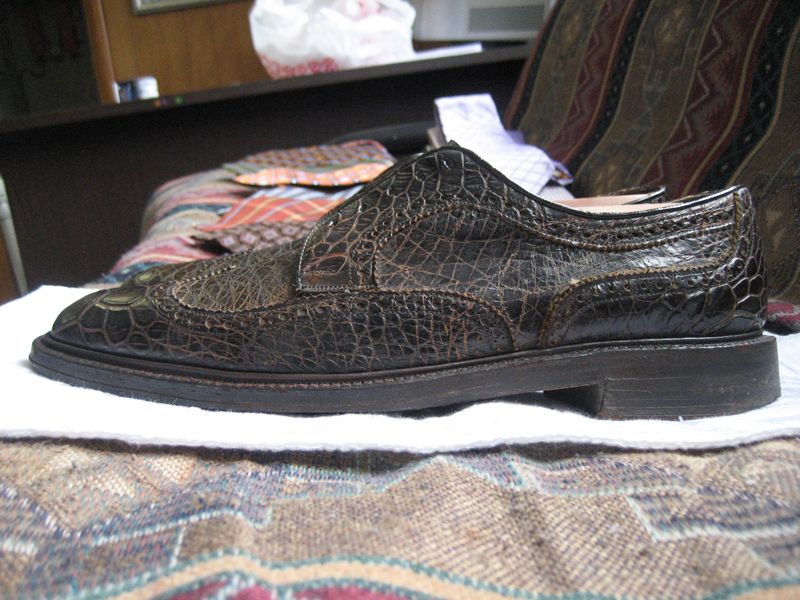 What surprises me most is that, for some reason, all of the sea turtle shoes I've seen before are: 1) In unwearable styles (funky 50's style buckle loafers, etc). If you've seen my SP posts, you know I'm into some OTT stuff as far as shoes, but this is too far for even my tastes. & 2) In bizarre sizes (9 AAAA, etc). Who the hell has a foot that's a 9 in length, and a 6 in width???? Maybe a geisha with "bound feet". Great for a museum piece, but no good for actual wearing. Gunboat style, size 9C. Fit my 8 1/2D's just fine. EDIT:
Originally Posted by

ThinkDerm
Also, these are dried out. Moisturize.
Originally Posted by

Chips
Very cool! Are they brittle? I'd be affraid to wear them if they were, I'd hate to destroy such amazing beauties.
Good question. Actually, I made some contacts in order to find out how to best moisturize them. I was told to use Almond Oil. Since it is very light oil & easily penetrates, it was suggested that I would get the best results using it. I used 3 coats, and they are very flexible now. There is no real evidence of dryness now. I also inquired about the brown lines between the scales. At first I thought they were evidence of extreme dryness, and was afraid the skin would tear. I was told that sea turtle skin is really very tough, as compared to vintage croc & lizard. The sea turtle lives in the ocean and dives to much deeper depths than the croc or gator. Therefore, their skin is much tougher and water-proof. Also, in gator & croc, you will see more bits of skin between the actual scales. That is because, 1) again, those animals' skin is evolved to handle much less waater pressure than the croc. & 2) the gator & croc need the extra skin between protective scales for flexibility, whereas the turtle needs very little flexibility on belly skin. I was told that these shoes are "natural" and un-dyed. Most exotics (including the other sea turtle shoes I have seen) have been dyed, so the skin between the scales is the same color as the scales themselves. Problem is that there is a complexity in color (a marbling effect) that the scales have naturally that is lost thru dying. The brown skin between the scales is the normal color of the un-dyed skin after 50+ years. Interesting stuff, I think.