Joined

May 18, 2009
Messages

4,590
Reaction score

106
IVY GRAIL! A BEAUTIFUL PEAK-LAPEL, DOUBLE BREASTED TUXEDO FROM LANGROCK!​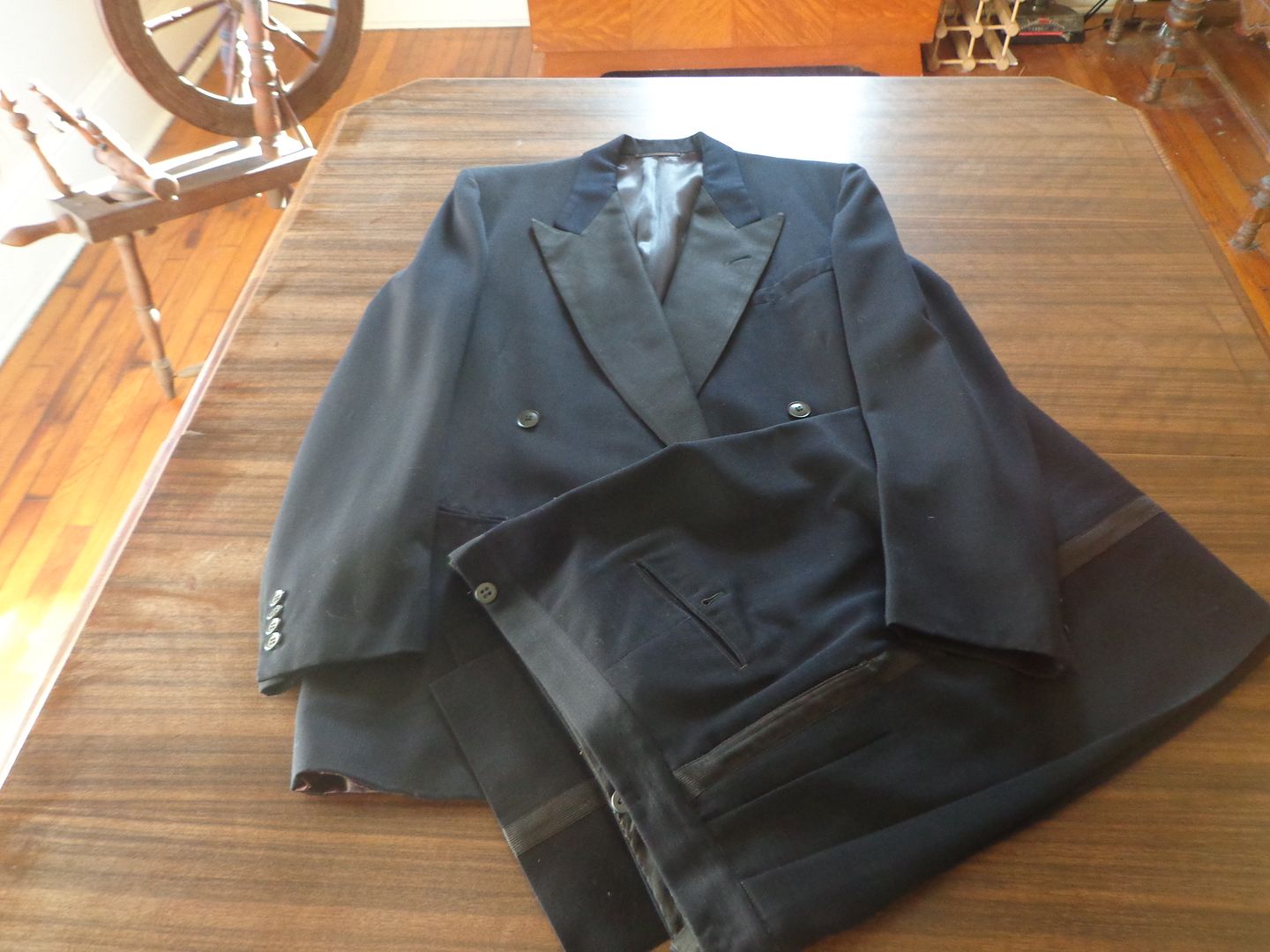 ​
A RARE example of an item from Langrock's original New Haven store!
​
I don't use the term "Grail" lightly, but this beautiful tuxedo most certainly qualifies. First, it is from Langrock--THE Ivy store that was the epitome of Ivy Style during the Golden Age of Ivy clothing. Most closely associated with Princeton--where it was THE clothier--Langrock actually started in New Haven, serving Yale. Langrock has long gone from both Princeton and New Haven, but its reputation carries on intact--indeed, so storied is Langrock that even Langrock labels are in demand among collectors. And that makes this tuxedo very, very special indeed--for this was made not for the Princeton store, but for the original Langrock store in New Haven.
More information on Langrock can be found here, courtesy of Bruce Boyer and Ivy Style:
http://www.ivy-style.com/boyer-on-langrock-princetons-legendary-campus-shop.html
This tuxedo more than lives up to its august pedigree. It features peak lapels faced in grosgrain--the classic Ivy touch that is hardly ever seen on modern pieces. It is double breasted, with a formal 2 by 2 button configuration; it has a single button closure. The cloth that it is cut from is beautiful; heavier weight than modern pieces, it has a lovely solid heft to it, designed for parties in the large, chilly halls of Princeton houses and University. It presents as black at first sight, but on very close inspection it can be seen to consist of very thin vertical stripes of two very close shades of black--a detail that almost no-one will ever notice. It features a hand-finished buttonhole on the lapel, with a holding string just below it to secure the stem of your boutonniere. It is, of course, fully canvassed, and fully lined. It is unvented, and the pockets are jetted. It features four sleeve buttons. The trousers are pleated, and have buttons to secure your suspenders. They also feature an on-seam ticket pocket.
It was, of course, clearly made in the USA.
It does have some minor issues commensurate with its age. First, there is some minor rubbing to the peaks of the lapels. Second, there are three loose stitches on the underside of the lapels at the joint of the peak; this is a easy fix, or else could simply be ignored. There is some loose stitching in the lining of the trousers. There is also a small oval rub mark on the turn of the right lapel, as shown. Were I an ebay seller I would rate this as being in EXCELLENT VINTAGE CONDITION, but I prefer to be conservative in ratings, and so this is in Very Good condition overall, with no "vintage" caveats put on this!
This truly is a grail piece, and owing to its classic beauty and tradly solidity is ready to carry you through decades of holiday seasons.
As such, this really is a bargain at just $115 > 95, or offer, boxed, shipped, and insured in the CONUS!

Please PM with interest and offers!
Measurements:
Chest: 21 3/8
Sleeve: 26 1/2 (+1 3/4)
Shoulder: 18 1/2
Length: 31 3/4
Waist: 18 1/4
Inseam: 31 1/4 (+2 1/2)
Last edited: