Joined

Oct 13, 2019
Messages

208
Reaction score

333
I have so many pairs of unused laces now thanks to my seemingly eternal search for the Goldilocks of the lace world — not too thick (for hooks), not too thin, not too weak, not too slick, not too stretchy. Danner boot laces seem OK. Obenaufs laces would be great if they didn't require me to scrub my hands every time I tie them (how much wax can a pair of laces hold?!). Paracord is useless (too slick and stretchy). I guess I'll try Greatlaces next.
I found these laces some time ago and now have them in most of my boots. Thicker than Kiwis, but not too thick to work well with hooks, not stretchy, and lots of choices in lengths and colors if you look at the seller's other items. Reasonably priced, and fast shipping. No, I'm not getting paid to advertise these!
I just think they're a good lace for most work boots, and a very good value. For the cost, you ought to try a pair: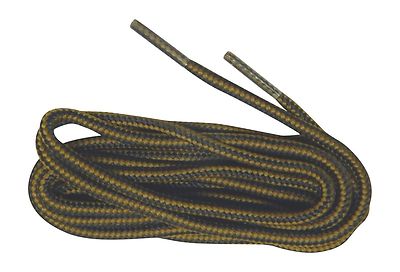 The color is an attractive and popular brown/tan - black. They are engineered for strength and durability and built with a strong polyester core covered with a rugged polyester outer sleeve. These laces are engineered to remain tied but will always untie when pulled.