Joined

Dec 23, 2009
Messages

127
Reaction score

0
I discovered SF about a year ago, and have since been desperately in search of my grail suit. Originally that was a solid charcoal or navy RLBL in 40R. After a year of monitoring B&S, none came (or the ones that did, really didn't last long). However I was able to get a navy RLPL with a very similar cut to RLBL, as well as a charcoal RLBL with faint striping. I have taken pictures of each and would love feedback. These are my first real suits, and my first critique thread.
First up the RLPL
. This suit is insanely nice. Brand new, Super 150s, flat front pants, retail $3500, but I got it at a steal. It's a little roomier than RLBL, but that's probably a good thing... and it's still pretty slim. My only concerns with it are that it is not a very dark navy (which I would prefer), and I'm worried that Super 150s will be a little more delicate. Plus it is double the price of the RLBL. The sleeves and pants are way too long, they've been pinned back a bit, but obviously they both need to be shortened. Also, in the last pic I clipped the back of the jacket, a little below the waste, to demonstrate what it would look like with some suppression. I apologize in advance for the crummy tie.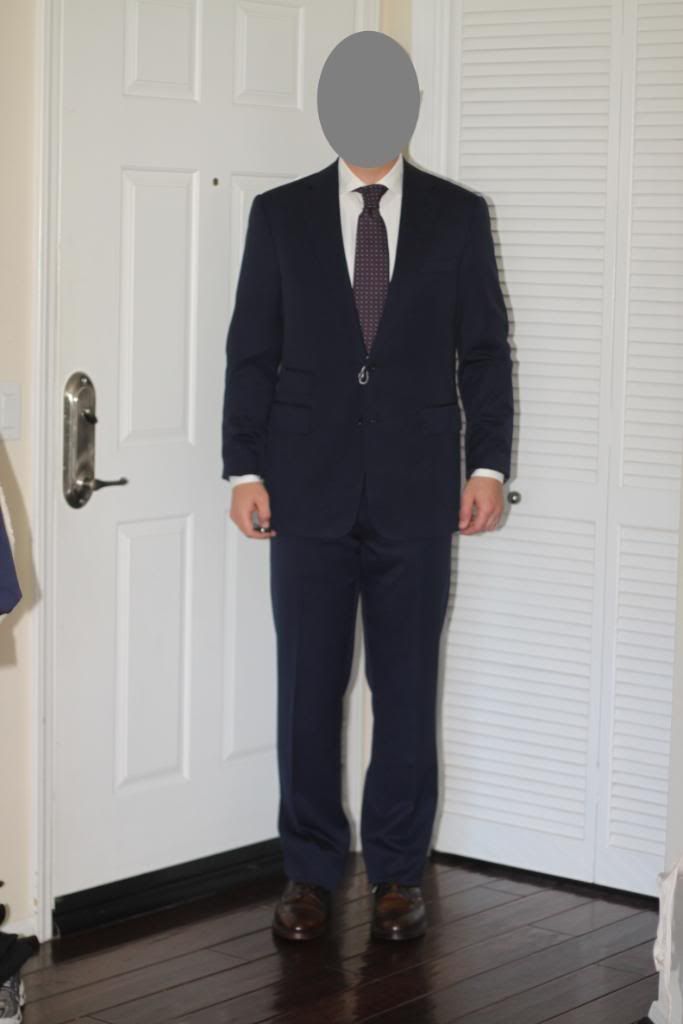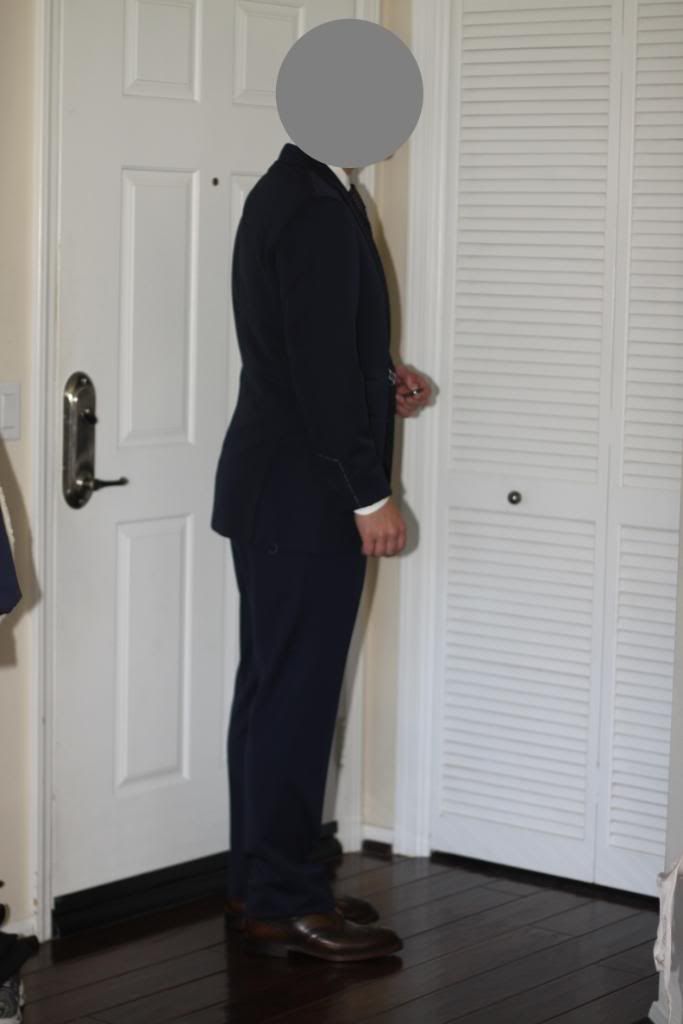 The jacket needs to be pressed, so most of the wrinkles around the waste and arms in this pic are nothing major: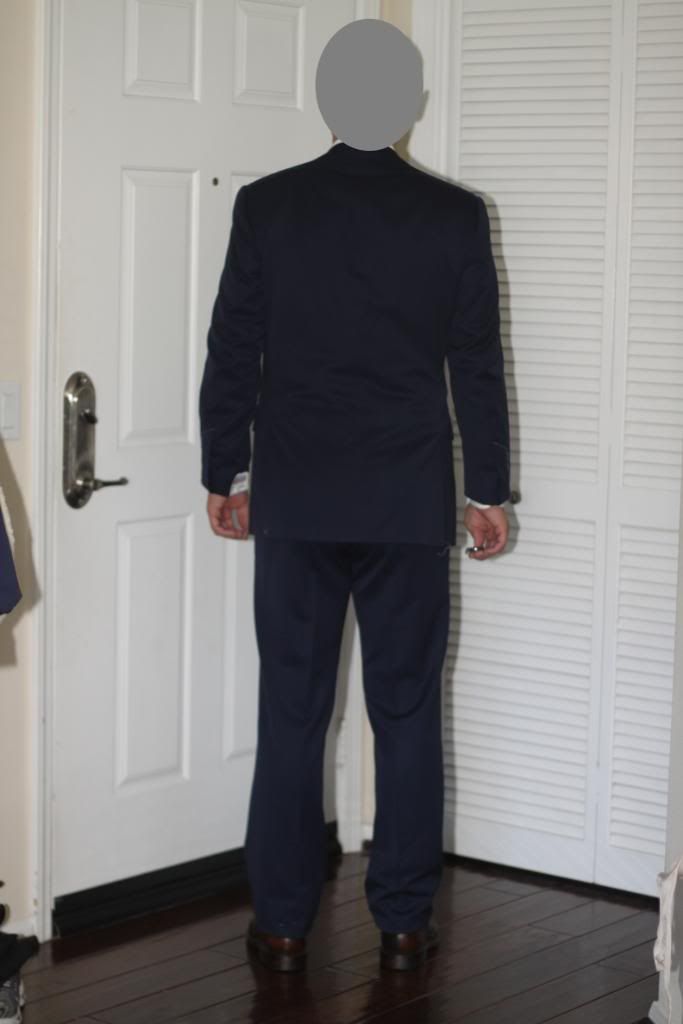 Here is the pic with about an inch or two of the jacket clipped in the back. The clipping was done around my tailbone and I think it really helps the silhouette: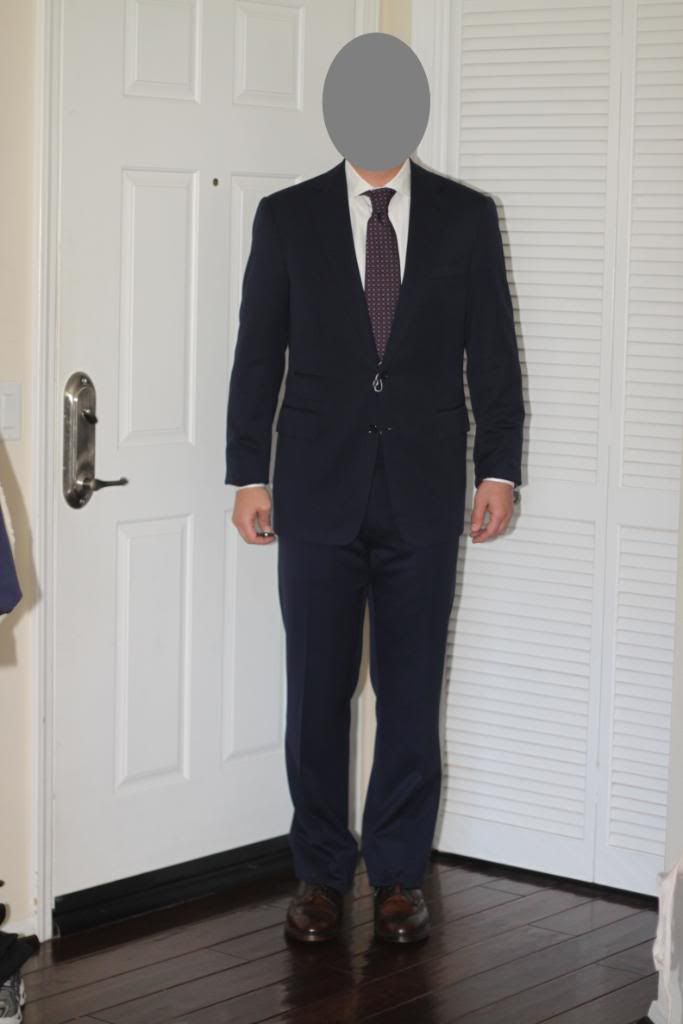 Now the RLBL
. This suit is a charcoal with thin striping. Being as how this is my only real suit, I was hoping for a solid charcoal, however the faint striping actually looks very sharp on this suit, and I don't mind it at all. I bought this suit used off B&S but it is in great condition, and about half the price of the RLPL. Biggest concerns with the RLBL are the very tapered pants, as well as the stronger shoulder. Though I don't think the shoulder is too bad... I do feel like it overhangs a bit. Again, the pants and sleeves need to be shortened, and for the purposes of this pic I have pinned the sleeves back.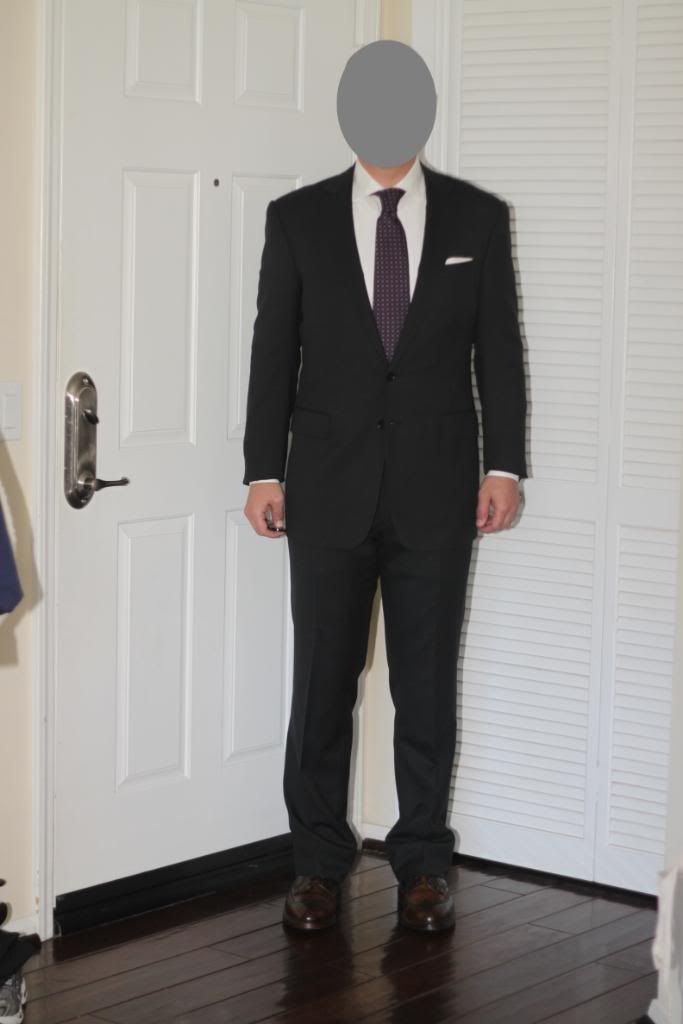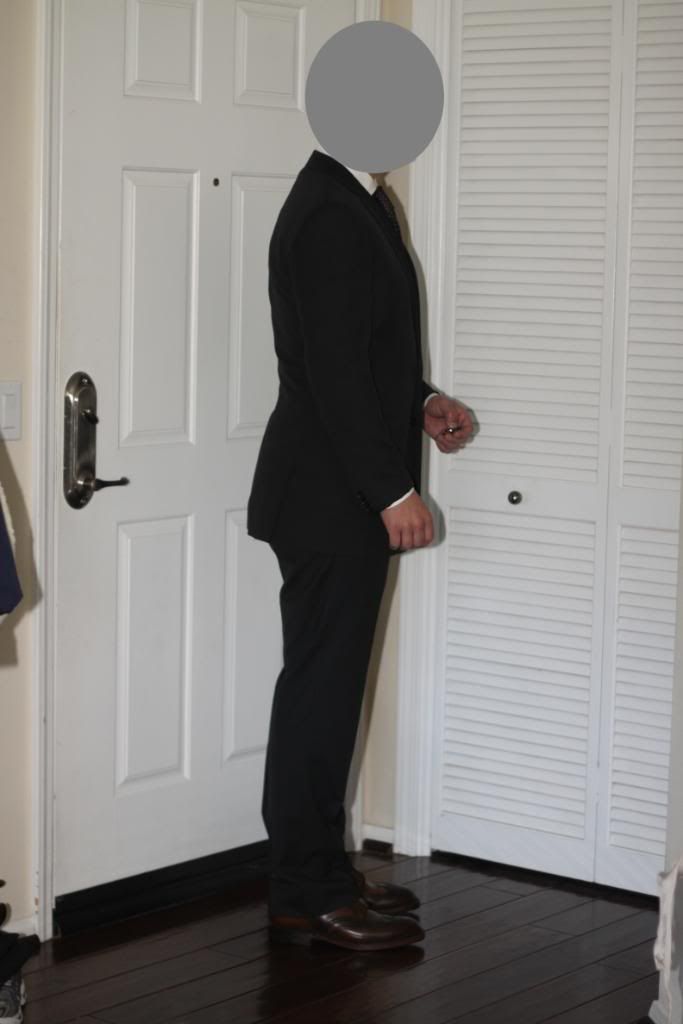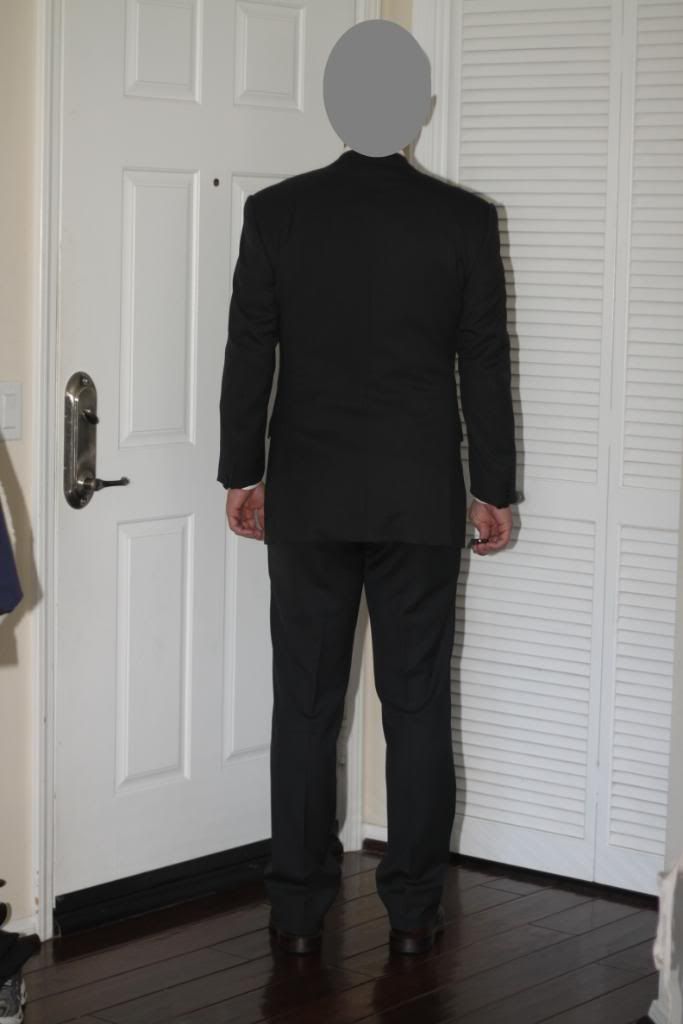 Both are pretty tight in the pants. I have a rather bulbous rear, and both pants would need to be let out... the RLBL much more so. The waste of both actually fits me just fine, however with the rear being so tight, it pulls at the crotch, causes wrinkles in the front, and causes the pockets to bow a bit. That actually causes the jacket to puff out a bit, which hurts the slim silhouette. I like the look of both suits from the front and back, however the profile leaves much to be desired. The RLBL pants really have a strong taper, much more so than the RLPL. I think there is enough fabric to let out some of that taper, and make the RLBL pants closer to the RLPL pants... however I'm not sure how difficult that would be for a tailor, nor how pricey. Honestly, I think most of the profile problems will be helped by me losing a few pounds... which I'm committed to doing... so maybe it would be more beneficial to post fit pics in a month... however I'm impatient and wanted to get some feedback. Thanks in advance for all your help... however harsh it may be.