Joined

Feb 15, 2010
Messages

2,615
Reaction score

672
5/13/11 EDIT: Ultra Rare Exotic skin revealed!
First, MANY THANKS to EVERYONE who posted ANYTHING on this thread. Love 'em or hate 'em, that's your right to do so. Great country we live in, huh?
I have to note that I was a bit disturbed by the few "testicle skin" guesses, but some of the "mythical beasts" guesses were downright hilarious.
Anyway, they are actually made from HORNED BACK LIZARD skin. More specifically, the Caiman Lizard (Dracaena guianensis).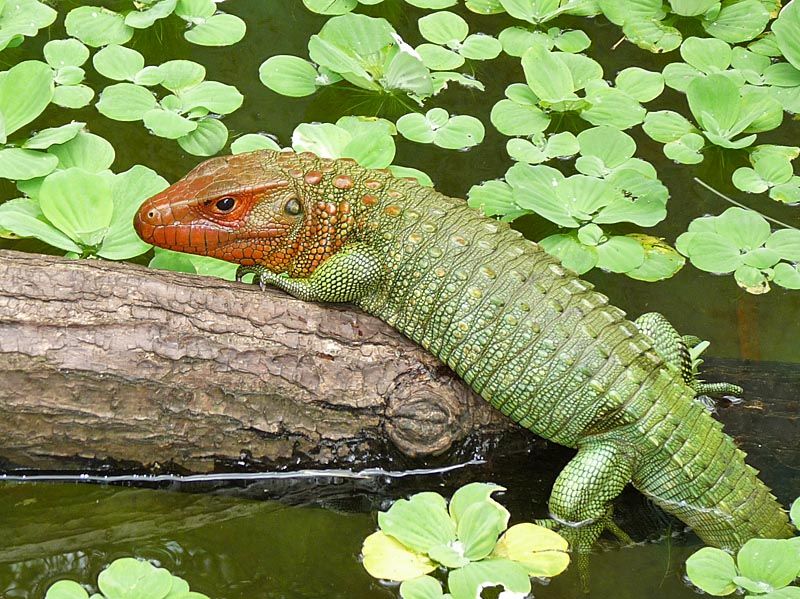 GREAT CALL, bengal-stripe! I'm not surprised you figured it out, though, you have a keen eye for the exotics it seems.
Hornback Lizard is now on the endangered species list (these are from the 1950's, way before it's addition to the list, by the way), so no more of these beauties.
The caiman lizard is quite large, averaging between 2 and 4 feet in length. Weight is normally between 3 and 6 pounds.
These are NOT hornback gator, hornback cayman, or hornback croc- which are much less desirable substitutes. Lucchese has a ton of boots made from those other "hornback" species now. They are tough looking, but TOTALLY lack the depth of the patterns you see in the scales. Each scale of the hornback lizard looks like a cat's eye, where the other species' scales are a flat color.
Seems that the cowboy boot fans REALLY miss this baby. Vintage cowboy boot fans lament the fact they can't get hornback lizard now, and pay CRAZY prices for vintage ones.
Here's an article I found on an Endangered Species Website:
"In 1995, skins and boots of this species worth $1 million wholesale were confiscated from the Tony Lama Boot Company of El Paso, Texas, by the U.S. Fish and Wildlife Service. Among the seizures were 907 pairs of Caiman Lizard cowboy boots and 2,554 pairs of boot vamps. A 15-count felony indictment for smuggling and violations of the Lacey Act was issued by a Grand Jury against two people who sold the skins to Tony Lama, using fraudulent export permits obtained in Mexico. The Lacey Act prohibits importation-- without permits--of species protected in their country of origin. This lizard is native to the Amazon Basin, and its lustrous skins are highly prized for boots, which can retail from $700 to $1,000 per pair. Four lizards are used to make one pair of boots. More than 13,800 Caiman Lizards were killed and sold to the Tony Lama Boot Company for the manufacture of the boots and skins seized. The indictment was the result of an undercover investigation by the Fish and Wildlife Service, begun in 1993."
Anyway, this was fun. Take Care!
ORIGINAL POST
I just got these the other day. At first glance, I had thought they were just a nice crocodile skin. After a second look, I was sure I wasn't looking at crocodile, but some other, much more beautiful reptile. I've seen quite a few reptile skin shoes, but these blew me away. Each individual scale looks like a cat's eye staring at you.
Anyone care to venture a guess as to the "mystery skin"? All I'll tell you is that you won't find any shoes made of these over the last couple of decades... legally, that is.
By the way, I KNOW my tastes are way "over-the-top" compared to most on this site. I'm just not a Lobb, EG, etc kind of guy. Most will find my shoes ugly, etc. I figure that these posts are good to introduce some other tastes and styles, if for nothing else.
Love 'em or hate 'em, I GUARANTEE that you'll remember these (IE: the gunboat Sea Turtles).
Please take a moment to comment, good or bad!
ENJOY!