Joined

May 18, 2009
Messages

4,575
Reaction score

94
As always, I offer

FREE SHIPPING ON EVERYTHING IN THE USA;

International inquiries are welcome, with shipping at cost.

Also as always,

ALL OFFERS ARE VERY WELCOME!



Please PM with interest and offers

!

MEASUREMENTS:

Chest: Armpit to armpit, laid flat.

Length: Bottom of collar to hem.

Sleeve: Measured like a shirt; if the cuffs are designed to be turned back, the measurement is given with the cuffs turned back!

1) Brooks Brothers cableknit in pima cotton. Size L. Chest: 21 1/2; sleeve 34 1/2; length 27. Excellent condition! Asking just $20.
2) Oliver Perry cashmere sweater. Size XL. Chest, 24 1/4; sleeve 36; length 26 1/2. This is a beautiful dark plum colour--my pictures really don't do it justice! Excellent condition! Asking just $22.
3) Wallin & Bros. cashmere and cotton sweater. Excellent condition, in a lovely forest green! XL; Chest: 22; sleeve 35 1/4; length 26 1/2. Asking just $18.
4) Westaway & Westaway pure cashmere sweater. Made in Scotland. Slightly dusty from storage, and with some minor surface schmaltz on the right shoulder, which will come out with a dry clean; hence just Very Good condition. Chest: 21; length: 24 1/2; sleeve: 33. Asking just $20.
5) Brooks Brothers "346" cashmere. Excellent condition. Size XL. Chest: 24 1/2, length: 25 3/4; sleeve: 35. Asking just $20.
6) Patagonia wool sweater. This has two weaknesses in the weave; one on the front, as shown, and one on the sleeve. It also has some pilling throughout, and so is in Good condition only. Chest: 17 1/2; length: 24; sleeve: 31 1/2. Asking just $10.
7) SOLD Made in Scotland Fair Isle Shetland sweater vest. Now extraordinarily rare, this is a wonderful example of a shetland Fair Isle sweater vest! This cost a fortune from the likes of Aero Leathers; this one is in excellent condition, and is a bargain at just $22. Chest: 22 1/4; length: 25 1/2.
8) Dean's of Scotland Shetland Wool "Fun" sweater. This is lovely--the sweater equivalent of BB's Fun Shirts! This is in excellent condition except for a small snag on the back of one sleeve, as shown, and an even smaller one on the back of the collar.; hence this is just $10 Tagged 40. Chest; 19 3/4; Length: 26 1/2; Sleeve: 30 1/4.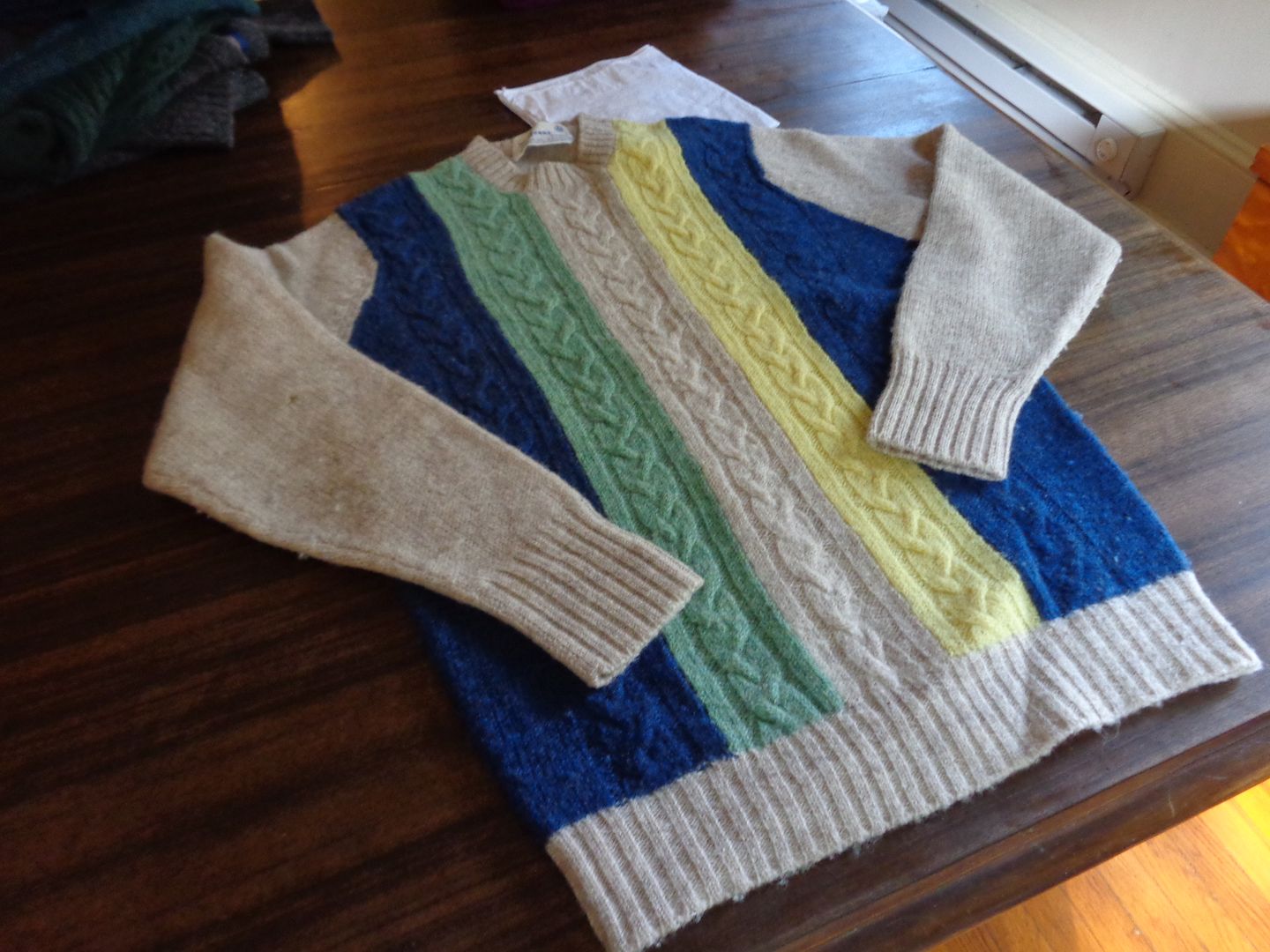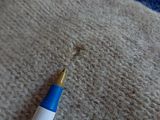 9) AWESOME REVERSIBLE SWEATER! This is a great sweater--on one side very utilitarian navy with elbow patches and epaulettes, on the other, a reflective sweater. This is terrific. Issued to Princeton University's Public Safety people, this has a PUPS patch on one sleeve. No fabric content but the sweater is almost certainly wool. Excellent condition. Asking just $22. Chest: 21 1/2; Length: 27 1/2; Sleeve: c. 36 1/2.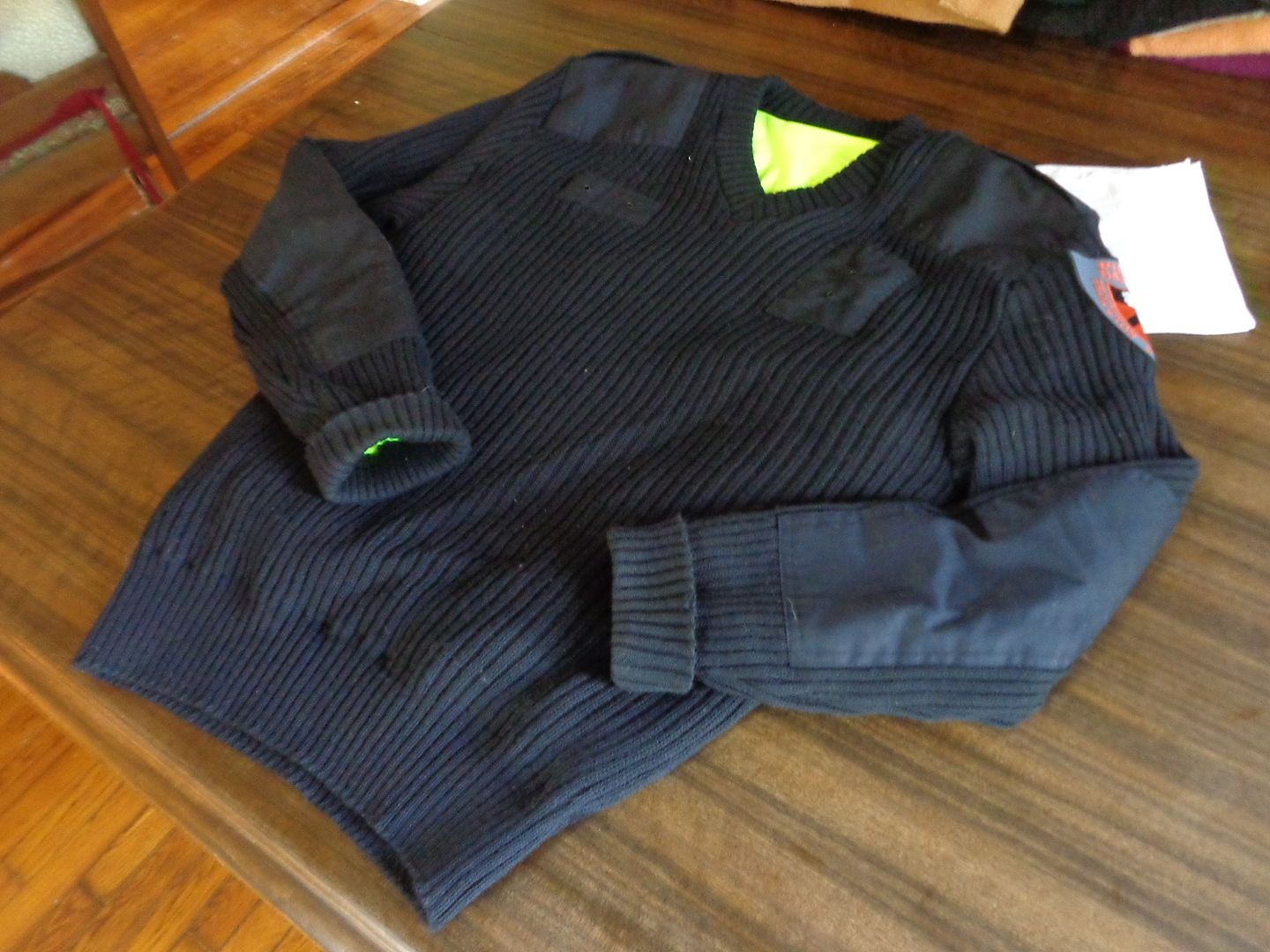 Last edited: