Joined

May 13, 2011
Messages

142
Reaction score

0
What does everyone think about these shoes- they come in quite a few variations, and were I think launched spring/summer 2010, by autumn/winter 2011 they extended the range and introduced more styles, including a velvet shoe, as opposed to leather.
Love, hate, or indifferent?
I personally really like them, some of the more obscure and 'out there' color combo's I don't like but the black and tartan are stunning. I've got a pair of CL high top sneakers from brownsfashion in black with discreet leopard print pattern, the sneakers are a lot easier to find though.
By the time the shoes came to my attention they were sold out on the official site and I didn't manage to get a pair although going by the number of (genuine) pairs I see on eBay, I wonder what volume these were made in?
These two pairs are my favourites: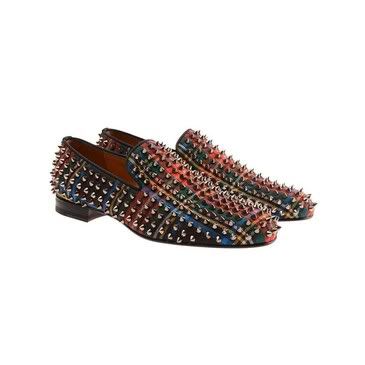 Does anyone here have either pair, or know someone that does?
I am looking to buy at least one of these, probably both. If anyone thinks they can help please send me a pm and we can talk, willing to pay over the odds even for worn/good condition.
Last edited: