I'm usually hang out in the Men's Clothing section, but I needed a pair of dark jeans for more casual occasions. Now, I'm not the type of guy who has 100 pairs of jeans. I'm more of the type that only has 1 or 2 pairs.
So I said to myself, why not see what all the rage about selvedge denim is all about.
I rode my motorcycle to Los Angeles today to do my taxes. After a quick bite to eat, I headed out to the Self Edge store on La Brea/Beverly.
I was promptly greeted and helped out by Casey (sp?). Cool dude (he even paid for my street parking), very helpful, and very knowledgeable about the whole denim thing. He's called himself a "denim dork". I told him that I was new to the whole denim thing but I did tell him what I was looking for:
-dark indigo denim
-slim fitting, but NOT skinny jeans where they're fitted all the way to the ankles (slim through the thigh and slim/straight below the knee)
-size 32 (I wear a size 32 with my wool/suit trousers, chinos, etc.)
So he picked up several pairs of size 32 jeans from different makers. Some fit, some didn't. He told me that it wasn't uncommon that one may have to go up one size, depending on the maker.
I tried on Skull, Dry Bones, Iron Heart, and Flat Head jeans.
I really liked the Flat Head F310 denim that he had me try on. At first I tried on a size 33 and it pretty much fit the way I like, but he told me that this particular pair was "unsanforized" and therefore would shrink after the first wash/soak in water.
So he suggested that I size one up to a size 34 and after the first wash/soak it should fit like the size 33 that I liked.
I took his word for it, paid, and went on my merry way.
Here are some pics, but please forgive the quality. These were taken with flash in front of a mirror. I live alone and don't have anyone to take pics for me.
Front: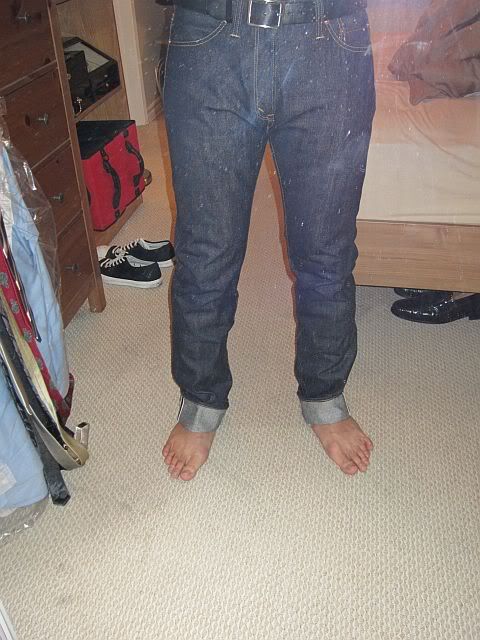 Side:
Rear:
Casey also told me to soak it in warm/hot water for about 30-45 minutes, then hang dry. They should shrink a bit and should be ready to wear after then.
What do you guys think? Did I do good? What do y'all think about the fit?
My first time paying this much for a pair of jeans, but I figured if I'm going to have only 1 or 2 pairs, they might as well be quality. I'm a selvedge denim noob, but is Flat Head a good brand?
Thanks in advance for any helpful input.
myke