Joined

Jul 8, 2019
Messages

3
Reaction score

0
Hi gentry,
Long time (1.5 years) forum lurker here! First of all I just wanna say that I've enjoyed reading through the hundreds of threads on this forum and the advice and wealth of information I have received has tremendously helped me step up my style.
Of late I got into shoes and been reading the different threads religiously. After reading a thread which was a strong endorsement of Church's Grafton I decided to check eBay to see if I could find a deal on them. After scrolling through hundreds of different ads I stumbled upon this par: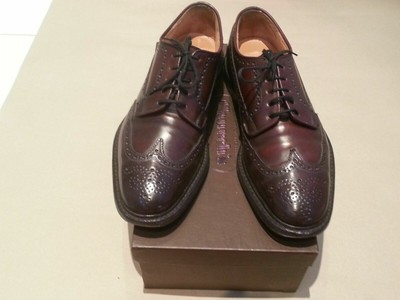 • Full brogue lace-up derby. (80 F 100 - 1002 / 82 - GRAFTON). • Calf leather with polished binder finish. • Blind eyelets. CHURCH SHOES. • Church's crest to sock and sole. • Internal lining for longevity of wear.
As I am still very much at the beginning of my, rather expensive, journey in the world of quality shoes I am having the most difficult of times deciding whether 150 british pounds is a reasonable price for these shoes (in the state that they're in). The shoes show slight creasing with no cracks whatsoever. The soles seem worn but since I have never owned a quality shoe before I can't tell what the state of the sole is.
An important thing to note is that this seems to be an older model as it's been constructed using the last #100. According to the Church's aficionados, it offers a rounder toe which I quite like. Comparing these to the Graftons on offer on the official Church's website supports that.
I would greatly appreciate if the gentry could advice before I make an expensive mistake.
Thank you so much in advance for your comments.
EDIT:
I am well aware that these are Polished Binder and am perfectly fine with that. I just wanted to get your opinion on whether these shoes in the state (uppers, soles) that they're in are worth 150GBP.
Last edited: